We all go to NFL stadiums to see the game on the field and be close to the action while enjoying the atmosphere, and seemingly every stadium as a signature food item that always makes the experience that much better. Here's our list of the top 10 foods at NFL stadiums around the league:
Pack'n'Cheese - Green Bay Packers
Nothing's better than simple macaroni and cheese - made with Wisconsin cheese - during cold games at Lambeau Field, but you can also get this classic jalapeno-popper style or buffalo chicken-style.
Burger of the Game - Atlanta Falcons
The chefs at the Georgia Dome create a new burger every week depending on the visiting team. For instance, they created a burger that was a six-ounce crab cake with pickled red cabbage and caper aioli when the New England Patriots came to town. 
Seafood Nachos - New Orleans Saints
The Mercedes-Benz Superdome originally put out this dish on a limited time basis, but fans love it so much that they've kept it around ever since. They unique nachos include peppers, onions, jalapenos, and queso, along with plenty of fresh Louisiana shrimp and crawfish.
Kitchen Sink Sandwich - New York Jets/New York Giants
A twist on the New Jersey Italian hot dog, the Kitchen Sink includes grilled pieces of hot dog and sausage with fried peppers, onions, and potatoes.
Buffalo Brat - Denver Broncos
You need a brat at a game, right? These brats at Mile High includes, grilled peppers, onions, and Colorado craft–ale sauerkraut, made with Odell 90 Shilling amber ale from Fort Collins, Co.
Old Bay Shredded Chicken Sandwich - Baltimore Ravens
Nothing says Maryland like Old Bay Seasoning, and putting it on a shredded chicken sandwich makes is uniquely delicious.
Slows Bar-B-Q's The Yardbird Sandwich - Detroit Lions
A smoked chicken sandwich is always good, but adding sauteed mushrooms with mustard sauce, cheddar cheese, and applewood-smoked bacon makes it extra awesome.
Mesquite Smoked Pork Butt and Beef Brisket Sandwich - Chicago Bears
This sandwhich is layered with both pork and brisket (why choose when you can have both?) with slaw and cheesy corn on top. You also get your choice of mustard, brown sugar, or Carolina barbeque on it.
Pizza Box Nachos - Arizona Cardinals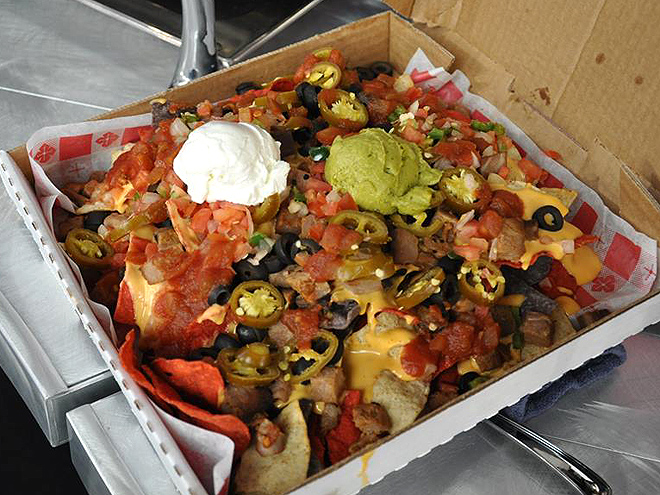 Nachos so big they have to be served in pizza boxes, they are covered in chicken and steak, along with all the traditional nacho toppings.
Pirate Dog - Tampa Bay Buccaneers
Adding a Cuban flair to a regular hot dog, Tampa Bay's Pirate Dog is loaded with banana peppers, white cheese sause, and pork - along with a quarter-pound beef hot dog.
Back to the NFL Newsfeed
Related Topics: Saints News, Lions News, Bears News, Cardinals News, Bucs News, NFL News, Falcons News, Giants News, Broncos News, Jets News, Packers News