It might be time to stop picking against the Patriots, Steelers and Saints. These perennial powerhouses seem to have their early-season struggles behind them, and their week eight success cost me three picks and played a big role in my substandard 8-7 week.
The Lions' 22-point comeback across the pond and the Seahawks' and Cardinals' late scores kept me above .500, but I'll be looking to get back to double-digit wins again in week nine, even with just 13 games on the slate.
Saints 34, Panthers 27 (Thursday Night Football)
It's hard to believe the winner of this game will take full possession of first place in the NFC South with just a .500 record. That's the case, though, and I'll take the New Orleans offense that's clicking on all cylinders over the offense that Cam Newton's led to the end zone just once in the past two games.
Browns 23, Buccaneers 16
Don't look now, but Cleveland has a winning record. They host a Tampa Bay team that hasn't been above .500 at any point this season.
Cowboys 30, Cardinals 24
The clubs with the two best records in the NFC meet in Dallas in what could be the best matchup of the week. The Cowboys have the edge if Tony Romo plays (and plays healthy), but Arizona will have the advantage if he sits Sunday. Dallas will still make a game of it even with Brandon Weeden under center, though, thanks to the weapons he'd have around him.
Eagles 24, Texans 20
Philadelphia needs to keep up with Dallas' pace in the NFC East; that means they can't afford to lose to Houston this week. The Eagles fluid offense may have some trouble with the Texans front seven, but Philly's talented receiving core going up against Houston's susceptible secondary may prove to be the difference maker.
Chiefs 27, Jets 17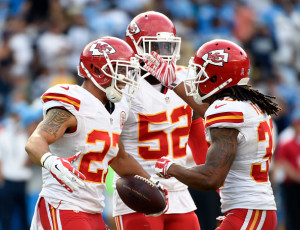 Kansas City has quietly won four of their last five games and has, even more quietly, the league's best pass defense. That doesn't bode well for Michael Vick or any other Jets quarterback.
Bengals 31, Jaguars 23
Cincinnati may or may not have been the beneficiary of a questionable pass interference call Sunday that secured the team's second win over the division rival Baltimore Ravens this season. Now, they host a lesser Jacksonville squad in a game Cincy needs to take care of, as a loss this week could be the difference between first place and last place in the competitive AFC North.
Dolphins 30, Chargers 28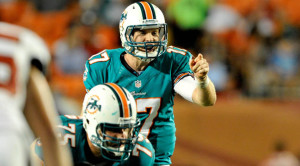 It seems Miami's recent success is being overshadowed by New England's resurgence, Buffalo's surprising level of competitiveness and the Jets' not-so surprising level of struggle. Nevertheless, the Dolphins are one last-second Green Bay touchdown away from winning their last four games. Philip Rivers and San Diego will bring a hearty challenge to Miami, but Ryan Tannehill's improving play and the Dolphins' third-best pass defense should be enough to continue their winning ways.
Vikings 23, Redskins 19
When I thought Colt McCoy would be Washington's quarterback in Minnesota this week, I had given the Redskins the edge. Now that it's believed Robert Griffin III will be back to start Sunday... Vikings.
49ers 26, Rams 20
San Francisco was the much better team when these division rivals first met this season on Monday Night Football. In this week's matchup in the Bay Area, there's no reason not to expect more of the same.
Broncos 41, Patriots 34
I would like to personally thank the New England Patriots for getting their act together and playing like a contender recently, simply because now this game should be just as entertaining as it seemed back when the schedule was first released. That being said, Denver's offense is great, while New England's is good, and Denver's defense is above average, while New England's is okay. Expect a shootout nonetheless, but the Broncos continue to set the standard in the AFC.
Seahawks 27, Raiders 9
If Seattle thought the public was jumping on their backs after their 3-3 start, imagine the media firestorm if they lose to Oakland Sunday. I don't see the Seahawks even letting the Raiders get in the end zone, especially in Seattle.
Ravens 31, Steelers 27 (Sunday Night Football)
Two weeks ago, this matchup may have looked to be heavily in Baltimore's favor. But after Pittsburgh's back-to-back wins capped by Ben Roethlisberger's  historical performance in an impressive 51-34 victory against the Colts last week, this game could easily go to either team. Both offenses have ran smoothly as of late, while both defenses (who were susceptible to begin with) will be without their top cornerback. I'll take the club that dominated the first matchup and whose success has been more consistent to this point in the season.
Colts 30, Giants 23 (Monday Night Football)
The Giants have been vastly inconsistent, to say the least. Their three wins have come against teams with records of .500 or worse, while their four losses have come to clubs who are currently at least three games above .500. In other words: They beat bad teams and lose to good teams. The last time I checked, the Indianapolis Colts are good. Very good.
Record last week: 8-7
Record to date:  76-44 (.633)
Back to the NFL Newsfeed