Who would've thought that after week seven I'd be thanking Colt McCoy, Kyle Orton and Chris Jones after being let down by Drew Brees, Jay Cutler and the Seahawks defense?
That's reality nonetheless, as the Saints' and Seahawks' disappointing clutch-time showings and Cutler's sub-2oo-yard performance, along with the Steelers absurdly scoring three touchdowns in 1:13, were to blame for my four losses last week.
Not to worry, though, as McCoy coming in and saving the day for the Redskins, Orton throwing a last-second touchdown pass to Sammy Watkins and Patriots special-teamer Chris Jones blocking a Jets' game-winning field goal Thursday night headlined an 11-win week.
Broncos 34, Chargers 27 (Thursday Night Football)
I don't think the NFL's new passing touchdown king will want to surrender first place in the AFC West so quickly after finally reclaiming it last week. San Diego was able to go into Denver on Thursday night last year an pull an upset by keeping Peyton Manning off the field, but I envision this game being more of a shootout. If that's the case, I'll take Manning every time.
Lions 31, Falcons 23
In a rare edition of Sunday morning football, Detroit and Atlanta travel across the pond to square off in London with a kickoff time of 9:30 on the east coast. The Lions are coming off of a tough win against New Orleans, and the Falcons are coming off of... a lot of losing - four straight Ls to be precise. Detroit's defense has looked tremendous, and defense travels in this league, even across the Atlantic Ocean.
Chiefs 26, Rams 24
St. Louis pulled out all the stops and was able to secure a huge home upset against the defending champs; the key phrase there being "pulled out all the stops." It took a lot of smoke and mirrors to beat Seattle last week, and even in victory they allowed Russell Wilson to accumulate 300+ yards passing and 100+ yards rushing. Austin Davis has been playing better as of late, but let's not book the Rams to go to the Super Bowl just yet.
Texans 27, Titans 19
Zach Mettenberger will be making his first career start Sunday for Tennessee, and the former LSU signal-caller has some promise for the future. Nevertheless, I don't trust a rookie quarterback making his first professional start against J.J. Watt and company.
Buccaneers 28, Vikings 26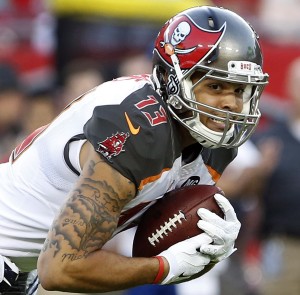 Tampa Bay seems to alternate between getting blown out and getting unexpected wins. So coming off of a 31-point loss at the hands of Baltimore followed by a bye week, the Bucs' trend points towards a win. Minnesota looks worse with each passing week, and Buccaneers rookie wide receiver Mike Evans, who's looked impressive when healthy this year, will be back on the field Sunday.
Seahawks 27, Panthers 20
Seattle will NOT lose three straight games.
Ravens 34, Bengals 23
These AFC North teams have gone in seemingly opposite directions since Cincinnati took the first matchup in Baltimore back in week one. The Bengals haven't won a game since they started the season 3-0, while the Ravens have won five of six since falling to their division foes. Baltimore has the league's best scoring defense to go along with the sixth-best scoring offense, and to make matters worse for Cincy, they'll be without a healthy A.J. Green once again.
Dolphins 27, Jaguars 23
It looks like it's time to start taking Ryan Tannehill and Miami a bit more seriously after multiple solid showings. Jacksonville was able to make Cleveland look bad last week, but Blake Bortles has yet to play a quality game as a pro.
Bears 31, Patriots 28
While Chicago has yet to win a game at home, they're 3-1 on the road to start the season. They're traveling to New England this week to face a Patriots team that seems to have its act together after a slow start. Jay Cutler has been constantly criticized this week, and will come out with a chip on his shoulder Sunday. Plus, I think the Bears are a better team than the Patriots even without the added motivation.
Bills 23, Jets 16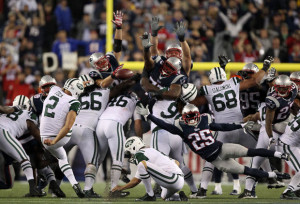 Sure, New York was a hard-luck loser last Thursday night against the Pats when a potential game-winning field goal was blocked. However, I tend to think Nick Folk would've missed the field goal regardless, as it was a 57-yarder and he isn't exactly known for his leg strength. Buffalo was on the positive side of a last-second game-winning play last week, and their stout defense should hold up against a sub-par Jets offense.
Cardinals 24, Eagles 20
Until I see a more consistent Philadelphia offense, I'm staying away from the Eagles, even with a 5-1 record; especially going against Arizona's excellent defense.
Raiders 27, Browns 24
Sound the trumpets: The Oakland Raiders will get their first win of the season Sunday. Cleveland looked pitiful last week against the Jags, and the Raiders have put together some good games in losing efforts this year. It's time, guys. Get it done.
Colts 38, Steelers 23
Please don't think Pittsburgh has turned things around and are suddenly contenders again. Outside of scoring 24 points in a sub-three-minute stretch that can't be replicated, the Steelers were limited to two field goals for the remainder of their Monday night win. They'll welcome a true powerhouse to Heinz field Sunday afternoon, and should get a decent dose of reality.
Packers 34, Saints 27 (Sunday Night Football)
Hopefully, this game will be a high-scoring, entertaining showdown in prime time. New Orleans always comes to play in the Superdome, but Green Bay is looking like an early NFC favorite. I prefer the road team and their stud quarterback, but this truly could go either way.
Cowboys 34, Redskins 24 (Monday Night Football)
Colt McCoy was able to do his best Kirk Cousins impression and take the reins for Washington mid-game and lead the team to a comeback victory. As inspiring as that is, they're on the road against their biggest rival in the Dallas Cowboys, a team that could very well be the NFC's best. Keep an eye on DeMarco Murray to see if he can continue his historic pace. Barring an unlikely coming-out party from McCoy, I'm starting to believe the Redskins' quarterback of the future isn't on the current roster.
Record last week: 11-4
Record to date: 68-37 (.648)
Back to the NFL Newsfeed