Cowboys 34, Bears 24 (Thursday Night Football)
In a meeting of Thanksgiving Day losers, Chicago is trying to spoil Dallas's chance to win the NFC East. However, it's hard to imagine the worst scoring defense in the league is going to stop Tony Romo, Demarco Murray and company. A big game from Jay Cutler at home wouldn't surprise me, but it still shouldn't be enough to derail the Cowboys' playoff push.
Steelers 26, Bengals 23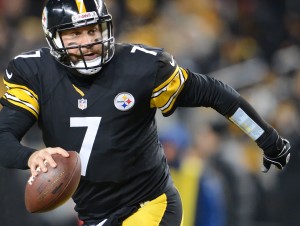 Pittsburgh actually played better in their loss to the Saints Sunday than Cincinnati did in their victory over the Buccaneers. Andy Dalton once again looked overwhelmed, this time by a Tampa Bay defense that is less than stellar, for the most part. That's not good news considering the Steelers defense should be back at near-full strength when they travel to Cincinnati. The biggest factor of this matchup, along with Dalton's performance, is Ben Roethlisberger's health; if he's good to go and that wrist isn't hurt too severely, I give Pittsburgh the edge over the AFC North leaders this week.
Rams 27, Redskins 20
As expected, Washington fell to an Indy squad that is on a totally different level at this point... but didn't Colt McCoy look good? Back under center last week, McCoy threw for nearly 400 yards and three touchdowns with no interceptions. Not to say he'll have a bad game when the Redskins host the Rams, but he was sacked five times last week by a defense that is not as good as St. Louis's. Desean Jackson will likely be out Sunday as well, so things aren't looking good for the 'Skins at home.
Giants 23, Titans 19
Since the Giants lost on the road to the Jaguars last week, isn't it possible they could fall to the Titans in Tennessee? It would be, if the Titans had a consistent quarterback, instead of the worst scoring defense in the AFC. This could end up being a sloppy game, as these two teams give up the most yards on the ground in the league.
Saints 38, Panthers 17
In case you've been under a rock since September... The Panthers are bad. Meanwhile, New Orleans returns home to try and finally take hold of the NFC South.
Vikings 23, Jets 16
Minnesota's defense and special teams put on a show last week against Carolina (but who doesn't against Carolina?), blocking two punts for touchdowns and holding the Panthers to one touchdown. The Jets were able to stay competitive with the Dolphins Monday night, much like they have a chance to do in Minnesota. But in Geno Smith, I do not trust.
Ravens 30, Dolphins 23
I just got done saying how the New York Jets were able to play Miami tough this past Monday; the Dolphins can't play at that level if they hope to beat Baltimore Sunday in a game that is both teams' most important contest of the season thus far. Ryan Tannehill has to take advantage of the Ravens' susceptible secondary every chance he gets if the Dolphins want to win this game (as the Chargers demonstrated Sunday). However, Baltimore's offense looked great again last week, and their front seven on defense should take Lamar Miller out of the game, pressure Tannehill and do enough to make up for what the secondary lacks.
Colts 27, Browns 20
We finally got to see it. We finally got to see Johnny Football take the field. And to make it worse for Brian Hoyer, Manziel looked pretty good in his time on the field against Buffalo last week. Luckily for the veteran, Hoyer's going to get the start against Indianapolis, but whether it's Hoyer or Manziel under center, it'd be tough to come out on top over the Colts Sunday either way. One more sub-par performance for Hoyer, though, and it might be the last start he sees for quite a while...
Lions 33, Buccaneers 20
The Bucs were hard-luck losers last week against the Bengals. This week, against Detroit, they'll just be losers.
Texans 29, Jaguars 19
All year long, we've been saying Houston is a team with a great defense, but no quarterback. Now, after Ryan Fitzpatrick threw six touchdown passes against the Titans last week, who knows what the Texans could end up being here in the last quarter of the season.
Broncos 30, Bills 24
Don't sneeze at Buffalo's chances this week; Denver hasn't faired too well against teams similar to the Bills. The Rams were able to beat the Broncos in surprising fashion, and the Dolphins nearly gave them a second consecutive loss before playing a terrible fourth quarter. But that's not enough for me to put my money on the Bills.
Chiefs 19, Cardinals 16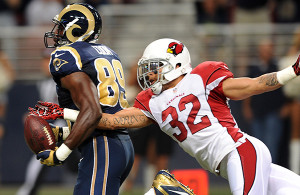 Arizona needs to find a way to stop this skid before they find themselves having to compete just to make the playoffs. But they can't hide the fact that they're not a good rushing team, and that they're missing Carson Palmer even more than they thought. Their championship-caliber defense is doing its best to keep the team in games, but they're now without Tyrann Mathieu for at least a couple weeks with a thumb injury. It doesn't help they're playing a team fighting in the crowded AFC-playoff picture with a good offense and a defense that can rival Arizona's on its best days.
Seahawks 27, Eagles 23
A Philadelphia team that's undefeated at home hosting a Seattle squad that isn't its best on the road? Sounds like a recipe for an Eagles W, right? Not so fast. The Seahawks are playing their best football of the season, and while Mark Sanchez has played acceptable in lieu of an injured Nick Foles, I can't see him playing well enough against the Legion of Boom and company to pull out a win. To me, there's just something about the Eagles that doesn't seem like a legitimate NFC contender.
Raiders 24, 49ers 20
That's right. I'm going for it.
Patriots 34, Chargers 30 (Sunday Night Football)
New England was outplayed by a Green Bay team that I've been saying for weeks is the NFL's best. Sunday night won't be a walk in the park for the Patriots either, as they travel out west to take on a San Diego team coming off a great comeback win in Baltimore. However, Philip Rivers will go up against a Pats secondary that is MUCH better than that of the Ravens, and it'll be hard to hold their home turf in primetime in a showdown with Tom Brady.
Packers 34, Falcons 23 (Monday Night Football)
Speaking of the best team in the NFL... They're hosting an Atlanta team that, albeit coming off a home upset win over the Cardinals, isn't exactly scary on the road. It'll take the game of Matt Ryan's life to match Aaron Rodgers and the Packers, and motivation to hold on to the NFC South lead won't be enough at Lambeau Field.
Record last week: 10-6
Record to date: 118-73 (.618)
Back to the NFL Newsfeed