We're in for a great weekend of football in week 13, with five matchups featuring two teams with records of  7-4 or better. And it all starts with a three-game slate of Thanksgiving games that promise to be competitive.
Last week, we learned a few pivotal things to keep in mind when picking games: The Seahawks can still play elite defense, the Saints are no longer a shoe-in to win at home, and the Raiders are no longer a shoe-in to lose... well, whenever they take the field.
Lions 34, Bears 27 (Thanksgiving Day Football)
Stop worrying about the Detroit Lions; all I'm hearing on TV are sentiments to the effect of "The Lions are on the decline. They haven't scored a touchdown in two games." Albeit a bit worrisome, those two contests were against a pair of the league's most impressive defenses of late in Arizona and New England. Detroit's offense should come alive and put on a show Thursday, however, going against a Chicago defense that's given up the most points in the NFC. The Bears should keep the game relatively close with their big-play offensive potential, this being a nationally televised Turkey Day divisional game.
Cowboys 41, Eagles 29 (Thanksgiving Day Football)
I know Dallas and Philadelphia are tied for the NFC East lead, and I know they're both 8-3... but I refuse to pick the team who on Thanksgiving Day will be led by the quarterback involved in the "butt fumble" on the infamous incident's two-year anniversary.
Seahawks 26, 49ers 23 (Thursday Night Football)
Just when people were starting to write off Seattle, the Seahawks silenced their critics by keeping the Cardinals, arguably the NFC's best team (although I'm not one of those making that argument), out of the end zone last week. While San Francisco has put together a run to stay in the playoff mix, it's tough to give them the edge over the Seahawks, even at Levi's Stadium, after narrowly defeating the Redskins Sunday.
Colts 33, Redskins 24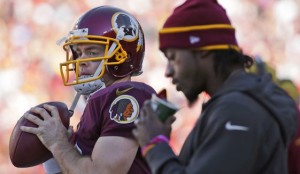 Just when we thought we were going to see 2012's No. 1 and No. 2 overall picks trending in polar opposite directions face off Sunday, Washington head coach Jay Gruden made the controversial, yet correct decision to bench Robert Griffin III. While Colt McCoy gives the Redskins a better chance to win moving forward at this time, no signal-callers from the nation's capital are going to beat Andrew Luck on this day.
Texans 24, Titans 23
Houston will go back to Ryan Fitzpatrick this week following Ryan Mallett's season-ending injury, ultimately limiting them in their hopes for a playoff spot. Nevertheless, Zach Mettenberger and Tennessee have struggled against Baltimore's and Philadelphia's pass rush in recent weeks, and the story should be no different against J.J. Watt and company. Not to mention the Texans beat their AFC South rivals by two touchdowns a few weeks ago in their first meeting.
Bills 27, Browns 26
Look, we all know the New York Jets are terrible. But still, to say Buffalo looked impressive Monday night in their win over Gang Green would be an understatement. They'll return home with all the snow (hopefully) off the field, ready to face a Cleveland team who will need Brian Hoyer to not throw three interceptions to have a chance Sunday.
Ravens 34, Chargers 24
San Diego will be trekking across country to the east coast to take on Baltimore in a game that could have major wild-card implications. Phillip Rivers needs his offensive line to hold up to stay in this game and to have a chance to take advantage of a sub-standard Ravens secondary. The Ravens are one of the best home teams in football, though, and playing in the cold won't help the Chargers' chances.
Giants 20, Jaguars 19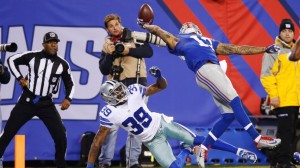 Jacksonville actually has a fighter's chance in this one, that is if Denard Robinson and the running game can have a big enough day. Nevertheless, I can't go against the man who made "The (Real) Catch" last week, even if the rest of his team isn't as talented as Odell Beckham Jr.
Buccaneers 29, Bengals 23
Upset alert: Josh McCown has put together two fairly good games in a row since becoming Tampa Bay's starter again, and they'll be at home this week to host a Cincinnati team that tends to play down to the level of their competition. Things won't go the Bengals' way Sunday, though, when the Buccaneers play better than they're expected to.
Rams 23, Raiders 16
Do I dare predict a winning streak for the now 1-10 Oakland Raiders?... No.
Saints 30, Steelers 27
Is it possible that New Orleans is actually happy to hit the road this week? They've lost three straight, all at home, and travel to Pittsburgh to take on a Steelers squad hoping to get a few stars back in the mix Sunday. But the Saints aren't going to let this season get away from them just yet, and that starts with a road upset at Heinz Field.
Panthers 24, Vikings 17
I'm giving Carolina the advantage due to the fact that they're coming off a bye to play a less-than-stellar team Sunday, which means there's a chance they were able to figure out some of their many, many problems in their time off. Minnesota can win this game if the Panthers don't play well, though, as the Vikings didn't look half-bad last week against the Packers. Can you believe, after the debacle that has been Carolina's season to date, the Panthers still have a reasonable shot to win the NFC South?
Cardinals 26, Falcons 13
If Atlanta was still the home juggernaut it's been in years past... Maybe. But with a losing record at home?...
Packers 38, Patriots 34
The best team in the AFC versus the best team in the NFC. What more could you want? How about if those two teams were quarterbacked by Tom Brady and Aaron Rodgers? Let's hope for a high-scoring, back-and-forth, entertaining contest that lives up to this game's billing. I've given Green Bay the edge over the rest of the NFC for weeks now, and a win this week at Lambeau Field would give them the edge over the rest of the entire NFL. No matter who comes out on top, this game will see one quarterback further his case for MVP, and see one team further solidify its path towards the Super Bowl.
Broncos 30, Chiefs 27 (Sunday Night Football)
Will this game be close and competitive, much like Denver and Kansas City's 24-17 matchup in week two? Yes, it probably will be. Are they both playoff-caliber teams in the AFC? Absolutely. But you expect me to pick the Chiefs to beat the Broncos a week after losing to the Oakland Raiders?...
Dolphins 29, Jets 20 (Monday Night Football)
Miami was able to hold its own against Peyton Manning and fool the all-time great a few times along the way last week, albeit in a loss. That doesn't bode well for Geno Smith, who is by no means Peyton Manning. Bottom line, the Dolphins are a much better team than New York, and Miami is looking to keep itself in the AFC Wild Card picture; they can't slip up in primetime against the Jets if they want to do that.
Record last week: 9-6
Record to date: 108-67 (.617)
Back to the NFL Newsfeed