The Bills and Texans might be able to accept being .500, but I sure can't; even if it was just for one week. Anybody know who Jonas Gray was before Sunday night? If you see him, tell him he cost me a pick last week. So did the Saints losing a second consecutive home game, Eli Manning throwing five picks and the Rams playing with Peyton Manning's kryptonite in their cleats.
Chiefs 27, Raiders 22 (Thursday Night Football)
As if Oakland wasn't bad enough on its own, the Raiders' remaining six games come against teams with a combined .600 winning percentage. Kansas City, meanwhile, is on a five-game win streak, and gives up the least amount of points of any defense in the AFC. No-brainer here, and it's sadly pretty likely we'll see another primetime drubbing that has become unsurprising this season.
Falcons 30, Browns 23
This matchup shows just how unfair the NFL can be sometimes: Somehow, someway, the Atlanta Falcons woke up Monday morning in first place in the NFC South at 4-6, while the 6-4 Cleveland Browns find themselves in last place in the AFC North. Atlanta is returning home following back-to-back divisional road wins to host a Cleveland team whose offense was stunted in a loss to Houston; the Browns rushed for just 58 yards, while Brian Hoyer completed just 40 percent of his passes (I can hear the faint echoes of Johnny Manziel chants now in the distance.). On another note, I am excited to see Josh Gordon, arguably one of the five best receivers league-wide as far as pure talent is concerned, return to the field for the Browns Sunday.
Eagles 24, Titans 23
Tennessee sure did put up a good fight in a losing effort last week, and Philadelphia sure... didn't. Nevertheless, the Eagles have yet to lose at home, and while both teams would probably rather have someone else under center for them Sunday, the talent around Mark Sanchez is much better than what's around Zach Mettenberger.
Lions 34, Patriots 31
If you were going to make a case that a team was the best in the AFC, the most complete and convincing argument can be made for New England. If they can sustain a running game and a defense who doesn't give up seven points every time it's on the field (which they've done an excellent job of doing recently), the sky's the limit for this team. I picked the Patriots to lose to the Broncos, and they won. I picked the Patriots to lose to the Colts, and they won. I should probably stop picking against the Patriots then, right?...
Packers 42, Vikings 10
Simply put, the Green Bay Packers offense has looked masterful as of late, and Minnesota's defense is in no shape to stop them, nor is their offense capable of keeping up. So why not go with the same score as when these teams first met earlier this season?
Colts 38, Jaguars 24
Wouldn't it be great if this game was decided by one point? A heavily contested matchup that comes down to the last second? Keep dreaming, Jacksonville fans... the 17 of you there are left.
Texans 27, Bengals 23
As impressive as it was to go into New Orleans and beat the Saints handily last week, I find myself more impressed with the downright ferociousness the Houston front seven can play with when their secondary isn't letting them down. I give them the advantage over a lot of teams if that unit is clicking on all cylinders.
Bills 26, Jets 20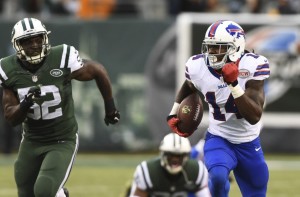 It's intriguing to think about how similar these two clubs are in their make-up, yet how different their 2014 success has been. They have the AFC's third- and fourth-best defenses in terms of yardage allowed, have no clue what to do at the quarterback position, and lack offensive firepower, save the one respective weapon they do each have (Sammy Watkins and Percy Harvin). Buffalo, however, is the better version of these troubled teams.
Bears 31, Buccaneers 21
While both teams are struggling, Chicago's potential to put things together and play a solid game is much higher than Tampa Bay's. It's hard to pick against a Bears offense with so many weapons when going up against a team who, other than Mike Evans' recent outburst, has left little to be desired on the offensive side of the ball.
Seahawks 26, Cardinals 23
I've been very "wait and see"-ish when it comes to Arizona so far this year, and they've proven themselves in every opportunity given. I'm going to wait and see one more time, though, as for me to completely start drinking the Cardinal Kool-Aid, I want to see them go to Seattle and beat the defending champs. If they prove their superiority, nothing will stop them until January rolls around. If they don't, they may see a little December competition from their friends from Washington for the NFC West crown.
Rams 24, Chargers 20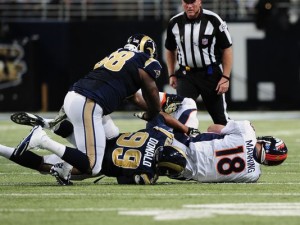 I realize their surprising win over the Broncos was in St. Louis, and that this game is on the west coast in San Diego. But nothing travels better in the NFL than defense, especially great ones. This Rams club finally started getting some of the recognition it deserves after last week's upset, and they're capable of much more of the same against a San Diego squad led by an injured quarterback who's only beaten one team in the past six weeks: the Raiders.
Broncos 30, Dolphins 24
Miami plays a defense similar in skill to that of the Rams, with a better offense to back it up. For that reason, I was half-tempted to go with the Dolphins in this matchup, but it's hard to imagine the film rat and intellectual anomaly that is Peyton Manning not figuring out how to rebound from last week and getting the job done. Don't be surprised at all if the Dolphins pull this one out, but in Manning I trust... (until playoff time).
49ers 31, Redskins 17
Is Robert Griffin III starting this game? Yes? Then this choice is an easy one, especially following a 20-point home loss to Tampa Bay.
Cowboys 38, Giants 27 (Sunday Night Football)
As spectacular as Dallas' home stadium jokingly referred to as "Jerry World" is, it may surprise some to know that the Cowboys are 4-0 on the road this season. They should make it 5-0 after Sunday night, as the Cowboys took care of business against the Giants in their first meeting this year, and Eli Manning may be at an all-time low in his career at this point.
Saints 30, Ravens 27 (Monday Night Football)
Before their last two games, many would never think of picking against New Orleans at home. Now, fast forward two weeks and we're considering the possibility of the Saints dropping three straight in the Superdome. Drew Brees and the Saints still have a potent offense, especially on their home turf, and he should have a field day against an abysmal Baltimore secondary. The Ravens do have a chance to leave the Big Easy victorious, though, if their pass rush can disrupt Brees for four quarters and if Joe Flacco and the offense can keep up point-for-point.
Record last week: 7-7
Record to date: 99-61 (.619)
Back to the NFL Newsfeed