Much love to the Dallas Cowboys and much respect to the now Carson Palmer-less Arizona Cardinals, but I'll put myself out there and say that right now the Green Bay Packers are the best team in the NFC. Aaron Rodgers and the Packers put on a performance that put the rest of the league on notice, and that win headlined my mediocre just-above-.500 week 10.
The Saints losing their first home game since the end of the 2012 season, along with the just outright disgusting play of the Bengals, Steelers and Panthers were the biggest culprits in my poor picking performance last week. I'm in need of a double-digit-win week 11 to get back on track and hopefully eclipse the 100-win mark for the season.
Dolphins 23, Bills 16 (Thursday Night Football)
Both 5-4 AFC East teams chasing the New England Patriots are coming off tough losses last week; Miami lost to Detroit in a game in which both teams played very well, while Buffalo fell to Kansas City in a game in which both teams played not-so well. The Dolphins went punch for punch with one of the best clubs in the league, and I expect them to solidify themselves as the main threat to the Pats in the AFC East.
Bears 27, Vikings 19
Boy, what an eye sore Chicago's 2014 season's turned out to be. A team that was expected to, and should have, competed in not only the NFC North, but in the NFC as a whole, has dug themselves into a hole that they will not be able to get out of this year. They're not going to just mail in the season, though, and after the primetime disgrace that took place last Sunday night in Green Bay, the Bears have a bad taste to get out of their mouth against an inferior Minnesota squad.
Texans 26, Browns 24
Cleveland is riding high as they are in first place in the AFC North. However, a loss this week and they could find themselves back where they're so used to being: last place in the AFC North. The Browns are facing a Houston team that has a great front seven, but a susceptible secondary. Brian Hoyer's been a good game manager so far this year, but he's going to have to throw the ball consistently to come away with a win this week against the now Ryan Mallett-led Texans.
Seahawks 23, Chiefs 20
Seattle did what they usually do at home again last week in a convincing win over the New York Giants, but expect a highly competitive game as they travel to one of the toughest places to play in Kansas City. Much like the Seahawks, the Chiefs defense is very tough to beat in Arrowhead Stadium. I expect the defending champs to get the job done Sunday, but don't be surprised if the home team pulls the upset.
Panthers 27, Falcons 20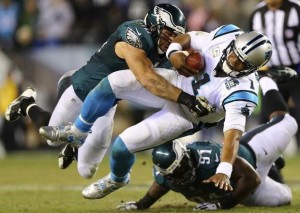 It's time to stop blaming Cam Newton for how bad Carolina is, and it's time to stop saying Cam Newton is not an NFL quarterback. What else do you expect when you only give him one above-average receiver, no running game (unless he's doing it himself), the worst offensive line in the NFL and a defense who can no longer stop a nose bleed? Much like the Bears, the Panthers need to get their act together, and playing a poor Atlanta team at home this week gives them a great chance to do so.
Saints 31, Bengals 24
Before last week, it had been nearly two years since New Orleans had lost a home game. Do you think they're going to just all of a sudden drop two straight? Not likely.
Buccaneers 26, Redskins 19
If you've followed my picks columns since the start of the season, you'll notice that I don't pick in favor of Robert Griffin III; and there's a reason for that. His counterpart on Sunday, Josh McCown, also had a quietly good day in a loss to the Falcons last week.
Broncos 34, Rams 20
A midseason quarterback swap is almost never a good thing, especially when you're welcoming perhaps the greatest quarterback to ever play the position in your first game following the change. Good luck, Shaun Hill.
Giants 31, 49ers 28
Look out, but San Francisco decided they wanted to be competitive again. They surprised a lot of people last week when they won in overtime in New Orleans, but I need to see them do it more consistently before I completely buy in again; that includes proving me wrong this week. It'll be interesting to see what impact Aldon Smith has in his return to the team this week, though.
Chargers 31, Raiders 26
I was rather tempted to go with Oakland in this matchup, but San Diego has to end their three-game losing streak to somehow try and keep pace with Denver in the AFC West and stay in the mix as far as the wild cards go. Still, don't be surprised if the Raiders end up getting their first W of the season Sunday, as you could argue they outplayed the Chargers in their first meeting earlier this season.
Packers 30, Eagles 27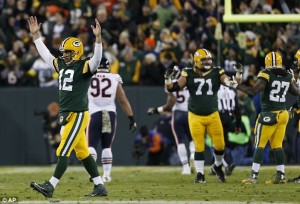 While Philadelphia is definitely capable of staying competitive in the NFC for the rest of the season with Mark Sanchez at quarterback, they were fortunate to draw a lousy Panthers squad and flex their muscles Monday night. Green Bay will be a different story this week, and it wouldn't really make sense to pick against the Packers just a few mere paragraphs after anointing them the NFC's best team, would it?
Lions 26, Cardinals 19
After hearing that Carson Palmer tore his ACL and will miss the rest of the season, Arizona head coach Bruce Arians said he thinks the Cardinals can win the Super Bowl with Drew Stanton at quarterback. While their top defense will definitely keep them in contention, there are definitely other teams in the NFC that have leapfrogged them. And the Detroit Lions are one of them.
Colts 41, Patriots 37 (Sunday Night Football)
Finally, a matchup worthy of a primetime spotlight. Two of the AFC's three juggernauts will clash Sunday night in a game that will pit two of the league's best signal-callers against each other. Indianapolis will have the home edge, though, and Andrew Luck could move one step closer to this year's league MVP with a great performance.
Steelers 27, Titans 17 (Monday Night Football)
Just when everyone thought Pittsburgh was going to start wreaking havoc on the rest of the AFC... they lose to the New York Jets. Congratulations guys: You've now lost to the worst team in the NFC AND the worst team in the AFC. Another similar performance isn't likely Monday night, however, as while Zach Mettenberger and Tennessee may put up a valiant fight, the Steelers defense salivates at the thought of facing rookie quarterbacks.
Record last week: 7-6
Record to date: 92-54 (.630)
Back to the NFL Newsfeed