Did the Pittsburgh Steelers prove they are once again the best team in the AFC North? Did the New England Patriots show they are once again the best team in the entire AFC? Can the league ignore the streaking Saints, Dolphins and Chiefs any longer?
I was wrong about the Steelers and Patriots last week, and Tony Romo not playing Sunday against the Cardinals along with Colin Kaepernick's fumble on the 1-yard line in St. Louis cost me two more picks. It was a good week for me nonetheless, headlined by the Dolphins' 37-0 rout of the Chargers and the Saints' impressive road showing Thursday night.
Bengals 19, Browns 16 (Thursday Night Football)
Could you imagine? The Cleveland Browns could claim first place in the AFC North if things go their way in week 10. Their eighth-best scoring defense travels to Cincinnati to take on the current division leaders and a Bengals offense eager to welcome A.J. Green back into the fold. While the Browns have been playing above expectations, it's going to take a two-dimensional offense to be successful in this game and in the future. And while the running game has been strong in Cleveland lately, the passing attack has left little to be desired.
Chiefs 27, Bills 23
Both clubs enter Sunday at a somewhat surprising 5-3, and Kansas City would even be the sixth seed in the AFC if the playoffs started today. Jamaal Charles will be faced with the challenge of Buffalo's top-ten rush defense, while the suddenly hot Kyle Orton-Sammy Watkins connection will go up against the Chiefs' league-leading pass defense that baffled the Jets last week. But lets face it... Who can't baffle the Jets?
Lions 27, Dolphins 20
This matchup pits two of the league's three best scoring defenses against each other, but I'll give the edge to Detroit's league-best. Their pass rush has looked good on a level of historic proportions, and Miami's D will have a tough assignment on the road with Calvin Johnson returning.
Cowboys 38, Jaguars 26
The latest edition of London football features America's team taking on a team I'm sure America wouldn't mind leaving in England. Forget being America's team; Jacksonville isn't even Florida's team... Come to think of it, they're not even Florida's second team. Nevertheless, Tony Romo is expected to be back under center for Dallas, and that should be plenty enough for the Cowboys to get back on track.
Saints 34, 49ers 27
The Saints don't lose at home. Especially not to an inconsistent San Francisco team.
Ravens 31, Titans 20
Anyone seen Ed Reed lately? Deion Sanders? Heck, Chris McAllister? Baltimore needs to fix its sorry excuse for a secondary, and they need to do it quick. In the meantime, though, their vicious pass rush will be enough to take care of Zack Mettenberger and Tennessee in the rookie's second start.
Steelers 27, Jets 23
Pittsburgh has performed too well as of late to fall behind the pace of the rest of the AFC North this week. Facing a New York Jets team with countless unanswered questions doesn't hurt their chances either, but I do still expect Rex Ryan's defense to bring Big Ben down to earth a bit.
Buccaneers 27, Falcons 23
It's a good thing this is a divisional rivalry game, because otherwise this matchup leaves little to be desired. A team that's 0-4 on the road traveling to face a team that's 0-4 at home. Tampa Bay has decided to hand the reins back to Josh McCown, and I don't see him letting another opportunity slip away too quickly by underperforming Sunday.
Broncos 41, Raiders 27
Denver's coming off a more lopsided loss than expected at the hands of New England, but what a better opponent to have the following week to get things back on track? Granted, the 0-8 Oakland Raiders played the Seahawks much tougher than I or anyone else expected them to in Seattle, and they very well may hang tough against the Broncos for a while this week, too. But I think it's pretty safe to say 0-9 is on the horizon...
Rams 27, Cardinals 23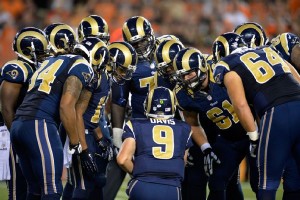 My major upset pick of the week, the 7-1 Arizona Cardinals have become the class of the NFC after conquering the Romo-less Cowboys last week. But they're not going to win out, and a St. Louis Rams squad that is very much built like Arizona has a chance to play the Cardinals tough. Don't expect Arizona to start trending downwards, though.
Seahawks 29, Giants 24
Just because Seattle isn't seemingly as dominant as they were last year doesn't mean they aren't still one of the best teams in the league, and their home-field advantage is still virtually a death sentence for opponents. Plus, the New York Giants looked pretty bad Monday Night against Indianapolis until they started putting together some offense in garbage time.
Packers 34, Bears 31 (Sunday Night Football)
Chicago needs this game to stay in contention and avoid falling to 3-6... Too bad they're probably not going to get it. The struggling Bears have lost four of their last five, and it's been disappointing watching a talented potential contender drastically underperform lately. Green Bay will show no sympathy at Lambeau Field, though, and the Bears are going to need a miracle second half of the season if they want any chance of making the playoffs; I just don't think it's going to start with this game.
Panthers 27, Eagles 26 (Monday Night Football)
All signs point to a Philadelphia win Monday night. The Eagles have yet to lose at home this season, and Carolina is coming off of consecutive poor performances against the Packers, Seahawks and Saints. However, Cam Newton and the Panthers still have a chance to compete for the NFC South crown. They need to take hold of the opportunity while it's still there, though, and a second-straight poor primetime showing could be the end of Carolina's January aspirations.
Record last week: 9-4
Record to date: 85-48 (.639)
Back to the NFL Newsfeed