"Who's got it better than us?"
Before this season, if you were a San Francisco 49er your answer to coach Jim Harbaugh's question would be a resounding "Nooooobody." But now, after a disappointing year with front office-coach relations getting more media attention than the on-field play, "Who's got it better than us?"
"... Pretty much eeeeeverybody."
Finals week and the end of the fall semester kept this busy college sophomore away from the column the past two weeks, but I've still been making the picks nonetheless. After slates of 14-2, 12-4 and 9-7 in the past three weeks, I'm looking to wrap up the regular season in much better shape than the 49ers. Merry Christmas to all, and to all a good final week of picks.
Ravens 26, Browns 16
Johnny Manziel's out with a hamstring injury, and Brian Hoyer's shoulder problem will keep him off the field, too. That leaves practice-squad rookie Connor Shaw, and I don't like his chances against the league's leading sack duo, Elvis Dumervil (17) and Terrell Suggs (11), especially when Baltimore needs a win if they hope to make the playoffs. Then again, another practice-squad promotee was more than serviceable for the Texans against the Ravens last week.
Cowboys 31, Redskins 20
I have no problem bragging on myself just a bit in saying the Dallas Cowboys were my preseason pick to win the NFC East when most others were expecting them to be a sub-.500 team. That being said, I'm not sure anyone expected Tony Romo to be in the MVP discussion, or for the Cowboys to go into week 17 undefeated on the road. They should be able to finish the season undefeated away from home when they travel to face a Washington team whom they can thank for eliminating the Eagles from playoff contention last week.
Colts 26, Titans 17
Indy doesn't really have anything at stake in this game; they've got the No. 4 seed in the AFC locked up, and they're awaiting the Bengals-Steelers loser in the first round of the playoffs. Meanwhile, Tennessee has plenty to play for... or, not play for. With a loss this week and a bit of luck, the Titans could end up with the No. 1 overall pick in the draft. And really, what's more important to this franchise: A win Sunday? Or a potentially organization-altering pick?
Texans 23, Jaguars 16
No, Blake Bortles will not be getting his first two-game winning streak as a pro Sunday.
Chiefs 29, Chargers 27
San Diego needs a win to secure their spot in the playoffs, but they'll have to beat a Kansas City team they lost to earlier in the season at home. Now, Phillip Rivers and company have to go on the road against a Chiefs defense that is much better on their home turf. Backup quarterback Chase Daniels will buck the trend and throw a touchdown pass to a Chiefs wide receiver for the first time all season, and Kansas City's significant home-field advantage may be what tips the scales.
Dolphins 24, Jets 13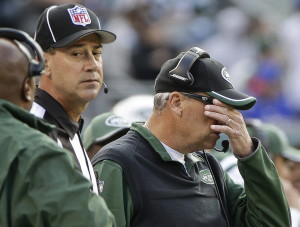 Apparently Rex Ryan is already cleaning out his office? That doesn't really sound like he's too focused on Sunday's game...
Vikings 27, Bears 26
Unfortunately for Marc Trestman, Jimmy Clausen won't be available to play Sunday, which means he'll be forced to start Jay Cutler. You remember Jay Cutler, don't you? The highest-paid quarterback in the NFL this year? Yeah, that Jay Cutler.
Patriots 27, Bills 24
Three teams enter Sunday with a chance to go 8-0 at home, and New England is one of them. Their success at home should worry any potential playoff opponents, as a win against Buffalo not only secures a perfect record at Gilette Stadium this year, but more importantly locks up the AFC's No. 1 seed and home-field advantage throughout the playoffs. Unless Buffalo's defense has one of its best showings Sunday, the road to the Super Bowl in the AFC will go through Foxboro.
Eagles 31, Giants 28
Philadelphia held the G-Men scoreless back in their first meeting when the Giants were at their lowest point. Big Blue isn't in quite as bad of shape now, and this encounter in New York should be a bit more competitive at least. But Eli Manning is still due for a turnover or two, as usual.
Saints 27, Buccaneers 23
Tampa Bay NEEDS this game... to not go in their favor. Remember how I told you the Titans need some luck to get the No. 1 overall pick in the draft? Well that luck involves the Buccaneers winning against New Orleans on Sunday; otherwise, Tampa gets the top pick. The Bucs have the ability to potentially win this game at home, but I'm pretty sure they're motivated to do otherwise...
Panthers 23, Falcons 17
Finally, someone is going to win the awful NFC South. The winner of this game will become the definition of backing into the playoffs, but will also, deservedly or not, "earn" a home playoff game. While Atlanta is playing solid football as of late, Carolina has won three straight -- and momentum is important come December and beyond. Cam Newton looked healthy last week against the Browns, and with a recently flourishing running game, it's time for the former No. 1 pick to shine.
Packers 30, Lions 27
The winner wins the NFC North and gets a first-round bye, and the loser travels to face the NFC South champion on wild card weekend. Green Bay has been a juggernaut at home, and look to end their season undefeated at Lambeau Field. Aaron Rodgers could use an exclamation point on his claim for the MVP, and what better way to do that than winning a division-deciding game and besting one of the league's top defenses?
Broncos 34, Raiders 16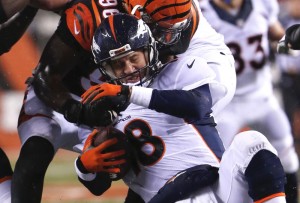 While Peyton Manning's critics are once again raising questions about the great's history of concerning play in inclement weather after a poor showing on Monday night in Cincinnati, those are questions we can ask ourselves in a week or two.
49ers 20, Cardinals 19
Remember when I said almost everyone has it better than San Francisco at this point? Well, the Arizona Cardinals aren't in that group. At least the 49ers don't have to worry about finding a way to win in the postseason like the Cardinals do.
Seahawks 26, Rams 13
This is actually a crucial game for the defending champs; Seattle can clinch the NFC's No. 1 seed, and no one would benefit from home-field advantage throughout the playoffs as much as them, as was evident last season. St. Louis should put up a fight, but the Seahawks are playing their best football at the right time.
Steelers 31, Bengals 27 (Sunday Night Football)
Pittsburgh showed they're the better team at this stage of the season towards the end of their first encounter with the Bengals in Cincinnati just a few weeks ago. Andy Dalton doesn't play well in primetime, and Andy Dalton doesn't play well in primetime on the road.
Record in week 14: 14-2
Record in week 15: 12-4
Record last week: 9-7
Record to date: 153-86 (.640)
Back to the NFL Newsfeed