Gamedays at most NFL stadiums come complete with a festive party-like atmosphere and tailgate awesomeness of epic proportions. However, these next five fan bases don't exactly bring the noise and the funk every time out -- leaving something to be desired when it comes to home-field atmosphere.
Here's our list of The 5 Weakest Fan Bases In The NFL.
5. Arizona Cardinals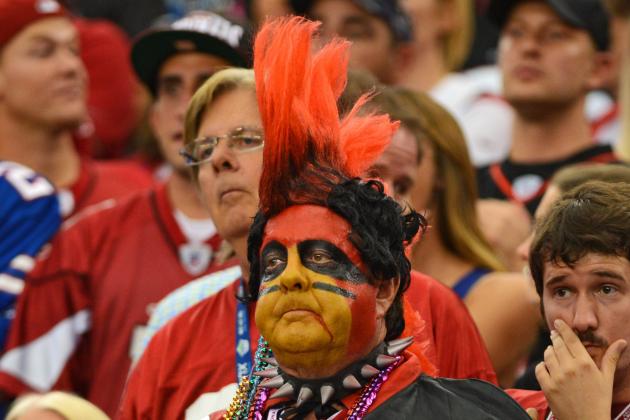 Glendale, Arizona is a hotbed for out-of-state transplants, and that element can sometimes suck the life right out of University of Phoenix Stadium on gamedays. Aside from the litany of opposing fans who make their presence known on any given Sunday, there's also a weird segment of Cardinals "fans" who're in the stands just for the novelty of it all. Not exactly awe-inspiring stuff.
4. St. Louis Rams
The Edward Jones Dome rocked like a mutha in the St. Louis incarnation of the Rams' Kurt Warner-led heyday, but now Rams game at the definition of a hit-and-miss experience. Sometimes the crowd is hot, and sometimes the crowd acts like their at a particularly awful poetry reading. That kind of up-and-down energy just doesn't quite cut it from a "Bucket List NFL Pilgrimage" standpoint.
3. Atlanta Falcons
Atlanta is a rough town for professional sports franchise to begin with, as the Braves, Hawks, and Falcons all struggle to sell out even the most important games of the year (including playoff games, oddly enough). Until the Falcons get a new stadium and up their game from an off-the-field entertainment standpoint, this college football town will be "meh" at best about the Dirty Birds.
2. Jacksonville Jaguars
Speaking of college football crazy towns that struggle to replicate the same passion for pro sports, unless the Jags somehown get admitted to the SEC and play Alabama every year, things are gonna be pretty tepid at EverBank Field. When this team moves to London, will the fan base make a sound? We're not sure.
1. San Diego Chargers
There's something just not right about the in-stands experience in San Diego. While you'll find plenty of true Bolts fans on any given Sunday in Qualcomm, the right (or wrong) opponent brings an influx of opposing fans who tend to drown out the Chargers faithful with pure noise. When the Raiders, Patriots, Broncos, or Cowboys are in town, there is little to no home-field advantage in San Diego.
Back to the NFL Newsfeed