The 2015 NFL Draft is in the books, and we've had just enough time to figure our initial impressions of the best fits and best draft classes from this year's festivities in Chicago. Without further ado, here's our list of The 5 Biggest Winners Of The 2015 NFL Draft. Here's the best part of Cleveland's draft -- they hoarded picks instead of pawning them off for a quick fix, bringing home a very balanced cache of 12 prospects. Washington nose tackle Danny Shelton and FSU offensive tackle Cameron Erving may be considered "safe" selections, but this was an altogether smartly played draft for a franchise in need of stability up and down the roster.
4. Brett Hundley
The ultimate project pick at quarterback, Hundley was projected by many draft analysts to be the third QB taken off the board in Chicago. That didn't happen, as Hundley was forced to sweat things out until Green Bay picked him in the fifth -- making him the sixth quarterback selected. However, Hundley now has a chance to hone his craft behind Aaron Rodgers, which is an enviable position for any young NFL QB still wet behind the ears.
It's not very often that you pick three straight defenders and each one of them is the best option available on the board at that time. The Vikings did just that, securing CB Trae Waynes, UCLA middle lineabacker Eric Kendricks, and LSU pass rusher Danielle Hunter in rounds 1 through 3 -- all three of which could be major impact players before long. Add one of the best offensive line value picks in Pittsburgh's TJ Clemmings (4th round), and this is a draft Vikes fans can easily get behind.
2. Roger Goodell Haters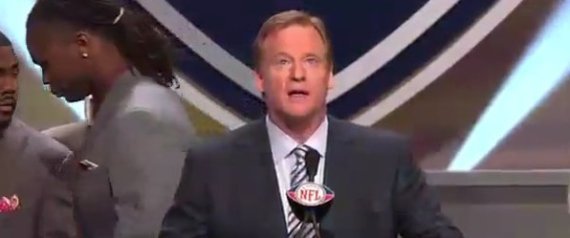 If you're like us, you basically giggled your way through the draft as the fans in attendance mercilessly rained boos upon our (not-so) beloved NFL Commissioner. It's like watching a wrestling bad guy finally get his comeuppance. It was cathartic.
REALLY cathartic.
The young Jags just got a jolt of talent all over the field, with elite Florida pass rusher Dante Fowler Jr. and underrated Alabama running back TJ Yeldon highlighting one of the smartest and most complete draft classes you're going to see. For the perfect mix of absolute steals (Louisville safety James Sample, 4th round) to potential star power, you don't get much better than what Jacksonville did.
MORE NFL DRAFT AWESOMENESS
The Top 5 Quarterbacks Of The 2016 NFL Draft
10 Prospects You Need To Know About For The 2016 NFL Draft
Back to the NFL Newsfeed