The top defensive lineman names such as USC's Leonard Williams and Florida's Dante Fowler Jr. are long since off the big board of the 2015 NFL Draft, but there's still plenty of value to be had across the D-line heading into day two of the draft on Friday. Here's our list of The 4 Best Defensive Linemen Left In The 2015 NFL Draft.
1. DE/OLB Randy Gregory - Nebraska
Gregory could be a cautionary tale after a failed pot test at the NFL Combine derailed his chances of earning first-round pick money over the course of his rookie deal. If he gets his head straight, however, Gregory has all the speed, aggression, and varied moves in his arsenal to be a top-tier pass rusher at the next level.
2. DT Eddie Goldman - Florida State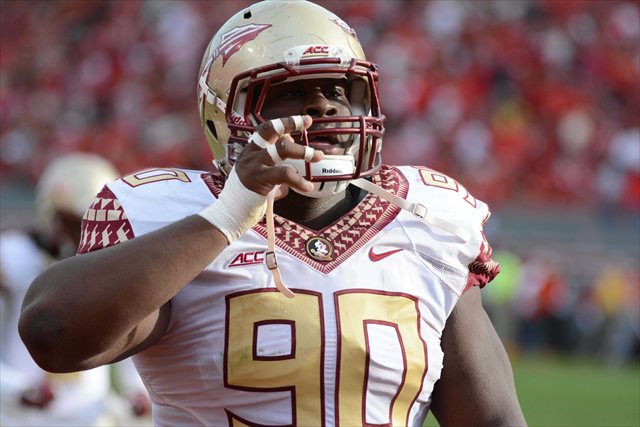 Goldman missed the NFL Combine due to injury and likely saw his late first-round draft stock bubble burst as a result, but he's such an imposing and disruptive force that he shouldn't be left in limbo for too much longer. Rumblings out of Tallahassee are that the program regarded him as the best defensive lineman within the program last year, and he's constantly turned heads in front of a litany of scouts who watch him perform.
3. DE/OLB Eli Harold - Virginia
Harold's biggest knock may be his slight-ish frame, and it's true that he'll need to pack on weight if he hopes to stick as a defensive end in a 4-3 formation. Yet, there is another athleticism and speed in his arsenal to cement him as an effective outside linebacker, and he's just a few pounds away from becoming the epitome of an extremely versatile NFL edge rusher.
4. DT Jordan Phillips - Oklahoma
Phillips used his 6-foot-5, 329-pound frame to completely overwhelm opposing offensive linemen, and he's got just enough burst and closing speed to his game to be a dangerous weapon in the trenches. His ability to create havoc can't be denied, but he's likely more of a scheme fit as a nose tackle in a 3-4 base defense.
Follow our National Football League page for the latest 2015 NFL Draft news from Chicago!
Back to the NFL Newsfeed