Ahh, the offseason...when every draft pick is a guaranteed success, each free-agent pickup is the key to the future, and fans of every team are predicting a playoff run - at the very least.
Which teams are legitimately better, though? Which front offices are making all the right moves? We've picked out 10 teams we expect to make a significant leap in 2014, and ordered them by how drastic an improvement you're likely to see. A higher ranking doesn't mean a better team - while the Texans might have improved, that doesn't mean they're better than the Broncos or Patriots (not yet, anyway).
10. Baltimore Ravens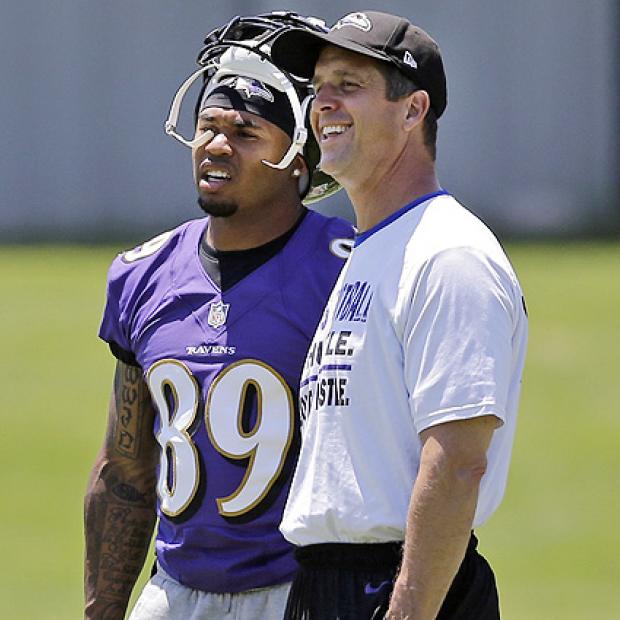 2013: 8-8, missed playoffs
Key Additions: WR Steve Smith (Free Agency), LB CJ Mosely (1st-Round Draft Pick), DT Timmy Jernigan (2nd-Round Draft Pick)
The Ravens might not jump off the page with their offseason acquisitions, but they addressed key needs without losing any difference-makers.
Mosely and Jernigan were both excellent picks (Jernigan could easily have gone in the first round), and Steve Smith adds depth and verticality to the passing game.
Harbaugh-coached teams don't stay down for long, and the Ravens will bounce back from missing the playoffs in 2013 with a strong 2014 campaign.
9. New England Patriots
2013: 12-4, lost AFC Championship game to Denver
Key Additions: CB Darrelle Revis (Free Agency), CB Brandon Browner (Free Agency) WR Brandon LaFell (Free Agency), LB Will Smith (Free Agency), DT Dominique Easley (1st-Round Draft Pick)
A 12-4 team as one of the most improved? Hear us out...
The Patriots managed that 12-4 record against what might have been the NFL's weakest schedule, and only two of those wins came against teams above .500 - overtime victories against Denver and New Orleans.
Losing Aqib Talib to the Broncos stings...but getting Darrelle Revis in free agency makes Talib's departure much less of an issue. Added depth at multiple positions will help New England manage any injury problems that come up, and another year of development should help the Patriots' young receiving corps immensely.
8. Cleveland Browns
2013: 4-12, missed playoffs
Key Additions: CB Justin Gilbert (1st-Round Draft Pick) QB Johnny Manziel (1st-Round Draft Pick) S Donte Whitner (Free Agency) WR Miles Austin (Free Agency) WR Nate Burleson (Free Agency)
The Browns have made some smart acquisitions, and for the first time in years, Cleveland is basking in some genuine offseason optimism.
The impending loss of WR Josh Gordon to season-long suspension will hurt, but Austin and Burleson should help carry some of that weight. It's still unclear who starts under center, but both incumbent Brian Hoyer and college sensation Johnny Manziel are better options than the Brandon Weeden/Jason Campbell platoon from last year.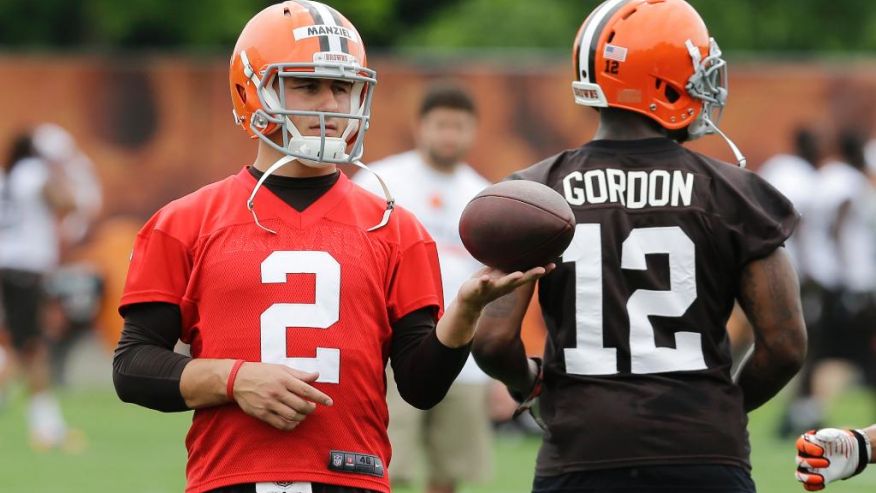 Justin Gilbert has been overshadowed thanks to Manziel's stranglehold on the media, but he and Joe Haden will be one of the league's most feared cornerback duos in years to come. Cleveland won't turn things around overnight, but 2014 will be a significant step in the right direction.
7. Green Bay Packers
2013: 8-7-1, lost Wild-Card game to San Francisco
Key Additions: S Ha-Ha Clinton-Dix (First-Round Draft Pick), DE Julius Peppers (Free Agency)
The Packers might not have made noise in the draft or free agency, but they'll be significantly improved in 2014.
This was the most injury-ravaged team in the NFL last season, and the Packers' 8-7-1 record is impressive when you consider just how deep into the depth chart they had to go. Only 10 of 22 starters played in all 16 games in 2013, and as that number improves, so will the overall record.
Ha-Ha Clinton Dix was an excellent draft pick, and the continued development of Green Bay's stacked 2012 draft class will also help this team raise their game this season. If the Packers can stay healthy, they'll rejoin the NFL elite in 2014.
6. Denver Broncos
2013: 13-3, Lost Super Bowl to Seattle
Key Additions: CB Aqib Talib (Free Agency), DE DeMarcus Ware (Free Agency), S TJ Ward (Free Agency), WR Emmanuel Sanders (Free Agency), CB Bradley Roby (First-Round Draft Pick)
The Patriots were one thing, but a 13-3 Super Bowl team as one of the most-improved?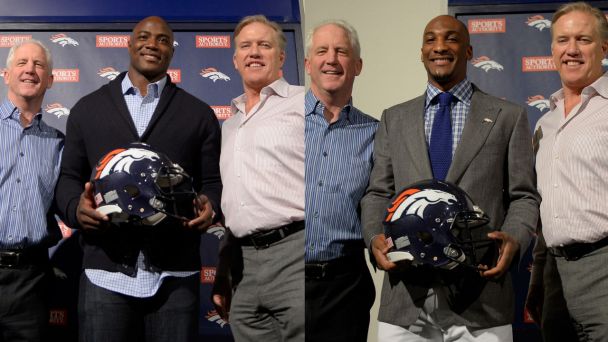 You better believe it. That's what happens when you add THREE Pro-Bowl players at positions of need on defense, then get back Pro-Bowl LT Ryan Clady on offense (Clady missed all but two games last year). The Broncos are going to be an even tougher out in 2014, and the free agency moves make one thing clear: Denver is going all-in on 2014.
5. St. Louis Rams
2013: 7-9, missed playoffs
Key Additions: OT Greg Robinson (First-Round Draft Pick), DT Aaron Donald (First-Round Draft Pick) DE Alex Carrington (Free Agency), CB/S LaMarcus Joyner (Second-Round Draft Pick), WR Kenny Britt (Free Agency) RB Tre Mason (Third-Round Draft Pick)
Another team that'll benefit the most just by getting healthy, the Rams will have to navigate a loaded NFC West if they want to make the playoffs...but regardless of their postseason hopes, they'll be a much better team in 2014.
Getting Sam Bradford back opens up the field for running back Zac Stacy, who broke out last year with an eye-catching 2013. Stacy will be backed up by rookie RB Tre Mason, a high-potential dynamo in his own right.
Mason's college teammate Greg Robinson will help anchor the offensive line, and the Rams will benefit as their group of young offensive talent solidifies. This team isn't ready to challenge for the NFC West just yet, but they'll be in the conversation sooner than most fans think.
4. Minnesota Vikings
2013: 5-10-1, missed playoffs
Key Additions: Head Coach Mike Zimmer, QB Teddy Bridgewater (First-Round Draft Pick), CB Captain Munnerlyn (Free Agency) LB Anthony Barr (First-Round Draft Pick)
The Vikings had two massive problems in 2013: a coach who was in over his head and a total mess at the quarterback position.
We're huge fans of rookie head coach Mike Zimmer - sticking him and the Vikings here at the #4 spot looks like a stretch, but we think he has what it takes to turn this train around. Teddy Bridgewater has work to do, but he's an instant upgrade over the Christian Ponder/Matt Cassel situation.
The Vikings still need a number one receiver and more help for Captain Munnerlyn in the secondary...but no one said this team was turning into a Super Bowl contender overnight. We expect Minnesota to make a serious run at the Wild Card, and considering how lost they looked in 2013, that's enough to vault them into our #4 spot.
3. Houston Texans
2013: 2-14, missed playoffs
Key Additions: Head Coach Bill O'Brien, DE Jadeveon Clowney (First-Round Draft Pick), S Chris Clemons (Free Agency), RB Andre Brown (Free Agency)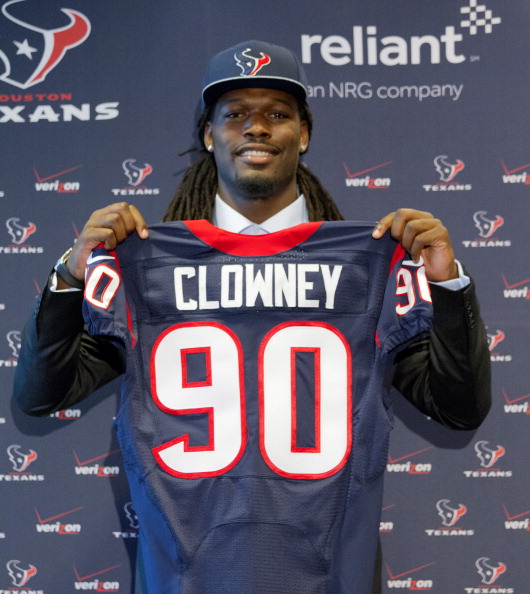 For the Texans, the only way to go is up.
Things won't turn around overnight, but the perfect storm that was 2013 in Houston virtually guarantees that this season will be a significant improvement. Bill O'Brien is one of the most highly-regarded young coaches in any sport, and if you saw what he did with an embattled, transfer-depleted Penn State team, you'll be excited to see what he can do with an NFL roster.
Jadeveon Clowney is going to be a monster at the NFL level, and lining him up with JJ Watt is just unfair. There are still quite a few major question marks around this team (What are they going to do with Andre Johnson? Who's the quarterback of the future?), but the nuclear clear-out of 2013 will help this young, high-potential team start fresh...and the future is bright.
2. Oakland Raiders
2013: 4-12, missed playoffs
Key Additions: LB Khalil Mack (First-Round Draft Pick) QB Matt Schaub (Trade), DE Justin Tuck (Free Agency) DE Antonio Smith (Free Agency), WR James Jones (Free Agency), CB Tarrell Brown (Free Agency), QB Derek Carr (Second-Round Draft Pick)
The dead weight that prevented the post-Al Davis Raiders from rebuilding is gone, and Reggie McKenzie's work can now begin in earnest.
The Raiders spent their money wisely in Free Agency, giving reasonable money to proven veterans without breaking the bank or rolling the dice on an unproven quantity. McKenzie followed that up with Oakland's best draft in recent memory, finally addressing needs and loading up on talent instead of rolling the dice on poor fundamentals and a fast 40-yard-dash.
In Khalil Mack, the Raiders have their defensive anchor of the future, and they're hoping that Derek Carr will turn into the franchise quarterback Oakland hasn't seen since Rich Gannon left town. The puzzle is still missing a few pieces, but now you can at least see what the finished product is supposed to look like.
1. Atlanta Falcons
2013: 4-12, missed playoffs
Key Additions: CB Javier Arenas (Free Agency), WR/KR Devin Hester (Free Agency), OT Jake Matthews (First-Round Draft Pick), TE Bear Pascoe (Free Agency), DT Ra'Shede Hageman (Second-Round Draft Pick)
In 2013, everything that could have gone wrong for the Falcons exploded into a million pieces. Injuries and some shocking declines in form turned a 13-3 contender into a 4-12 charity case, but it's important to remember that the Falcons are still largely the same team that narrowly lost the 2012 NFC Championship game.
The Falcons still have Matt Ryan, Julio Jones, Steven Jackson, and Roddy White on offense. The run defense was abysmal last year, but the addition of Ra'Shede Hageman and a completely-healthy defensive front should help stop the bleeding.
The Falcons have what it takes to get back into contention in 2014...and considering how bad things looked for most of 2013, that's enough to land them in our top spot.
Additional Reading:
Ranking the Aerial Views of Every NFL Stadium
How Much Is Each NFL Owner Worth?
Back to the NFL Newsfeed