The NFL is almost back, and we couldn't be happier about it.
2013 was an absolutely wild year in pro football, and it's hard to remember another season that was so incredibly entertaining from start to finish. With the 2014 regular season just around the corner, we've put together our first power rankings of the year, based on how well each team finished 2013 and the moves they've made since. Disagree? Think your team got ripped off? Let us know in the comments section.
32. Jacksonville Jaguars (2013: 4-12)
This is going to be Blake Bortles' team sooner rather than later. Last year's second-half improvement raised expectations in Jacksonville, but it's important to remember those four wins came against Tennessee, Cleveland, and Houston (twice). The Jaguars are going to be better this year (playing in the AFC South certainly doesn't hurt), but they won't be what anyone would consider "good".
31. Houston Texans (2013: 2-14)
Houston has their coach in Bill O'Brien, and a terrifying defensive front to wreak havoc on defense, but they're still missing the most important ingredient: a quarterback. Ryan Fitzpatrick was extremely mediocre for Tennessee last year, and backup Case Keenum didn't exactly light it up in eight games for Houston in 2013. This team will be a force to be reckoned with in the near future, but 2014 is just too soon for the Texans.
30. Buffalo Bills (2013: 6-10)
This hurts us as much as it hurts you, Bills fans. We want Buffalo to rise from the ashes and light it up in the AFC East, but it's just too soon - the defense just isn't good enough to keep up yet, and losing FS Jairus Byrd to free agency and LB Kiko Alonso to an ACL tear makes things even worse.
Sammy Watkins is already a legend in upstate New York without playing a single game, and he's going to be a Pro Bowl wide receiver (and soon). Unfortunately for Buffalo, he won't be able to right this ship on his own.
29. Tennessee Titans (2013: 7-9)
Would you want your team's success or failure in the hands of Jake Locker? That's the reality for the Titans, who are hoping that new HC Ken Whisenhunt can resurrect the magic that helped him take a 9-7 Cardinals team all the way to Super Bowl XLIII. Tennessee didn't do themselves any favors by drafting PR nightmare Taylor Lewan in the first round, then losing future star CB Alterraun Verner in free agency - this team still has major holes on both offense and defense, and getting to .500 would be a major coup.
28. Minnesota Vikings (2013: 5-10-1)
The Vikings think they have their QB of the future in Teddy Bridgewater, but they're now facing a tough decision: do they gear up for a playoff run while Adrian Peterson is still elite, or do they blow things up and wait for Bridgewater to develop before making their play? This team was absolutely brutal on defense last year (last in the entire NFL in points allowed), and a few big losses early in the season could force management to speed up the rebuilding process.
27. Oakland Raiders (2013: 4-12)
Oakland's perpetual rebuilding project is getting awfully stale with fans who grew up watching one of the league's most successful franchises. There's a lot more talent here than in recent years, though - rookie LB Khalil Mack is going to be a star in this league, and QB Derek Carr is reportedly challenging Matt Schaub for the starting job sooner than expected. With a slew of free agents in the ranks, this team will be better than they were in 2013, but the raw offensive line and lack of dynamic offensive threats limits their ceiling considerably.
26. Miami Dolphins (2013: 8-8)
After a brutal offseason that saw this team in the headlines for all the wrong reasons, the Dolphins need to hope that an almost entirely new offensive line can gel quickly - rookie Ja'Wuan James has a tough road ahead, but LT Branden Albert can help right away. Elsewhere, the Dolphins need to hope QB Ryan Tannehill has what it takes to make the leap - if Miami finds themselves stuck with a porous offensive line and a quarterback who can't compensate, they'll be looking at a major regression in 2014.
25. Washington Redskins (2013: 3-13)
DeSean Jackson will be a valuable asset on offense, and we don't expect him to have any issues staying out of trouble. We fully expect Robert Griffin III to move past his sophomore slump, and this team shouldn't have trouble putting points on the board. It's the patchwork defense, though, that worries us - these guys gave up more points per game than anyone except Minnesota and Chicago last year, and the secondary is suspect at best. Washington has talent, but they still have to prove on the field that the pieces fit together.
24. Cleveland Browns (2013: 4-12)
In Cleveland, we'll consider it a win when fans are buying jerseys instead of burning them. Cleveland drafted well, signed impact players Joe Haden and Alex Mack to long-term extensions, then picked up solid free agents in LB Karlos Dansby and S Donte Whitner. Losing Josh Gordon for at least half of the 2014 season puts a bit of a damper on things, but Cleveland is finally headed in a positive direction. Now, if only that Manziel kid can make the news for the right reasons...
23. Detroit Lions (2013: 7-9)
Lions fans just can't catch a break. Finally out of the woods after the Matt Millen years (or so we thought), this team looked ready to turn the corner after a 6-3 start to 2013...but then they collapsed in epic fashion, losing six of their last seven. Then, they overpaid for Golden Tate, brought in new HC Jim Caldwell (!?) to save the day, drafted a talented player they don't need in TE Eric Ebron, then got into contract disputes with two star players (Nick Fairley and Ndamukong Suh). If Detroit can salvage a respectable season, we'll be impressed.
22. Tampa Bay Buccaneers (2013: 4-12)
The Bucs needed to get things right this offseason after a disastrous 2013 season, but so far they've made all the right moves. Lovie Smith was arguably the best coach available, and he's made some excellent hires that should help instill the right kind of mentality in Tampa. DE Michael Johnson, QB Josh McCown and LT Anthony Collins are all going to help this team immediately, and CB Alterraun Verner has elite potential. We wouldn't be at all surprised if this team is the NFL's most improved in 2014.
21. New York Jets (2013: 8-8)
The Jets picked up Eric Decker and Michael Vick, but if they expect that to turn their passing game around by itself...well, they're in for a long season. This team has potential, though, and the defense has what it takes to be excellent. Even in their worst-case scenario, they won't give up many points - the hallmark of Rex Ryan teams. Unfortunately, Vick isn't the answer at QB, and Geno Smith - who threw nearly twice as many interceptions as touchdowns last year - has a long way to go.
20. Dallas Cowboys (2013: 8-8)
Three consecutive 8-8 records should make it obvious, but we'll say it anyway: for the past few years, America's team has been overwhelmingly average. This summer, DE DeMarcus Ware and DT Jason Hatcher left town, and LB Sean Lee was lost for the year with an early ACL injury - not good news for the team that allowed the most yards in the NFL last season. Dallas did sign some players who can help, like DT Henry Melton, but if the defense can't improve, it won't matter how well Tony Romo and Dez Bryant play.
19. Carolina Panthers (2013: 12-4)
The Panthers were arguably the surprise team of the 2013 season, winning the NFC South after a 1-3 start saw them universally written off. Carolina endured a terrible offseason, though - the departure of Steve Smith left them without an established NFL receiver, and drafting raw talent Kelvin Benjamin out of FSU is unlikely to pay short-term dividends. Departures on the offensive line and in the secondary certainly don't help, and Greg Hardy's looming suspension casts a shadow over the defense. Weaker in a number of areas and stronger in none, it's hard to see Carolina do anything but regress in 2014.
18. New York Giants (2013: 7-9)
The Giants had an abysmal start in 2013, but they've done well to identify what went wrong and make the right moves to fix it. CB Dominique Rodgers-Cromartie was the most high-profile free agent acquisition, but OG Geoff Schwartz might be the most important. The offensive line gave Eli Manning hardly any time to work last season, but Schwartz is a massive upgrade. This team needs to gel quickly and avoid their usual slow start, but if they do, there's a huge amount of potential here.
17. St. Louis Rams (2013: 7-9)
The Rams drafted exceptionally well, and having QB Sam Bradford healthy will make an immediate difference in St. Louis. It's a shame that the Rams play in the NFL's toughest division - in the AFC South, they'd be a virtual lock for the playoffs. Rookie DT Aaron Donald is going to make an immediate impact, and Zac Stacy has all the makings of an NFL star. St. Louis might not be ready to make playoff noise just yet, but they're headed in a very positive direction.
16. Pittsburgh Steelers (2013: 8-8)
The Steelers should be better on offense with Dri Archer, Lance More and Martavis Bryant in town, but questions still remain over Todd Haley's future as Pittsburgh's OC. There's also been a major clearout on defense - stalwarts Ryan Clark, Brett Kiesel, and Lamarr Woodley are all gone. If the next generation of Steelers (rookie LB Ryan Shazier in particular) can step up, Pittsburgh can build on last year. If the younger guys don't gel right away, this could easily turn into a rebuilding year in the Steel City.
15. Baltimore Ravens (2013: 8-8)
Baltimore looked like a playoff team until week 16, when a 41-7 home demolition at the hands of the Patriots knocked them off course. They limped to the finish line, getting rocked by the Bengals in Cincinnati in week 17...and then Baltimore's tumultuous offseason made all that look like a minor bump in the road. John Harbaugh will need to restore focus and get this train back on the rails, and that won't be easy after the departures of DL Arthur Jones and LT Michael Oher.
14. Indianapolis Colts (2013: 11-5)
The Colts dealt with some turnover on both sides of the ball this offseason, losing S Antoine Bethea but adding DE Arthur Jones and WR Hakeem Nicks. QB Andrew Luck will keep Indy competitive, but there are major question marks in the run game and the secondary (sound familiar?). We'd be shocked if the Colts don't run away with the AFC South, but given who they're competing against (Tennessee, Jacksonville, and Houston), that doesn't guarantee much.
13. San Diego Chargers (2013: 9-7)
The Chargers weren't expected to do much last year, but they surprised everyone by sneaking into the AFC Wild Card round. In 2014, they'll have to build on that success, and it won't be easy in a loaded division with one of the league's toughest schedules. San Diego still has the unfailingly confident and borderline insane Philip Rivers under center, and with an improved rushing attack that added Donald Brown to the mix, they'll definitely put up points. Their ultimate success or failure, though, will come down to the still-unproven defense.
12. Atlanta Falcons (2013: 4-12)
Yes, last year was a complete disaster in Atlanta, but the Falcons' history of success and excellent offseason give them the benefit of the doubt going into 2014.
Drafting OT Jake Matthews will be huge for one of the league's leakiest offensive lines, and while concerns remain, the only way to go in Atlanta is up. Losing TE Tony Gonzalez hurts, but look for Julio Jones to pick up some of the slack with the monster season we were all expecting last year.
11. Chicago Bears (2013: 8-8)
Chicago needed help on defense after the departure of Henry Melton and Julius Peppers, and they got just what the doctor ordered in Jared Allen and Lamarr Houston. Allen might have more name recognition, but at this stage, Houston might be the better player - playing for a depleted, disjointed defense in Oakland made it hard to stand out. The Bears need to be more consistent, but the path to the playoffs is clear - Chicago plays five of their last seven regular-season games at Soldier Field.
10. Kansas City Chiefs (2013: 11-5)
The Chiefs were on fire for the first half of last season, and although things cooled off a bit as the year went on, they shouldn't be taken lightly. There are justified concerns about the offensive line, but Kansas City still has a fearsome defense and arguably the league's best workhorse RB in Jamaal Charles. Look for rookie DeAnthony Thomas to light up the highlight reel on special teams, and don't be surprised if the Chiefs give Denver a run for their money in the AFC West.
9. Philadelphia Eagles (2013: 10-6)
The Eagles finally found a long-term replacement for FS Brian Dawkins, and Malcolm Jenkins will be a huge upgrade even though he isn't a household name. Now that Chip Kelly knows what he has in QB Nick Foles, expect Philly's air attack to go up another notch in 2014...even without WR DeSean Jackson, who was apparently too much of a locker room problem to stay with the Eagles.
8. Cincinnati Bengals (2013: 11-5)
The Bengals got needled for the extension they gave Andy Dalton...but then the team-friendly details of the contract leaked out, and everyone realized it was actually a pretty smart deal. Losing DE Michael Johnson was much less smart, though, and the Bengals will miss his pass-rushing skills. Cincinnati didn't wow us with any big offseason moves, but this is a young, talented team that still has plenty of room to grow.
7. Arizona Cardinals (2013: 10-6)
The Cardinals are one of the NFL's most talented young teams, but they fly under the radar because heavyweights San Francisco and Seattle play in the same division. Arizona made what might have been the offseason's most underrated free agency signing in LT Jared Veldheer, and RB Andre Ellington is poised for a monster season. Now, if they could just move to the AFC South...
6. New England Patriots (2013: 12-4)
The Patriots had a solid, if unspectacular offseason. They replaced Aqib Talib without missing a beat, adding Darrelle Revis in Free Agency, and they also made some solid pickups in CB Brandon Browner and DE/LB Will Smith. There are still question marks around the receiving corps, but a healthy Rob Gronkowski/Julian Edelman tandem should offer enough for Tom Brady to improve on his underwhelming 2013.
5. New Orleans Saints (2013: 11-5)
The Saints' offseason got off to a rocky start, with fans unhappy with the departure of Darren Sproles and Lance Moore. Things quickly improved, though, with the addition of safety Jairus Byrd in free agency and speed demon Brandin Cooks in the draft. DC Rob Ryan worked wonders for New Orleans' defense last year - can they get even better in 2014?
4. Green Bay Packers (2013: 8-7-1)
The Packers did well in the draft and free agency, but the real victory (and the reason they're up at #4 in our rankings) is that everyone spent the summer getting healthy. Newly-signed DE Julius Peppers isn't getting any younger, but he'll still make this defense better. While the defense looks better, it's a healthy Aaron Rodgers and the rapidly-improving Eddie Lacy that make these guys scary.
3. Denver Broncos (2013: 13-3)
Denver wasted no time acknowledging the weaknesses that saw them blown out in the Super Bowl, and their offseason additions - DeMarcus Ware, Aqib Talib and more - will give their defense an entirely new look in 2014.
Getting players like LT Ryan Clady and OL Von Miller back from injury will be just as important, though - with how impressive Denver looked during the 2013 regular season, it was easy to forget that they were missing key starters.
2. San Francisco 49ers (2013: 12-4)
No team came closer to unseating the Seahawks last year than their hated rivals in San Francisco. The 49ers took care of business this summer, signing QB Colin Kaepernick to a monster extension and reloading on both sides of the ball. With Jim Harbaugh lighting a fire under his guys like few other coaches can, they'll be out for revenge in 2014.
1. Seattle Seahawks (2013: 13-3)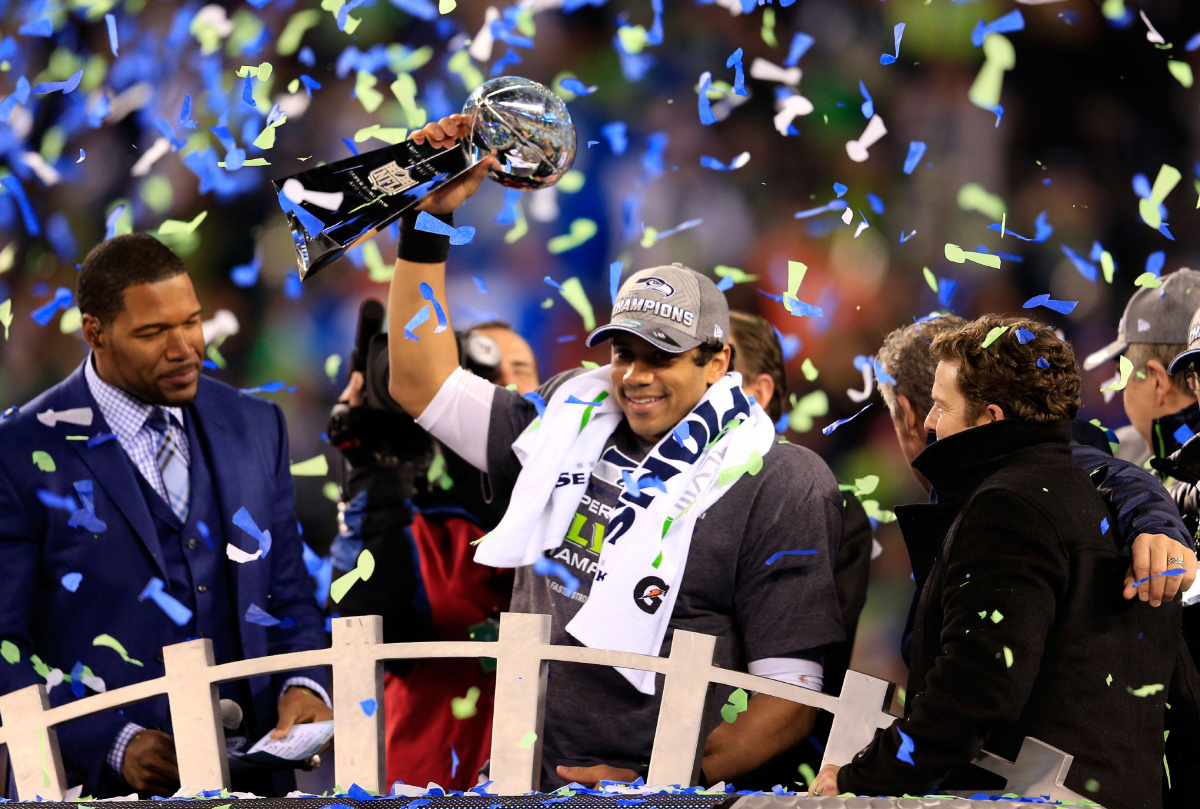 Surprised? You shouldn't be. When a team absolutely dominates the Super Bowl, then follows that up with a solid draft & offseason, they aren't going anywhere. Key players like DE Michael Bennett and S Earl Thomas were locked up with long-term extensions, and there should be some interesting changes on offense to take advantage of speedy rookie receivers Paul Richardson and Kevin Norwood. Seattle's path back to the Super Bowl won't be easy, but they've put themselves in a great position to make it happen.
More:
Back to the NFL Newsfeed