It's been long enough now that people are starting to forget about Charlie Ward...and considering his incredibly unique story, that's a real shame.
A three-sport star in high school, Ward was a standout quarterback and point guard for Florida State from 1989 to 1993. Ward's Seminoles won the first national championship in school history in 1993, and his contributions were recognized with the Heisman trophy (only OJ Simpson's 1968 win had a larger gap between first and second place). Ward threw for over 3,000 yards on the year, racking up 27 touchdowns with just four interceptions.
Ward also saw success on the basketball court at FSU - the Seminoles reached the Elite Eight in 1992 and the Sweet Sixteen in 1993. He remains Florida State's all-time leader in steals.
Despite not playing baseball since his senior year of high school, Ward was selected in the 59th round of the 1993 MLB free agent draft - the Milwaukee Brewers tried to convince him to pitch for them, but Ward elected to stick to football and basketball. The Yankees drafted him in the 18th round the next year, but Ward once again turned down the offer.
After graduating, Ward told the media he "deserved to be" a first-round NFL draft pick, but teams disagreed - Ward was given a third-to-fifth round rating. Leading up to the 1994 NFL Draft, Ward started leaning more heavily towards the NBA, and when rumors started to spread that he would choose basketball over the NFL, teams decided he wasn't worth the risk.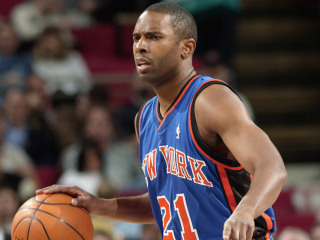 Ward went undrafted in the NFL, but the New York Knicks took him 26th overall and declared him their point guard of the future. While he was never an star, Ward had a successful career playing for Jeff Van Gundy's Knicks squad, and his 12-year NBA career is a testament to his work ethic on and off the court.
Ward's most memorable NBA moment is probably his role in the infamous brawl between the Knicks and the Miami Heat. During Game 5 of the 1997 Eastern Conference Finals, Ward tried undercutting P.J. Brown during a foul shot, and Brown retaliated by picking him up and slamming him to the floor.
[embed]http://www.youtube.com/watch?v=HE9eAfinef8[/embed]
The Knicks bench cleared, and the ensuing suspensions left them too short-handed to hang with Miami in games 6 and 7.
To this day, Ward remains the only Heisman winner to play in the NBA. He's currently the head football coach at Booker T. Washington high school in Pensacola, FL, and makes regular appearances at Florida State football camps.
Never miss another story on one of your favorite teams - sign up for a free Chat Sports account today!
Back to the NFL Newsfeed