Update - 8/18, 8:43 PM ET: The Cardinals believe Dockett has a torn ACL, per Fox Sports. If true, this is a brutal loss for Arizona.
Cardinals believe DT Darnell Dockett tore his ACL today, sources tell @FOXSports1. Obviously a tough one for the Cards.

— Mike Garafolo (@MikeGarafolo) August 19, 2014
In our latest training camp update, there's some scary news for Arizona Cardinals fans concerning star DE Darnell Dockett.
The three-time Pro Bowler had to leave practice on the injury cart, and is being taken in for a MRI on his right knee. Dockett was helped up to the cart by members of the training staff, and Arizona Republic photographer Rob Schumacher posted images on his Twitter account: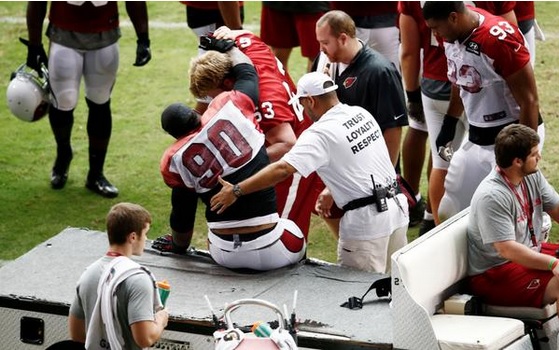 .@AZCardinals #DarnellDockett goes down at #nfltrainingcamp leaves field on cart @AZCardsFanClub #azcphotos pic.twitter.com/8fc02Gh6gH

— Rob Schumacher (@RobSchumacher1) August 18, 2014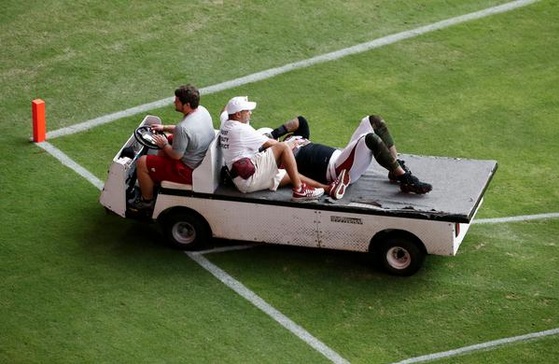 .@AZCardsFanClub Darnell Dockett goes down at #nfltrainingcamp leaves field on cart @AZCardsFanClub #azcphotos pic.twitter.com/1uwk3Fh6FT — Rob Schumacher (@RobSchumacher1) August 18, 2014
More:
The 25 Highest Salaries In The NFL In 2014
The Highest-Paid Coaches In The NFL
Back to the NFL Newsfeed