UPDATE 10:00 AM PT: Multiple outlets are now reporting additional details related to Dwyer's arrest. ESPN is reporting that Dwyer "headbutted his wife and broke her nose after she refused his sexual advances, and punched her in the face the next day."
Stay tuned as additional details emerge.
Previous updates from September 17, 2014:
UPDATE 5:32 PM PT: Dwyer has been booked into the Maricopa County Jail. A list of the charges against him:
- 1 count of aggravated assault causing a fracture
- 1 count of aggravated assault involving a minor
- 2 counts of criminal damage
- 1 count of preventing the use of a phone in an emergency
- 1 count of simple assault
UPDATE 4:51 PM PT: According to the Phoenix PD release, Dwyer's 18-month-old son was also a victim:
Release from Phoenix PD lists 2 victims - a 27-yo female and an 18-mo old child. One of the counts is aggravated assault involving a minor.

— Mike Garafolo (@MikeGarafolo) September 17, 2014
UPDATE 3:54 PM PT: The Cardinals have deactivated Dwyer.
According to Tyler Baldwin of Arizona's 3TV Sports, Arizona Cardinals RB Jonathan Dwyer has been arrested for domestic violence.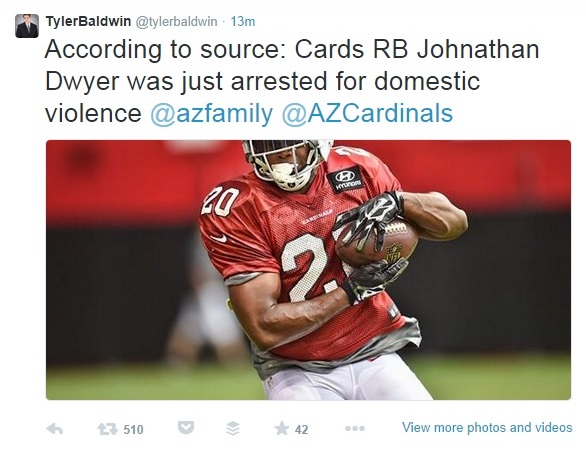 CBS has confirmed the arrest, revealing that Dwyer has been charged with aggravated assault and preventing someone from calling 911.
UPDATE, 3:26 PM PT - More from Baldwin:
Cards RB Jonathan Dwyer was escorted out to PHX Police after Wednesday practice to try and avoid media attention.

— TylerBaldwin (@tylerbaldwin) September 17, 2014
Cards RB Jonathan Dwyer is currently being questioned about alleged fight with wife from a while ago. She saved the records of her injuries

— TylerBaldwin (@tylerbaldwin) September 17, 2014
Dwyer spent 2010-13 with the Pittsburgh Steelers, signing a one-year contract with the Cardinals prior to the beginning of the 2014 season. Dwyer was the 2008 ACC Offensive Player of the Year at Georgia Tech, and was named a first-team All-American that season.
The news comes on the same day that the Carolina Panthers placed Greg Hardy on the Exempt/Commissioner's Permission list while he appeals his own domestic violence charges, and just hours after and attorney Gloria Allred accused commissioner Roger Goodell of covering up 2008 domestic violence incidents involving WR Brandon Marshall.
Back to the NFL Newsfeed