The NFL is a passing league, and having talented wide receivers is more important than ever. While several teams have at least one talented option, only a few teams have several starting-caliber wide receivers. So which NFL team has the best WR corps in the NFL? 
This list focuses on the entire corps, which means depth is just as important as having a superstar WR. That's why top-heavy teams like the Dallas Cowboys, Atlanta Falcons and New York Giants aren't on the list. Several teams with solid corps, like the New York Jets and Indianapolis Colts, and up-and-coming ones, like the Houston Texans, just missed out. Only WRs were included for this and tight ends were not considered. With that in mind, here are the nine best WR corps in the NFL in 2016. 
The Seahawks lack a big-name at WR, but they have some of the best (and more underrated) depth in the NFL. Doug Baldwin had a breakout year last season, Tyler Lockett has big-time potential as a weapon and Jermaine Kearse can hold his own as a secondary option. If Paul Richardson can stay healthy, he could become a Percy Harvin-type player. There's even Kenny Lawler for added depth. The Seahawks don't have a Dez Bryant on the roster, but their depth makes up for it. 
The Dolphins don't have an Odell Beckham, but they have several gifted WRs. Jarvis Landry is wildly underrated, and put up massive numbers last year. DeVante Parker was limited as a rookie, but could have a breakout year. Kenny Stills is a dangerous deep threat, and those three form quite the potent attack. The Dolphins even spent a third round pick on Leonte Carroo, adding more depth and talent to already solid corps. 
We're projecting a bit with this one, as Amari Cooper should take a leap forward in to the NFL's elite at WR in his second season. Michael Crabtree has started to capitalize on the potential that made him a first round pick, and they form one of the better 1-2 punches. What holds the Raiders back is a lack of other options. Andre Holmes and Seth Roberts aren't bad, but Oakland doesn't have the No. 3 option that would boost them higher. 
The Redskins could have a scary pass attack this year. Pierre Garcon and DeSean Jackson are known commodities at this point, but it's the other options that help the Redskins rank so high. Jamison Crowder has the potential to be one of the better slot WRs in the NFL. The team then added Josh Doctson in the first round, giving them four WRs that are basically starters. Even No. 5 WR Ryan Grant has some ability. 
The return of Jordy Nelson is huge for the Packers. The offense clearly missed him last year, and even Randall Cobb had a down season. While the Packers have plenty of depth with Davante Adams, Jared Abbrederis, Jeff Janis and Ty Montgomery, it's not exactly quality depth. The potential is absolutely there, but no one stepped up with Nelson out last year. Adams, who was expected to have a breakout year, struggled badly. The Nelson-Cobb combo merits a Top 5 spot, but until someone else steps up, the Packers can't go any higher. 
Allen Robinson and Allen Hurns form the most underrated WR duo in the NFL. Both had monster seasons, combining for 24 TDs. Robinson is a bona-fide No. 1 option, while Hurns is a high-end No. 2. But that's not all the Jags have at WR. Marqise Lee has underachieved as a former second round pick, but he's a solid secondary option. Rashad Greene could pass Lee in his second year, and there's also the solid and reliable slot option in Bryan Walter. The Jags don't get a ton of love, but this WR corps (and entire offense really) is dangerous. 
We're focusing on this year only, which is why the Steelers aren't No. 1. Without Martavis Bryant, the Steelers have to settle for the No. 3 spot. Antonio Brown is one of the best WRs in the NFL and he'll continue to put up absurd numbers. Markus Wheaton took a step forward, but he's more of a No. 3 than a No. 2. The Steelers are banking on Sammie Coates replacing Bryant, but has hardly played in the NFL and is a major question mark. Darrius Heyward-Bey is also on the roster, but he's a one-dimensional deep threat with hand issues. This is a great WR corps, but without Bryant, it's not No. 1. 
Emmanuel Sanders and Demaryius Thomas form the best 1-2 punch at WR in the NFL. But a lack of other options prevents them from ranking any higher. Bennie Fowler and Jordan Norwood aren't good enough as the third and fourth options to merit the Broncos ranking any higher than second. If Cody Latimer can start looking like a second round pick, the Broncos could end up taking the No. 1 spot.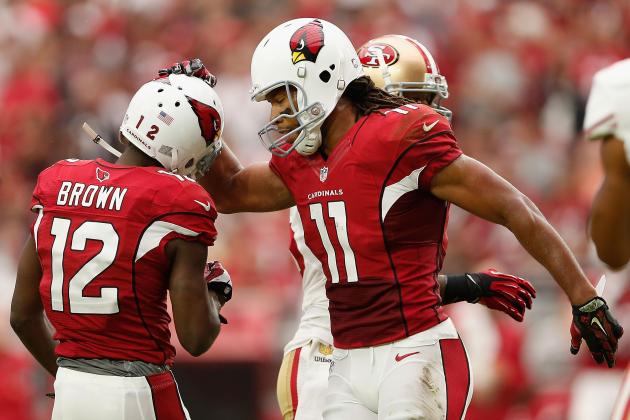 The Cardinals have plenty of options at WR. Larry Fitzgerald, who is still playing at a high level, leads the way. There's also Michael Floyd, who has proven to be a deadly deep threat. The emergence of John Brown is a major reason why the Cardinals rank so high, and he should only be better this year. Jaron Brown and J.J. Nelson are some of the more gifted No. 4 and No. 5 options in the NFL, and either could breakout this year. No team has the talent from top-to-bottom that the Cardinals do. 
Back to the NFL Newsfeed
Related Topics: Dolphins News, Jaguars News, Redskins News, Cardinals News, Broncos News, NFL News, Best Wide Receivers, Seahawks News, Steelers news, Raiders News, Packers News