The 2017 NFL Draft is just over a week away, when a new batch of future stars will find NFL homes. Unfortunately, that also means several high drafts picks end up as busts. That's just the reality of the NFL - even the incredible 2011 NFL Draft class produced busts like Jake Locker and Phil Taylor. But figuring out which prospects could busts is as difficult as figuring out which ones will be stars. So which NFL Draft prospects will turn out to be busts?
Before we get started, just because a player is listed doesn't mean they will be busts. And the opposite is true (Aaron Curry was once the safest prospect ever). In this piece, I'm detailing seven players who I think have a slightly higher chance of busting. But remember that I see plenty of positive traits for every player and an argument can be made that any player in this class could bust. We're only focusing on players who could go in the first round - that 7th round corner you've never heard of who ends up doing nothing doesn't count as a bust. With that in mind, here are 7 prospects in the 2017 NFL Draft with serious bust potential. 
QB Deshaun Watson, Clemson
Look it's a down QB class and I could probably put all the top QBs on this list, but I'm limiting myself to two. The first of those is Watson. The positives are obvious: Watson won and won big at Clemson, while putting up solid numbers. But here's the thing about "winning" - it doesn't always translate to NFL success. If it did, Tim Tebow wouldn't be playing baseball right now. It's a really good thing to have on the resume, but it doesn't make up for iffy accuracy and poor arm strength. And that's the issue with Watson. He completed a high percentage of his throws, but those were your typical spread offense passes (22 percent were behind the line of scrimmage and 62 percent were within 10 yards). He didn't place them that well and regularly missed on deep balls. His arm strength is also really bad: he clocked in at 49 MPH on the radar gun at the Combine, far below the standard 55 MPH threshold for NFL QBs. For reference, Cody Kessler is at 55 MPH. He's also not great under pressure (Notre Dame's DeShone Kizer was the best this year). Watson has a Round two grade from me (at No. 50 overall) and I think he has the chance to defy the odds and be the exception to a few QB rules (especially if he ends up in place like New Orleans). But I don't like banking on exceptions. 
TRENDING ON FACEBOOK:
NFL Draft Rumors: Browns Not Trading Top Pick, More
3 Potential Draft Day Trades The 49ers Could Make
NFL Announces Team For This Year's "Hard Knocks"
QB Patrick Mahomes, Texas Tech
There isn't a bigger boom or bust prospect in this year's class, so naturally Mahomes is on the list. The upside is obvious: Mahomes has a cannon on his arm (60 MPH on the combine radar gun) and his eye-popping numbers at Texas Tech weren't just a product of the system. But there are worries: for starters, the NFL is still waiting on a true Air-Raid QB to find success. Mahomes has a cannon, but he's very much a gunslinger who will fire bad passes and also just miss his receivers. I think he needs at least a year before he's ready to start but if he can improve his reads, footwork and harness his arm, Mahomes could end up as the best QB in this year's draft. Or, he ends up a bust and is out in a few years. 
WR John Ross, Washington 
After running a 4.22 40-yard dash, Ross has likely solidified his spot in the first round. There's even a chance he goes as one of the first two WRs off the board. Despite the absurd speed, there are serious concerns for Ross. For starters, his route tree isn't great (in large part because he didn't to run great routes because he's so fast). But my main concern with Ross lies with his injury history. He's a tiny WR (under 5-foot-11 and 188-pounds) and suffered two major knee injuries (one to both knees). Ross will struggle with physical corners and another bad knee injury could sap the speed he relies on.  
TE David Njoku, Miami (FL)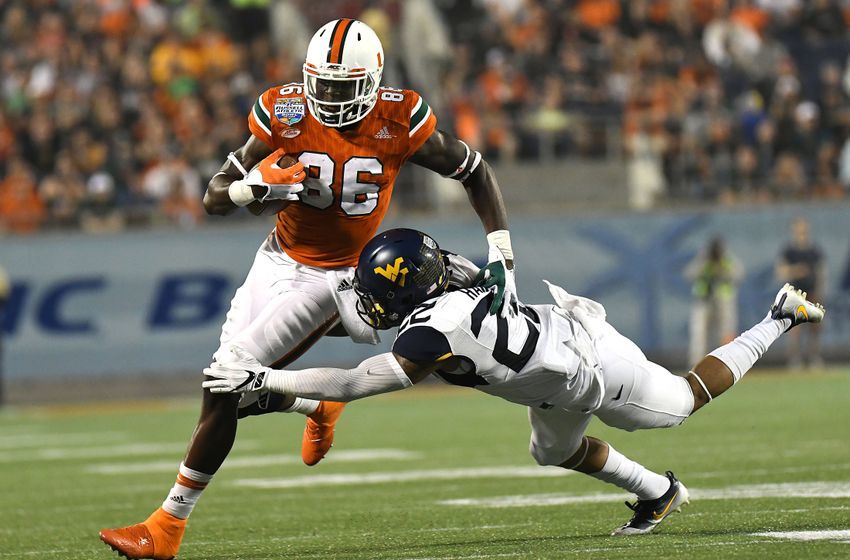 It's a historically great class for tight ends, the best I have ever seen. The general No. 2 at the position is David Njouk, who should be a first round pick. Njoku is a fantastic athlete, with plenty of upside. But, he's still incredibly raw for a likely first round pick. He's still not a good blocker, needs to add strength and had just 64 career catches at Miami. Strangely enough, 40 percent of his passes this year for the Hurricanes were behind the line of scrimmage. The team who takes Njoku is banking on his athleticism and upside. That's risky for a first rounder, and there's a more athletic tight end in Bucky Hodges of Virginia Tech who should be a Day 2 pick. I'm not as in love with everyone else on Njoku: he's the No. 43 player on my board. 
TRENDING ON FACEBOOK:
NFL Draft Rumors: Browns Not Trading Top Pick, More
3 Potential Draft Day Trades The 49ers Could Make
NFL Announces Team For This Year's "Hard Knocks"
DT Malik McDowell, Michigan State
In terms of pure talent, McDowell is a Top 15 pick. But there are production and work ethic issues around the 6-foot-6, 295-pound defensive lineman. McDowell had just 7.5 sacks at Michigan State, a figure far below what his talent level dictates. He showed plenty of flashes, but would also disappear for games at a time. Not only that, McDowell said at the NFL Combine he wasn't coachable and reportedly didn't interview well. I wouldn't be surprised if McDowell slipped to round two, despite the upside. If a coach gets through to him, McDowell could be great. If not, McDowell could be out the league real fast. 
CB Marlon Humphrey, Alabama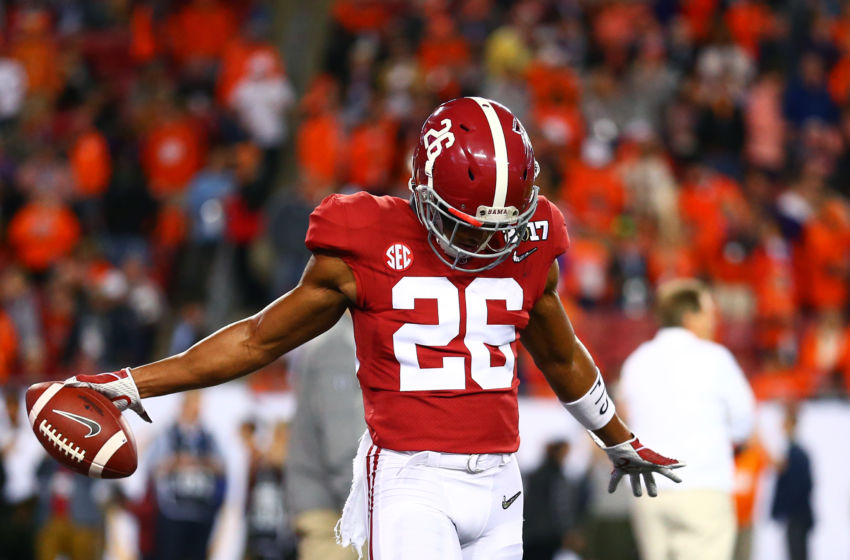 Humphrey has the size-speed combo teams want in a corner: He's over 6-foot with 4.41 speed. In a strong CB class, Humphrey should be a first round pick. He's as physical as they come, which will appeal to several teams. But, he's not without concerns. For starters, he's pretty poor at playing the ball in the air. He prevent a ton of separation, but he didn't make enough plays on the ball at Bama. And the biggest concern of all is the "Saban Shuffle." Humphrey will have to totally overhaul his footwork, which is much easier said than done. In an amazing CB class, someone will have to bust. Perhaps it's Humphrey, although I do have a first round grade on him.  
TRENDING ON FACEBOOK:
NFL Draft Rumors: Browns Not Trading Top Pick, More
3 Potential Draft Day Trades The 49ers Could Make
NFL Announces Team For This Year's "Hard Knocks"
S Jabrill Peppers, Michigan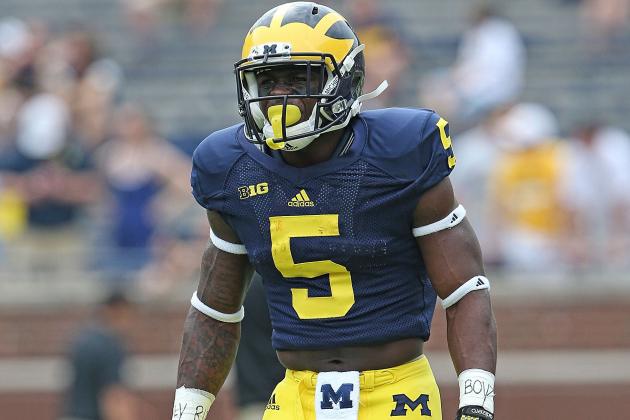 There are maybe a handful of more polarizing prospects than Peppers. I'll mention this again - just because someone has bust potential doesn't mean they will be a bust. Peppers has the upside, athleticism and measurables teams want in a safety prospect. That upside is why he's No. 23 on my big board. But Peppers is raw in coverage, with only one career pick and 11 pass breakups. That's a major concern for teams and it would keep Peppers out of the Top 20. If he can adapt to playing safety (he played out of position at Michigan), he'll be a really good pro. But if not, he'll fall in the bust category. 
Follow our NFL page for all the latest NFL Draft coverage or download the Chat Sports App!
Back to the NFL Newsfeed
Related Topics: NFL Draft News, Jabrill Peppers, Marlon Humphrey, John Ross, Malik McDowell, NFL Draft Rumors, David Njoku, Patrick Mahomes, 2017 NFL Draft, NFL Draft Busts, Deshaun Watson