With the NFL season winding down, a large majority of teams have turned their full attention to the offseason. While the NFL Draft is on the horizon, free agency is the immediate priority. NFL teams are already hard at work getting their key free agents resigned, while also hoping a few big names find their way to the open market. Players like Tony Romo are expected to be available via trade, but because they won't be free agents, they are not included on this list. Here are the six biggest free agents that are likely to hit that market and sign with a new team.
6) Colin Kaepernick, QB, San Francisco 49ers
Kaepernick re-worked his contract with the 49ers during the season for the sole purpose of being able to opt-out this summer and hit the open market. There is a chance that he will re-sign with San Francisco, but they're expected to select a quarterback with the No. 2 pick in the draft. That means Kaepernick will likely be somewhere else next season. The Jets, Browns and maybe even the Texans are possible landing spots for Kaepernick.
5) Jay Cutler, QB, Chicago Bears
The Bears have made it clear they will part ways with Cutler this offseason, and while he is viewed as an average-to-below-average quarterback in the league, there will be a large market for him. His top choices will likely be the Jets and Broncos (if Denver doesn't trade for Romo), and really, New York makes a lot of sense for Cutler. He would reunite with Brandon Marshall - his longtime favorite receiver - and former Bears running back Matt Forte.
4) DeSean Jackson, WR, Washington Redskins
The Redskins already have just under $116 million in salary cap commitments for next season, and they're going to have to designate another $20 million plus to re-sign quarterback Kirk Cousins. That means someone else has to go, and that will likely be Jackson. 2016 first-round pick Josh Doctson will be fully healthy next year, and Pierre Garcon is expected to be cheaper to re-sign. That said, there will always be a market for a game-breaking deep threat like Jackson. More than handful off teams will likely be interested, including the Ravens, Rams and 49ers.
3) Stephon Gilmore, CB, Buffalo Bills
Gilmore has demanded top cornerback money from the Bills in seeking an extension with the team, but Buffalo quickly shot that down. As such, Gilmore will try to get that contract on the open market. He's very unlikely to get the top-tier money he is seeking, but another team will likely give him more than what the Bills will. Keep an eye on the Titans, Jets, Saints and Falcons.
2) Alshon Jeffery, WR, Chicago Bears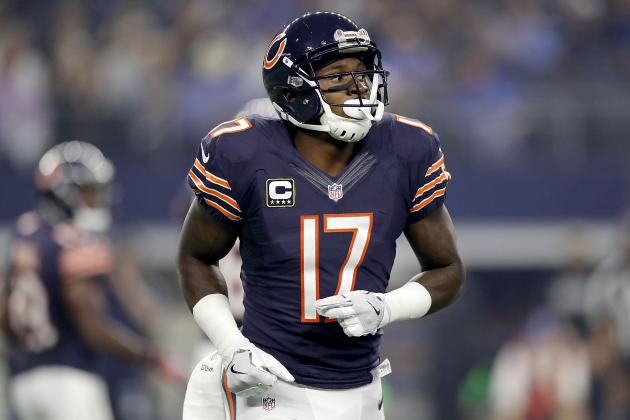 Chicago is in full-on rebuilding mode, and after franchising Jeffery last year, the Bears are unlikely to use the tag on him again - and they're also unlikely to give him the high-priced contract he'll demand on the open market (in part due to his four-game suspension this season for violating the league's performance-enhancing drug policy). Still, he's an elite red zone threat and a very good wide receiver at just 26 years old.
Baltimore will be interested as they need to replace Steve Smith Sr.'s production, and he was linked to the Panthers last offseason. Other options could include the 49ers, Chargers, Titans, Bills and Eagles.
1) Adrian Peterson, RB, Minnesota Vikings
This is a tricky one. Peterson is one of the best running backs and all-time and undoubtedly the best Minnesota running back of all time. However, he is coming off of knee surgery, will be 32 years old next season and has a $18 million cap hit. Because of that - and Minnesota's change to being a shotgun offense - there is a strong chance that the Vikings choose to go another direction this offseason. 
During an appearance on ESPN's First Take this week, Peterson acknowledged as much, saying he would be interested in joining the Texans, Buccaneers or Giants if he hits the open market. Considering he already has a list of other teams he'd want to play for, it's safe to say he plans on moving on this summer.
Back to the NFL Newsfeed
Related Topics: DeSean Jackson, Adrian Peterson, Stephon Gilmore, Bears News, Redskins News, NFL News, Alshon Jeffery, Jay Cutler, Colin Kaepernick, 49ers News, Vikings News, Bills News