The start of the 2017 NFL season is just weeks away, but several coaches know they are coaching for their jobs this year. Several other coaches could find themselves on this list as the season progress, but there are the six coaches with the least amount of job security. 
Some coaches just missed out on the list (which is actually a good thing), including Mike McCarthy of the Green Bay Packers and Bill O'Brien of the Houston Texans. Both could find themselves on the hot seat if they start poorly (like McCarthy did last year). Bigger names like Sean Payton and John Harbaugh have appeared on other lists, but this one focuses on the coaches in the most danger. Here are the top six NFL coaches with the hottest seats. 
6. Hue Jackson, Cleveland Browns
Jackson and the Browns are still not in a position to win games in the NFL. Their rebuilding process is a long one, by design. But, after just one win last year and the potential for another bad year, how much patience does ownership have? Jackson shouldn't be fired by the Browns, but the possibility remains. I like the ways the Browns are building, but patience isn't given enough in the NFL. We'll see if the Browns are willing to be the exception. 
Connect With Chat Sports:
Chat Sports on Periscope
Chat Sports on Starters
Chat Sports: Minds Behind the Game
5. Jim Caldwell, Detroit Lions
Caldwell has never been the most consistent coach, as a terrible 2015 season is sandwiched between two playoff appearances. Lions GM Bob Quinn didn't hire Caldwell, meaning he could eventually want to install his own coach. That's especially true if the Lions miss the playoffs again. A bad year, or a bad start, and rumors about his job will start to fly. It was a surprise Caldwell survived his awful 2015 effort. I get some Marvin Lewis/Cincinnati vibes here: a not-great coach benefitting from two great coordinators (Jim Bob Cooter and Teryl Austin). 
4. Chuck Pagano, Indianapolis Colts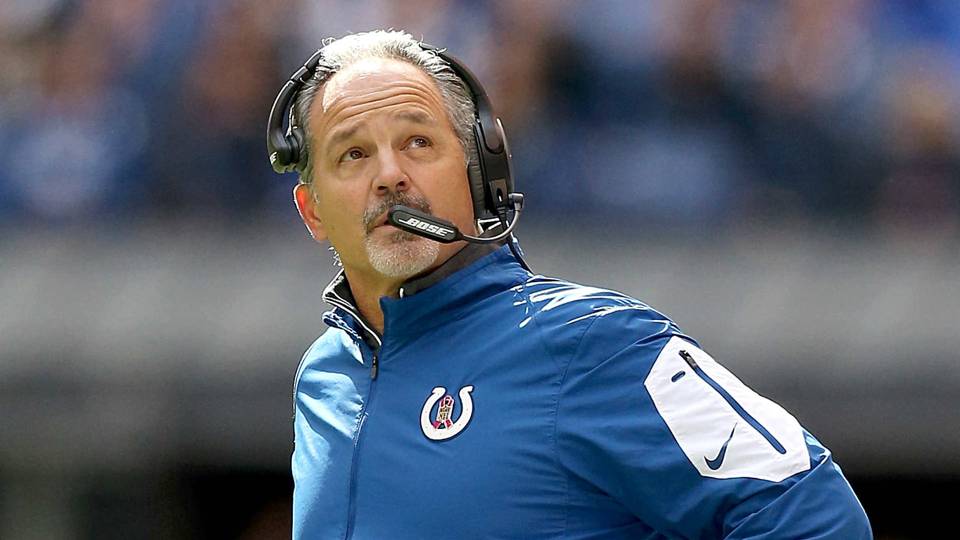 Pagano shockingly got a four-year extension last offseason when it looked like he was going to be fired, but his job is by no means secure. Owner Jim Irsay chased Jon Gruden this offseason and the rumors around Pagano's job might not go away unless he makes a deep playoff run. Chris Ballard is the new general manager and he might elect to get his own coach if the Colts miss the playoffs. With the Titans on the rise, there's a good chance the Colts miss the postseason in 2017. 
3. John Fox, Chicago Bears
The Bears looked like they were progressing in John Fox's first season, going 6-10, but they took a giant step back last year, finishing with a 3-13 record. Expectations for Chicago are low this year, and it's another rebuilding season. The Bears spent their first round pick on Mitchell Trubisky, after signing QB Mike Glennon, so there's chance Trubisky doesn't play much in his rookie year. The Bears are on the track towards a third straight losing season and that might cost Fox his job. 
2. Marvin Lewis, Cincinnati Bengals
The two longest tenured coaches in the NFL are Bill Belichick and Marvin Lewis. One of these is not like the other. Despite never winning a playoff game and finishing 6-9-1 last year, Lewis is still the Bengals' head coach. But, surely, at a certain point, the Bengals need to fire Lewis, right? In recent years, the Bengals have lost coordinators Jay Gruden, Hue Jackson and Mike Zimmer to other teams as head coaches. Cincinnati might have hung on to Lewis for too long.
Connect With Chat Sports:
Chat Sports on Twitter
Chat Sports on Facebook
Chat Sports on YouTube
1. Todd Bowles, New York Jets
Bowles' future doesn't look great. The Jets are clearly in a full-fledged rebuilding mode and appear set to Suck for Sam (Darnold) this year. That doesn't bode well for Bowles' job security. With some combination of Josh McCown, Christian "hitting reporters with errant passes" Hackenberg and Bryce Petty set to start at QB this year, the Jets aren't getting anywhere near the playoffs. Barring something truly incredible this year, the Jets are destined to fire Bowles and start over with a new QB and coach next year. 
Check out our NFL page for more NFL rumors or download the Chat Sports App!
Back to the NFL Newsfeed
Related Topics: Todd Bowles, John Fox, Lions Rumors, Colts Rumors, NFL Coaching Hot Seat, Chuck Pagano, Bears Rumors, Jets Rumors, Jim Caldwell, Marvin Lewis, Bengals Rumors, Hue Jackson, Browns Rumors