The NFL is home to some of the most popular players in the United States, but not necessarily in the world. ESPN's director of analytics Ben Alamar creating a ranking system that combines social media following (Facebook/Twitter/Instagram), endorsements and internet search frequency to form the "ESPN World Fame" rankings. Surprisingly, only six NFL players cracked the top 60. Here's who:
6) Eli Manning, QB, New York Giants
Manning doesn't have any social media, but makes $8 million in endorsements. He gets his fame (No. 60 overall) from being in the Manning family, being the quarterback for the biggest team in America's biggest city, and - of course - his two Super Bowl wins.
5) Aaron Rodgers, QB, Green Bay Packers
Surprised Rodgers isn't higher? I was too. But, his $8 million in endorsements and 2.9 million Twitter followers (he doesn't have an officially Facebook page for Instagram) are enough off-field presence for him to be No. 56 on ESPN's list. His on-field accomplishments for the Packers speak for themselves.
4) Russell Wilson, QB, Seattle Seahawks
Wilson (who sneaks in just ahead of Rodgers at No. 55) has had plenty of success for the Seahawks, winning the Super Bowl in his second season, but he also is a noted pitchman. He makes $10 million in endorsements and has a combined social media following over all three platforms of 8.3 million.
3) Drew Brees, QB, New Orleans Saints
Brees ranks No. 52 on the worldwide list, making up for what he lacks in social media following (4.75 million across every platform) in endorsements ($12 million). His fame really skyrocketed when he led the Saints to the Super Bowl, and has remained one of the NFL's best players ever since. Brees will retire as one of the most prolific players in league history.
2) Cam Newton, QB, Carolina Panthers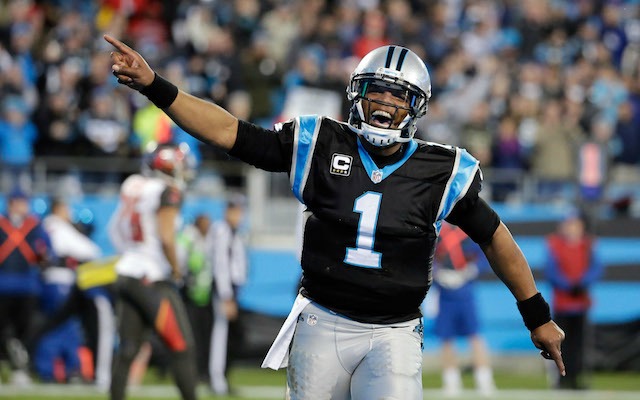 Newton (No. 47) is the only player on this list who hasn't won a Super Bowl, but there's no denying his public profile. From winning the Heisman at Auburn to winning the MVP in 2015, Newton provides plenty of flair both on and off the field. That has made him a valued pitchman ($12 million in endorsements) and his style has earned him a solid social media presence (5.8 million combined followers).
1) Tom Brady, QB, New England Patriots
You were expecting someone else? Like it or not, Brady is the face of the NFL - and by a wide margin (No. 21 on ESPN's list). He has a record five Super Bowl titles and has been one of the best players in the league for a decade and a half. Brady is the most successful quarterback of all time, and he has parlayed that into being a pitchman ($8 million in endorsements) and 6.3 million combined followers on Facebook and Instagram.
Follow our NFL page for all the latest NFL news!
Back to the NFL Newsfeed
Related Topics: Russell Wilson, Aaron Rodgers, Eli Manning, NFL News, Cam Newton, Drew Brees, Tom Brady