Super Bowl 50 is on February 7th, but the hottest Super Bowl parties will kickoff several days before the game does. The parties during the week of the Super Bowl are always major events, and there are several each day that everyone in town is trying to get to. The events are difficult to attend, because the demand is high and nearly every event is invite-only. While Santa Clara is the host city for this year's Super Bowl, San Francisco is serving as the headquarters for all the events. With that in mind, here are The 6 Best San Francisco Super Bowl 50 Parties Everyone Wants To Attend:
Wednesday, Feb. 3rd: 
Party: Legacy Agency
Location: EPIC Steak
Time: 7 p.m. to 11 p.m.
Expected Guests: Jameis Winston, Troy Aikman, Ryan Tannehill and Tony Romo
The Legacy Agency hosts their party at the super exclusive EPIC steak, a "roasthouse" the features stunning views of the Bay Bridge. The New York-based talent agency will host their party with a roster full of their high profile clients. Troy Aikman, Tony Romo, Ryan Tannehill and Jameis Winston are among the notable athletes who will be in attendance at the invite-only event. 
Thursday, Feb. 4th:
Party: EA Sports And Madden
Location: Not Disclosed 
Time: 8 p.m. 
Expected Guests: Not Disclosed 
EA Sports and Madden haven't divulged many details about their party yet, but past results indicate it will be an impressive event. Last year, Kevin Hart hosted the party and numerous athletes and celebrities attended. A.J. Green, Antonio Brown, Le'Veon Bell were all at last year's party that feature performances by Nelly and Florida Georgia Line. Expect more of the same at this year's invite only event. 
Friday, Feb. 5th: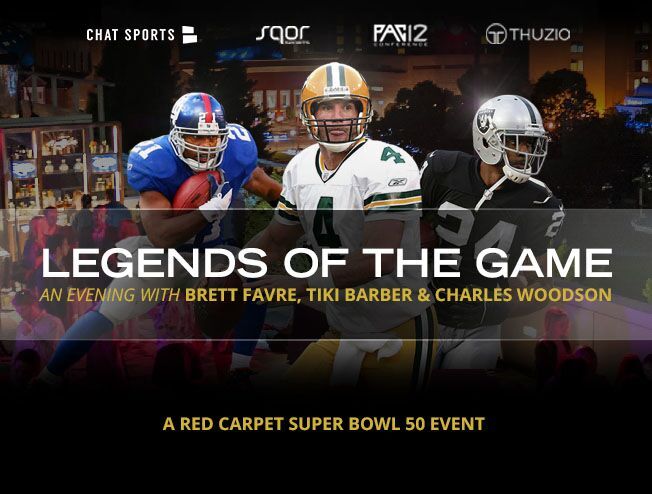 Party: Chat Sports & Pac-12
Location: Pac-12 Headquarters
Time: 6 p.m. to 9 p.m.
Expected Guests: Charles Woodson, Tiki Barber, Brett Favre
This party features a red carpet entry with artisan cocktails from specialty mixologists. It will feature dozens of NFL stars, including Charles Woodson, Tiki Barber and Brett Favre. The invite-only party will feature virtual reality experiences, a live Q&A hosted by TV personalities, tours of the Pac-12 Studios, a live DJ, dancing and more. 
Party: ESPN
Location: Festival Pavilion of Fort Mason
Time: Not Disclosed
Expected Guests: Not Disclosed
ESPN's party will be held at the Festival Pavilion of Fort Mason. In the past, ESPN has constructed a massive tent, but the Pavilion has plenty of room to accommodate ESPN's massive party. ESPN hasn't announced the time yet or their expected guests. Last year, athletes like LaDainian Tomlinson attended. The invite-only party is sure to feature plenty of ESPN personalities, celebrities and athletes. 
Party: Playboy
Location: Lot A of AT&T Park
Time: 10 p.m. 
Expected Guests: Not Disclosed
Playboy isn't just celebrating Super Bowl 50, but also their new version of Playboy Magazine. The new magazine won't feature naked women, meaning you'll actually have to read it for the articles. It launches the one week after the party. The event will be in Lot A of AT&T Park, where Playboy will building a structure tent. Playboy hasn't released a list of expected guests, but there will be 24 bunnies in attendance and DJ Alesso is the headliner. Tickets can be bought for the event, but general admission is going to cost at least $1,250. 
Saturday, Feb. 6th: 
Party: Maxim
Location: Treasure Island
Time: 8 p.m. to 2 a.m.
Expected Guests: Lil Wayne, A$AP Rocky
The Maxim party is the top party Saturday. It's taking place on Treasure Island, which is four miles from downtown San Francisco. The event will be hosted at a 50,000 sq ft waterfront party center featuring incredible views of the city. There will be multiple interactive areas and a premium ultra lounge with concert sound, theatrical lighting/effects and full LED walls. Maxim has not fully disclosed its expected guests, but there will be plenty of celebrities and feature performances from Lil Wayne and A$AP Rocky. Chris Pratt, Paul McCartney, Brandon Marshall and Jerome Bettis were among the notable attendees last year. Tickets can be bought for the Maxim party, but they'll cost nearly $1,000. 
These six aren't the only Super Bowl parties, but they are among the best. It's such a stacked lineup that even the DirectTV and Rolling Stone parties weren't able to make the list. Landing an invite to any of the Super Bowl 50 Parties won't be easy or cheap, but the parties will be quite the experience.  
Back to the NFL Newsfeed
Related Topics: Super Bowl 50, 2015 NFL