Playing quarterback in the NFL is not easy. It's incredibly hard and it's why so many starting QBs struggle. This year is no exception, as several QBs have played poorly in the first half of the season. Not every QB made this list, as we trimmed it down to the worst of the worst. Remember, this is based on right now. So while Tony Romo is the true Cowboys QB, they're currently playing Matt Cassel. And yes, Brandon Weeden would have made this list if he were still starting. A few of these QBs should turn around their seasons, but the rest don't appear destined to be a quality, starting NFL QB. With that in mind, here are the five worst starting QBs in the NFL right now. 
5. Sam Bradford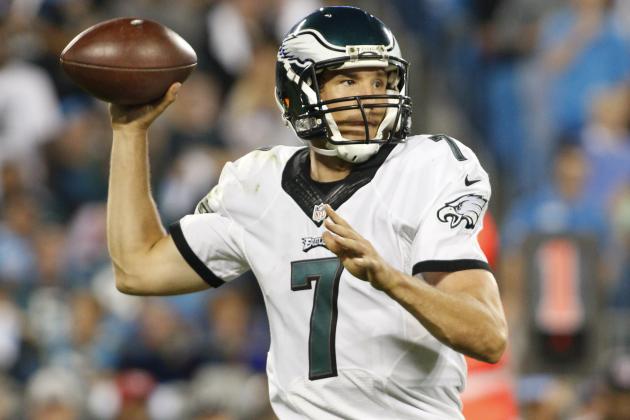 Bradford simply hasn't played very well this season for the Eagles. He's completing just 62 percent of his passes and has been picked off 10 times with just nine TD passes. The biggest argument for Bradford appearing on this list is that Bradford has the worst QBR, among qualifying QBs. I'd be surprised if Bradford finished the year this low, but right now, he deserves a spot.  
4. Andrew Luck I had high expectations for Luck this season, and he's a better QB than how he is currently playing. I still believe Luck can be the NFL's best QB in a few seasons. However, Luck is not a good right now. He leads the NFL in interceptions with 12 and is completing less than 55 percent of his passes. I have no doubts that Luck will turn things around, but right now, he simply has to be on this list. 
3. Johnny Manziel 
Manziel hasn't been able to beat out Josh McCown (who likely would have made this list had he been healthy). In limited time this season, Manziel has completed just 56 percent of his passes with 3 TDs and 1 pick. That makes it seem like he's not turning the ball over, but he's fumbled four times this season. There is still some upside, but Manziel needs to develop quickly.
2. Matt Cassel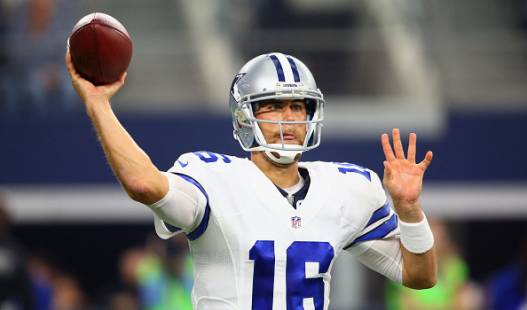 The Cowboys made the right move turning to Cassel, but it's clear why the Bills were so willingly to trade him. His arm strength looks completely gone, and he shouldn't be a starting QB. He's completing less than 60 percent of his passes and has just 324 yards in two games, with 3 INTs and one TD pass. The Cowboys desperately need Romo back. Among unqualified QBs, Cassel has the lowest QBR. 
1. Blaine Gabbert
Gabbert is the clear choice by a wide margin. He's so bad that he was ranked the worst backup in the NFL. Now, Gabbert is getting a chance to start over Colin Kaepernick. He's had a rough season, but Kaepernick's numbers this year are still better than Gabbert's career figures. Gabbert was an awful 5-22 in Jacksonville. He's been a complete bust since going No. 10 overall in the NFL Draft and is easily the worst starting QB in the NFL right now. 
Back to the NFL Newsfeed
Related Topics: Sam Bradford, Andrew Luck, Johnny Manziel, Matt Cassel, NFL 2015, Blaine Gabbert