The Cleveland Browns are reportedly "actively trying" to trade quarterback Johnny Manziel after his latest off-field incident, this one involving a roadside domestic argument with his girlfriend during which he admitted to drinking. Here are the five teams that could make a deal for Johnny Football:
Dallas Cowboys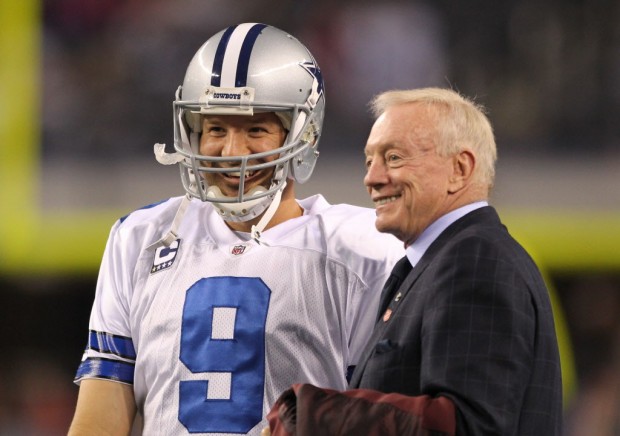 We all know of Cowboys owner Jerry Jones' love affair for Manziel, and there's reason to think Dallas would be the team most likely to trade for him. Jones had to be talked out of drafting Manziel two years ago, and with his improved play this year - plus the disastrous production of the backups in Dallas - he would be an upgrade. He could also be the team's quarterback of the future while learning and developing behind Romo.
Philadelphia Eagles
Did you know that Manziel originally committed to Oregon before switching to Texas A&M once Marcus Mariota committed to the Ducks? He already has a relationship with Chip Kelly because of that, and his skills are best suited for Philadelphia's spread offensive system. Since the team hasn't signed Bradford to an extension yet, Manziel could be a cheaper option to replace him. As we learned this offseason, don't put anything past Chip Kelly.
Houston Texans
There isn't a better place for Manziel to turn around his career than Houston. He'd get to go back to Texas and play for a QB guru in Bill O'Brien. Current starter Brian Hoyer isn't the long-term answer, and Ryan Mallett doesn't appear to be anything special either. Trading for Manziel wouldn't cost the Texans much and it would be a good spot for Johnny Football to save his career, if he still can.
Washington Redskins
Wouldn't this be a circus? Gruden refuses to give RGIII another chance, Kirk Cousins is doing a great Ryan Leaf impersonation, and Colt McCoy can't seem to get on the field. We doubt this will happen, but outside of the Texans, no team needs a quarterback more than Washington.
Buffalo Bills
Rex Ryan isn't afraid to take chances, and with E.J. Manuel proving to be a terrible backup, they could decide to make a move for Manziel to get him for cheap. Manziel and starter Tyrod Taylor play similar styles, and given Taylor's small frame, he's likely to be injured a lot in his career. Having a capable backup wouldn't be such a bad idea.
Back to the NFL Newsfeed
Related Topics: Rex Ryan, Tony Romo, Brian Hoyer, Bill O'Brien, Ryan Mallett, Colt McCoy, Sam Bradford, Johnny Manziel, NFL News, Jerry Jones, EJ Manuel, Cowboys News, Chip Kelly, Eagles News, Redskins News, Robert Griffin III, Tyrod Taylor, Kirk Cousins, Texans News, Bills News