The NFL is a league of parity as we routinely see teams that were bad one year come back and make the playoffs the next. Here are the five teams that could make that jump this year:
Houston Texans
2014 record: 9-7
Houston will have to play without star running back Arian Foster for the first half of the season, but they have plenty of other talented players to make up for it. J.J. Watt leads what should be a great defense, which will become one of the league's best units if last year's No. 1 overall pick Jadeveon Clowney stays healthy. 
They do have a question at quarterback, where Ryan Mallett and Brian Hoyer at battling for the starting job, but both players have had success at the NFL level. Houston also plays in the incredibly weak AFC South, giving them to opportunity to get the easy wins necessary to make the postseason against the Titans and Jaguars.
If Mallett or Hoyer can keep the offense afloat until Foster comes back, Houston's playoff door is wide open.
Minnesota Vikings
2014 record: 7-9
Minnesota showed a lot of promise last season and were very competitive, even with a rookie quarterback. Adrian Peterson's return will definitely take this team to another level, as will Teddy Bridgewater's progression in his second year. Throw in the addition of former All-Pro wideout Mike Wallace and the Vikings have all the ingredients of a breakout team.
Buffalo Bills
2014 record: 9-7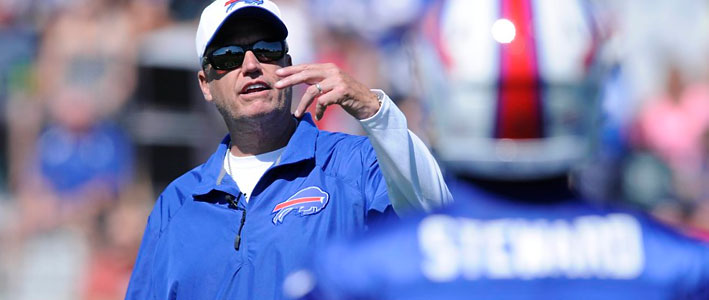 Buffalo's defense was among the league's best in 2014, but the arrival of new head coach Rex Ryan should make them even better. The additions of star running back LeSean McCoy, Pro Bowl wideout Percy Harvin, and talented tight end Charles Clay has made their offense one of the most dangerous in the league as well, but they have a major question at quarterback.
E.J. Manuel, Matt Cassel, and Tyrod Taylor are all battling for the job, and the Bills aren't sold on any of the three. As long as whoever wins the job can be a simple game-manager, Buffalo has the talent to win 10 or more games this year.
New Orleans Saints
2014 record: 7-9
Drew Brees & Co. surprisingly struggled at home, posting just a 3-5 mark in the Superdome, where they rarely lose. The biggest reason was their lackluster defense, though they took steps to improve the unit with some key free agent additions - most notably that of cornerback Brandon Browner.
Even with the loss of Jimmy Graham, Brees will have the offense playing at a high level. If the defense can improve to a league-average ranking, the Saints should at least get a wild card spot.
St. Louis Rams
2014 record: 6-10
The Rams have had a great defense for the past few seasons, but they have been stuck in a tough division with poor quarterback play and have dealt with a rash of injuries, all of which kept them from reaching their full potential. Now with Nick Foles under center and the San Francisco 49ers expected to struggle, all signs point to the Rams being vastly improved in 2015.
Follow our NFL page for all the latest NFL news and rumors!
Back to the NFL Newsfeed
Related Topics: NFL Playoffs, NFL