NFL players don't always perform as well as they can. Sometimes, they just have off days. Off days are rare for superstars, which is why they are considered among the NFL's best players. When a superstar has a bad game, they might make this list. Remember, it's all relative. A four-catch, 35-yard game is solid for the fifth WR on a team, but if the starter produces that, something is wrong. With that in mind, here are five star players who were disasters in Week 5 of the NFL season.
Matt Stafford, QB, Lions
Stafford was just awful in Week 5, completing 20 of 32 passes for only 188 yards. He threw 1 TD against 3 INTs. It was so bad for Stafford that the Lions pulled him in the third quarter after the game was out of hand. Part of that was for Stafford's own protection, as he's taken a beating this season in the Lions' one-dimensional offense. 
Drew Brees, QB, Saints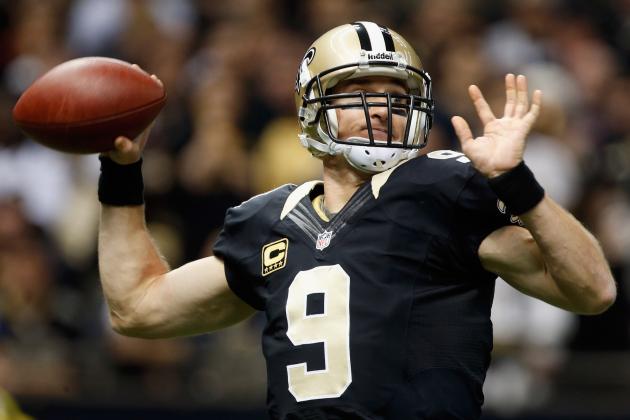 Brees' raw passing stats, 26 of 43 passing for 335 yards, 2 TDs and 1 INT, indicate a decent game, but Brees also fumbled twice in the Saints' loss. New Orleans was one-dimensional for much of the game, but Brees had a bad game by his standards. 
Vincent Jackson, WR, Buccaneers
Jackson has been very inconsistent this season, fluctuating between great games and awful ones. His game against the Jaguars was a disaster, even though the Bucs won. Jackson was targeted only 3 times, and caught one pass for 14 yards. 
Alfred Morris, RB, Redskins
Morris had his worst game of the season, picking up only 15 yards on eight carries. He's part of a committee and we might never again see the Morris who ran for 1,000 yards in three straight seasons.
Nick Foles, QB, Rams 
Of the all star NFL players, Foles had the worst performance. He was atrocious for the Rams, completing just 11 of his 30 passes for 141 yards, 1 TD and 4 picks. His QBR was 1.5, the worst in the NFL this season. Foles was a complete and utter disaster in Week 5. 
Back to the NFL Newsfeed
Related Topics: Nick Foles, Vincent Jackson, Alfred Morris, Matt Stafford, NFL 2015, Drew Brees