NFL players don't always perform as well as they can. Sometimes, they just have off days. Off days are rare for stars, which is why they are considered among the NFL's best players. When a superstar has a bad game, they might make this list. Remember, it's all relative. A four-catch, 35-yard game is solid for the fifth WR on a team, but if the starter produces that, something is wrong. With that in mind, here are five star players who were disasters in Week 11 of the NFL season.
Philip Rivers, QB, Chargers
The Chargers have struggled to win games this season, but Rivers hasn't been to blame for that. He's played very well and had already topped 3,000 yards entering the Chargers' game against the Chiefs. Unfortunately for Rivers, he struggled against Kansas City. He completed 19 of 30 passes for just 178 yards with no touchdowns and a pick. He led the offense to just three points and was a major reason the Chargers lost. 
Chris Ivory, RB, Jets
The Jets lean heavily on Ivory in their offense, but he struggled against the Houston Texans. He had just eight carries for 36 yards and added one catch for nine carries. Ivory needs more touches than that, so some of the blame falls on the coaching staff. Still, Ivory was a disaster this week. 
T.Y. Hilton, WR, Colts
Hilton had a tough matchup against a very good (and underrated) Desmond Trufant, but that doesn't excuse a terrible performance from Hilton. He was targeted four times (a season low) and caught two of them for 21 yards. Hilton is being paid like a No. 1 WR, so he needs to play like one no matter who is covering him. 
Jordan Matthews, WR, Eagles
Big things were expected from Matthews this season, but he hasn't delivered. The Eagles' game against the Bucs was his worst of the season, as he caught four passes for a meager 13 yards. None of them went for more than five yards. Matthews was a complete disaster this week. 
Antonio Gates, TE, Chargers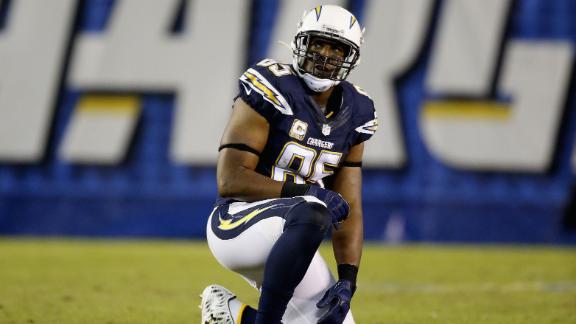 With no Keenan Allen and Malcom Floyd, many thought that would lead to more action for Gates. That wasn't the case against the Chiefs. He was targeted just three times, catching one pass for six yards. It's not totally his fault, but Gates' performance was still disappointing. 
Back to the NFL Newsfeed
Related Topics: Jordan Matthews, T.Y. Hilton, Chris Ivory, NFL 2015, Antonio Gates, Philip Rivers