There are shortage of NFL rookies who can come in and make an immediate impact on their new teams. While some are already pretty much guaranteed starting jobs, others will have to scratch and claw their way past a veteran on the depth chart. These guys are the former, and should be an immediate force for their teams. Here are the five players that should begin the season as favorites for Offensive Rookie of the Year:
5) Corey Davis, WR, Tennessee Titans
Davis was a surprise when Tennessee made him the No. 5 overall pick, but they needed a big receiver, and Davis fits the bill. He's an incredible route-runner with strong hands and is excellent after the catch. Marcus Mariota needed a go-to guy, and Davis looks like he can fill that role. 
4) Dalvin Cook, RB, Minnesota Vikings
This could not have been a better fit for Cook. Yes, he will split carries with Latavius Murray, but Minnesota is a run-first team, giving Cook plenty of opportunities to show off the game-breaking ability that made him a star at Florida State. Plus, there's a lot of potential for him to become the lead back. Murray is a big, strong power back, but is limited. Cook can do everything - run between the tackles, out run defenders on the perimeter and catch passes out of the backfield. Expect his role to increase each week as the season goes on.
3) Leonard Fournette, RB, Jacksonville Jaguars
Fournette might be the most talented player on this list, and Jacksonville plans to give him a big workload. The offensive line in front of him won't be the best, but he just needs a small hole and he can make something happen. With a vastly upgraded defense, Jacksonville won't be behind all the time every game, and therefore won't have to rely on Blake Bortles as much. A running back of Fournette's caliber will make a huge difference for this team.
2) Deshaun Watson, QB, Houston Texans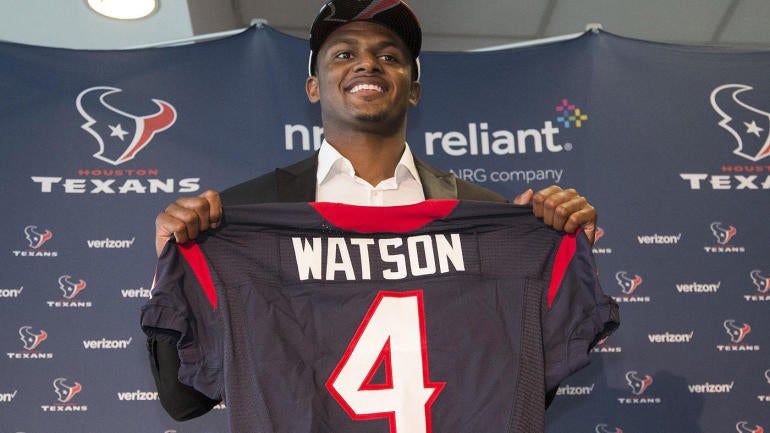 Watson is the only quarterback on this list because he's in the best position of any to succeed. He's also so high on the list because quarterbacks have a huge advantage when it comes to these kinds of awards. So, if Watson does have success, it'll be hard for anyone else to win Rookie of the Year (just ask Ezekiel Elliott).
Let's not pretend like Watson is a perfect prospect. He's coming from a spread offensive system and struggled with decision making, but he is a proven winner and has a quality arm - and he's a huge upgrade over the quarterbacks the Texans have had in recent years. If he can simply take care of the ball, Houston will be very, very good - and he'll get a ton of the credit for that.
1) Christian McCaffrey, RB, Carolina Panthers
Carolina's first-round pick is going to give them a weapon unlike any they have ever had. The Panthers plan to use him everywhere - running back, slot receiver, punt/kick returner - all positions of need for them.
McCaffrey figures to split carries with Jonathan Stewart, but his incredible speed and agility make him the lightning next to Stewart's thunder. And, when Stewart is on the field, McCaffrey can line up at wideout and will be an upgrade over the departed Ted Ginn and Corey Brown. Carolina's offense lacked weapons, and McCaffrey figures to step in and immediately be one of the most versatile weapons in the NFL. Because of that, and the sheer multitude of ways he figures to effect the game, he's the early favorite to win Rookie of the Year.
Check out our NFL news page for more NFL Draft rumors or download the Chat Sports App!
Back to the NFL Newsfeed
Related Topics: Leonard Fournette, Panthers News, Corey Davis, NFL Offensive Rookie Of The Year, Deshaun Watson, Vikings News, Texans News, Dalvin Cook, Christian McCaffery, NFL News, Jaguars News, Titans News