Wish you could force Madden-like blockbuster trades in real life? This is our chance. Some players just don't seem like the perfect fit for the team they're on, and their careers would be much better served if they ended up playing for another team. Here are the five stars we think could take their games to another level by playing for another team:
Jimmy Graham, TE, Seattle Seahawks
Graham was arguably the league's premier tight end when he was with the New Orleans Saints, who took advantage of his elite size and receiving skills to record at least 880 yards and nine touchdowns in four straight seasons. After being traded to the Seahawks before last season, he wasn't anywhere near as successful, catching just 48 passes - the lowest since his rookie season - and a career-low two touchdowns. 
Seattle used him more as a tradition tight end instead of split out as a wide receiver, which was the reason for his struggles. He would be much better suited on another team that used him like the Saints did.
Sammy Watkins, WR, Buffalo Bills
Watkins is one of the most gifted and talented receivers in the league, but he isn't used enough in Buffalo's run-heavy offensive attack. Even though he has racked up over 2,000 yards in his two-year career, he hasn't caught more than 65 passes in a season. He makes big plays seemingly every time he touches the ball (17.5 yards per catch in 2015), yet would make a much bigger impact in another system.
Matthew Stafford, QB, Detroit Lions Critics point to Stafford's inability to win a playoff game, but he has posted off-the-chart stats every season he's been in the league - despite not having a running game and a lackluster offensive line. Calvin Johnson has also been his only consistent weapon. We'd like to see what Stafford can do with a better supporting cast around him.
Andrew Luck, QB, Indianapolis Colts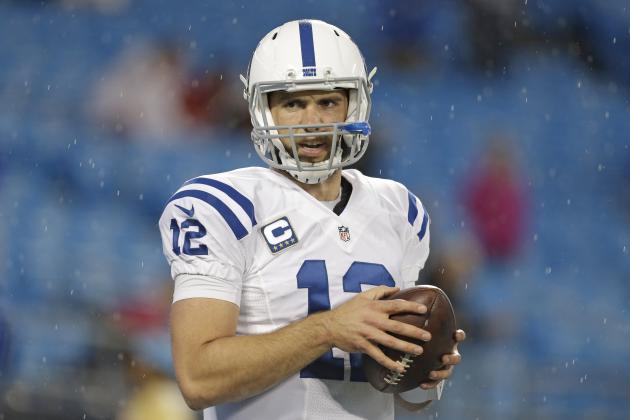 Speaking of quarterbacks with bad supporting casts, and that fits Luck to a tee. His offensive line is arguably the worst in the NFL, doesn't have a No. 1 receiver, no reliable running back and a defense that doesn't make things easier on him. Last season's collapse showed how medicore this team really is, yet he somehow carried them to three-straight 11-win seasons. Could you imagine if he had Pittsburgh's receiving core?
J.J. Watt, DE, Houston Texans
Watt has more impact on the game than any other defensive player in the league despite not having another top running mate on his unit. Jadeveon Clowney may turn into that guy now that he was finally fully recovered from foot surgery that has limited him, but overall, the Texans don't have another player on the team you can really refer to as a star - or anyone to take some of the pressure off him. Watt should be on a team competing for a Super Bowl every year.
Back to the NFL Newsfeed
Related Topics: Colts News, J.J. Watt, Lions News, Matthew Stafford, Jimmy Graham, Andrew Luck, Seahawks News, NFL News, Texans News, Sammy Watkins, Bills News