There are shortage of NFL rookies who can come in and make an immediate impact on their new teams. While some are already pretty much guaranteed starting jobs, others will have to scratch and claw their way past a veteran on the depth chart.
Here are five NFL rookies that could steal a veteran's starting job in camp or early this season. 
Darron Lee, ILB, New York Jets
Lee will begin the season stuck behind David Harris and Erin Henderson on the Jets' depth chart, but the Ohio State standout's ability to play a hybrid safety/linebacker role should eventually see him move ahead of one of them (likely Henderson). While Lee will begin seeing snaps in the nickel, his skill set makes him a perfect fit for a three-down linebacker/safety hybrid role.
Robert Nkemdiche, DT, Arizona Cardinals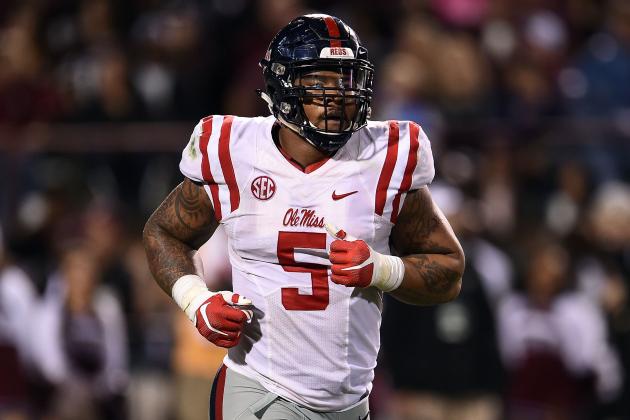 Nkemdiche joins a talented Cardinals defensive line that now has eight players on the books -- likely one more than the Cardinals want to carry heading into the 2016 season. Calais Campbell could be the one to go considering he's owed $25 over the next two seasons. Whether it's Campbell or someone else, all it will take is one veteran being moved or cut loose, and Nkemdiche will have a chance to prove himself worthy of Arizona's first-round pick. Early reports out of camp point to the Ole Miss  being more motivated than ever to reach his immense potential. 
Ezekiel Elliott, RB, Dallas Cowboys
Darren McFadden had a solid year for the Cowboys in 2015, topping 1,000 yards and reaching the end zone three times. His consistent performance should be enough to earn the former top pick the starting job heading into Week 1, but don't expect him to hold onto that role too long with Elliott lurking. The Buckeyes workhouse back shouldn't take long to break out behind one of the league's best offensive lines, and there's always a chance that McFadden goes down with an injury. 
Karl Joseph, S, Oakland Raiders
The Raiders made a concerted effort to revamp their secondary in 2015, but it's unclear who will slot alongside Reggie Nelson to begin the season. While Joseph might be eased in slowly since he's coming off an injury, don't be surprised if the West Virginia star -- who many see as a second coming of Earl Thomas -- leapfrogs veterans Nate Allen and Larry Asante for the starting strong safety job once the season gets rolling. 
Paxton Lynch, QB, Denver Broncos
Pundits aren't wrong when they say that Lynch would do well with a year or two of seasoning before being thrown under center at the next level. With that said, how long can Denver realistically roll with Mark Sanchez as their starter? Sanchez has never been anything more than mediocre, and has thrown fewer touchdowns than interceptions across his last three seasons. Broncos EVP John Elway even hinted that Lynch would be ready "sooner than people think" in a recent radio interview.
Back to the NFL Newsfeed
Related Topics: Paxton Lynch, Robert Nkemdiche, Ezekiel Elliott, NFL Draft News, NFL News, Karl Joseph, Darron Lee