Wish you could force Madden-like blockbuster trades in real life? Does your NFL team need a quarterback who actually fits what your offense is trying to accomplish? We're here to help. Here's 5 NFL Quarterbacks Who'd Be A Better Fit On A Different Team.
We could have made this easy and brought Marcus Mariota back under the Chip Kelly umbrella, but Manziel's party antics and inconsistent growth pattern will likely lead to Cleveland tabbing a quarterback in the 2016 NFL Draft. Mariota's safe in Tennessee for at least a half decade. 
Manziel-to-the-Eagles trade rumors heated up this past spring, and for good reason -- he'd make a complete career 180 in Chip Kelly's offensive scheme, spreading defenses from sideline to sideline while playing with a (much) higher caliber of offensive weapons. This move would be majorly beneficial to both sides, considering Sam Bradford's health will always be a concern from here to the end of his career and the Browns need a passer who can light it up from the pocket (not just on the run.)
Tannehill would be a top-eight quarterback if he had a half-decent offensive line in front of him. He'd be a perfect scheme fit in Greg Roman's offense because he can make all of the throws from all of the angles in the pocket. Also, could you imagine how quick he'd improve altogether with an actual running game behind him? Ryan Tannehill and Sammy Watkins would feed off each other, morphing into one of the most potent QB/WR combos in recent memory.
Get on the phone, Rex?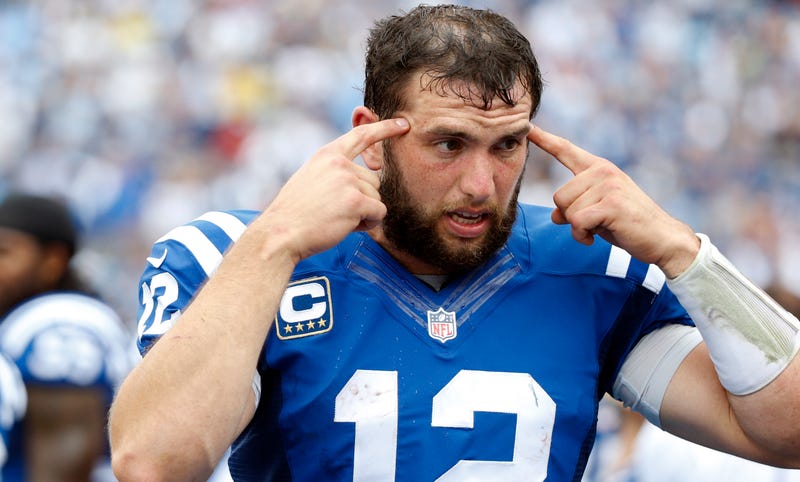 Can't you just see John Elway pulling off some secret Stanford fraternity moves to bring the former Cardinal standout to Mile High? Brock Osweiler may or may not be the right man to replace Peyton Manning, but Luck is a sure thing who could maximize WR Demaryius Thomas in a way that Manning hasn't been able to as of late. Andrew Luck, when he's right, is one of the three best quarterbacks in the National Football League. Indy hasn't cracked the code when it comes to surrounding Luck with the right talent. That won't be a problem with Elway at the helm in Denver.
Luck leading the offense + that Broncos defense = dynasty. It's that simple.
Give the Rams any sort of semi-decent quarterback and they're a legit NFC Playoff contender. Nick Foles is basically Brandon Weeden with a different name. Case Keenum is a serviceable journeyman but not a franchise quarterback. Add the prolific Rivers to the mix and Tavon Austin becomes a top-ten wide receiver, Todd Gurley gets a bunch of extra holes to run through and the team's talented defense finally gets the help it deserves. This is the kind of move that puts the Rams over the hump.
This is likely the most controversial of the five. In a perfect world, we'd give Stafford 60% of the snaps and Carr 40%, and both would be happy with that. Carr has grown by leaps and bounds in year two, but he's still prone to making five to seven "what in the holy heck" throws a game. Stafford has had similar problems in 2015, but that's largely because he's had largely no running game to work with. Could you imagine what a vet like Stafford could do with Amari Cooper, Michael Crabtree, Marcel Reece and Clive Walford?
We're not giving up on Carr. Not in the least. But we'd have a blast watching Stafford in Silver and Black.
Back to the NFL Newsfeed
Related Topics: Derek Carr, Johnny Manziel, Ben Roethlisberger, Andrew Luck, Peyton Manning, Matthew Stafford, Ryan Tannehill