The NFL trade deadline is nearly here, and there is plenty of speculation that several big-name players could be dealt. The NFL trade deadline normally consists of several depth trades, and those should happen again this season. But, there could also be big deals this season, as teams like the Browns, 49ers and Bears could make several trades. With that in mind, here are 5 NFL Players Who Could Be Traded Before The NFL Trade Deadline. 
5. Vernon Davis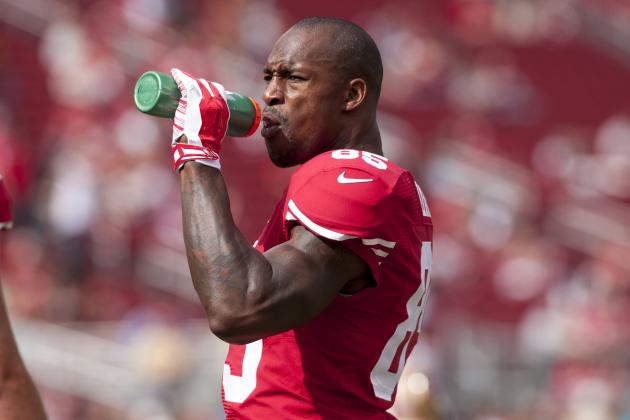 While Davis doesn't want to leave San Francisco, it makes sense for the 49ers to deal him. He's reportedly on the block, and TE-needy teams like the Falcons, Jets and Broncos make sense as destinations. However, at Davis' age and with his limited production in recent years, the 49ers likely wouldn't get more than a late round pick. 
4. Joe Staley The first of two big-name linemen on this list that could be dealt is Staley. The 49ers could elect to deal away several veterans in an attempt to add more draft picks and get younger players more playing time. Players like Davis, Alex Boone, Staley and even Anquan Boldin could be traded. Staley is a still a talented tackle and he could bring back a decent draft pick or two. There are several teams that need offensive line help, so it's a good market for Staley. 
3. Brian Cushing With the Texans struggling, it makes sense that Cushing is reportedly available. Cushing should be able to bring back a draft pick or two, but perhaps not as much as Texans fans would think. Cushing is only 28, but he's in the midst of a down season. This might be a case where the Texas' value Cushing more than other teams. 
2. Joe Thomas 
I almost made this "Everyone On Cleveland." The Browns are rumored to be open to dealing Thomas and he's far from the only player. Also reportedly on the trading block are Barkevious Mingo, Paul Kruger and Alex Mack. It seems like the Browns are on the verge of entering a full-blown fire sale. Thomas should fetch a nice price if dealt, as he's one of the top tackles in the NFL and on a favorable contract. A team in need of offensive line help, like the Broncos or Seahawks, should jump at the chance to add Thomas. 
1. Matt Forte 
The Bears trading Forte makes perfect sense. He's been the subject of trade rumors for quite some time, as he's an older RB who is on the last year of his contract. However, Forte suffered a knee injury that could ruin his trade value. If he's healthy, don't expect a big haul for Forte. He's just a rental with a semi-large contract, so getting much more than a mid-rounder is unlikely. Still, a team like the Broncos or even Cowboys could pull the trigger on a deal. In addition to Forte, don't be surprised if other players, like Willie Young, are dealt. 
Back to the NFL Newsfeed
Related Topics: Matt Forte, Bears Rumors, Browns Rumors, Texans Rumors, NFL 2015, 49ers Rumors, Joe Staley, Brian Cushing, Vernon Davis, Joe Thomas