The NFL regular season isn't over yet, but that doesn't mean teams and players aren't already looking ahead to free agency. It's a strong free agency crop, and we're here to focus on a few notable names. We aren't going to list quarterbacks, as the three main options (Kirk Cousins, Sam Bradford and Brock Osweiler) aren't really that great. There's potential and they'll get paid, but we're talking about the big names that are going to get a massive pay day this offseason. With that in mind, here are Five Notable NFL Free Agents This Offseason And Where They'll Likely Land:
Muhammad Wilkerson, DE, Jets
Wilkerson is one of the top defensive ends in the NFL and he's the Jets' best defensive lineman. He's also in the midst of his best NFL season. He's already racked up 12 sacks, a career-high. At just 26 years old, Wilkerson will get a contract that's not that far off from J.J. Watt's. The Jets could elect to franchise tag him as well.
Landing Spot: Jets
Cordy Glenn, OT, Bills
Maybe it's because he wasn't a first round pick, or perhaps because he plays for the Bills, but Glenn is a great tackle. It's rare that a left tackle actually hits the free agent market, because they're so valuable teams tend to lock them up quickly. At just 26, Glenn should continue he strong play for many more years. The Bills won't let him hit the open market, and Glenn is going to get paid this season. 
Landing Spot: Bills
Alshon Jeffery, WR, Bears
Jeffery's injuries this season could throw a wrench into his free agency. The Bears won't want to pay him Dez Bryant-type money, which is what Jeffery surely wants. It's unlikely the Bears let him leave, as they need more young talent and can build their passing game around Jeffery. 
Landing Spot: Bills
Josh Norman, CB, Panthers
Norman has become one of the best corners in the NFL. A fifth-round pick, Norman signed a four-year deal worth about $3 million. That's proven to be a total steal and it's time Norman gets a massive raise. He could hit $15 million per season if he hits the open market. Complicating things for the Panthers is that they aren't flush with cap space. A franchise tag might be in Norman's future, but it's only a matter of time before he gets a long-term deal.  
Landing Spot: Panthers 
Von Miller, LB, Broncos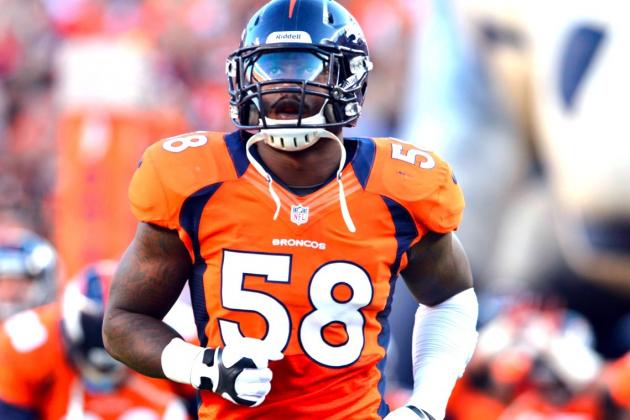 Miller is one of the best defensive players in the NFL He can rush the passer and stop the run. Justin Houston got a six-year, $101 million deal with the Chiefs last season, and Miller will expect a similar deal. The Broncos will likely at least franchise tag Miller, since they can't afford to let him hit the open market. That could cause issues for Denver, as Osweiler, LB Danny Trevathan and DL Malik Jackson are all free agents primed for hefty contracts. 
Landing Spot: Broncos
Back to the NFL Newsfeed
Related Topics: Muhammad Wilkerson, Cordy Glenn, Alshon Jeffery, NFL 2015, Von Miller, Josh Norman