Every NFL team has its share of die-hard fans who make each stadium experience unique. We've all heard the stories of what happens when some of these fans get overzealous and things get ugly, but we're here to celebrate the flip side of the fandom coin. Here's our list of the The 5 NFL Fan Bases With The Most Class.
"In the minutes after Seattle's come-from-behind win over the Green Bay Packers in (the 2015) NFC championship game, a diehard Seahawks' fan named PJ took the jersey off his back and gave it to a young Packers fan named Austin McElravy, who was distraught over his team's last-second loss." Avery Stone, For The Win
The 12th Man are routinely celebrated as the loudest fan base to ever cause earthquakes with their lungs, and one trip to CenturyLink Field will confirm that as fact. However, their volume is also matched by a uniquely Pacific Northwestern chill. We've never sat amongst fans who can go from courteous to banshee-loud bonkers in three seconds flat. Gamedays in Seattle are accompanied by good food, a unique and diverse cast of 12th Man characters, and a dynamic-yet-relaxing experience fans of all ages can enjoy.
"In a Yahoo! Travel article, fans in the NFL were graded on their tailgating skills, and not only did Bills fans get ranked in the top 10, they took the top spot. The best tailgating award didn't just come due to Buffalo wings, either — although they likely played a small role. Fans took this award home by staying true over decades of harsh winters and some ugly seasons. They come out in the rain and sunshine, all to enjoy a Sunday ritual — grilling out and having a good time ahead of a Buffalo Bills game." Mark Belcher, WIVB 4
Bills fans hold Sundays up on a pedestal. Every gameday at Ralph Wilson Stadium is awe-inspiring solely based on the level of energy Bills fans give off when the conditions are at their iciest. Frigid Sundays in Buffalo have led to a tight-knit fan community not afraid to laugh at itself while attempting to down a beer with their teeth chattering. The love of football supersedes everything. If you're an opposing fan willing to brave the cold with the masses around Ralph Wilson Stadium, you'll be treated with a fantastic level of respect. Of course, that'll come with some good-natured razzing. But if you're a football devotee, they'll show you love.
"What do you do when you're 12 years old, want to become a fan of an NFL team, but live in Oklahoma? Hopefully you'd fight the urge to do the obvious and become a Dallas Cowboys fan, but that's beside the point. That was exactly the situation facing Cade Pope. What he did was pretty creative. The 12-year-old penned letters to each of the 32 NFL franchises asking why he should be a fan of them. One team wrote back.
"Panthers owner Jerry Richardson responded with a hand-written note that read: 'Cade, we would be honored if our Carolina Panthers became your team. We would make you proud by the classy way we represent you.'" Arizona Sports
Carolina hospitality at its finest. Owner Jerry Richardson's gesture is an extension of the culture around the team in Charlotte -- passionate, family-focused and always looking for people to share the Sunday fun with. Plus, Carolina BBQ + tailgating = the most relaxing, tummy-busting pregame festivities we've ever been a part of. Wearing an opposing jersey and scouting out a hamburger? Just be friendly. You'll have a burger and laugh within no time.
"To the state of Indiana, Colts Nation and especially the 317 - thank you for making this my home away from home. As a Louisiana kid, I came from a community that really embraces its own, and Indianapolis did that with me from day one. That made my transition here all those years ago so easy, and now there are so many of you that I call my friends." Reggie Wayne, goodbye letter to Indy
If you're not Tom Brady, you've got a friend in Colts fans. Indianapolis fans are some of the most down-to-earth, all-inclusive fans to grace any North American sports town. 99% of the accounts that we say from Super Bowl XLVI in Indy spoke of an extremely gracious community of die-hard football enthusiasts who went out of their way to make the stay a pleasant one for visiting fans. It's the same way at Colts home games, especially you've got a smile and the gift of gab on your side.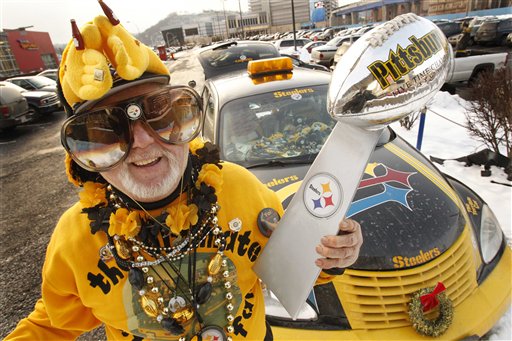 "First I would like to thank Steelers Nation. How about the support that we had in the building tonight? We get that type of support just about all of the time when we're on the road, but it doesn't get old. We really appreciate it. I'd be remiss if I didn't tip the cap to Steelers Nation first and foremost." HC Mike Tomlin, following road game in San Diego
Loyalty first. That's the mantra of the lion's share of Steelers fans. Pittsburgh loyalists travel so well, they regularly out-duel opposing home fans with the sure volume of their cheers. However, don't mistake that diehard passion for rudeness. Steelers fans tend to embrace those who eat, sleep and breathe football like they do. If you've got an open ear and are willing to give and take when it comes to your most cherished football experiences, you'll have Steel City football buddies a-plenty -- whether you're in Pittsburgh or not.
Back to the NFL Newsfeed
Related Topics: Colts News, Panthers News, Steelers news, Bills News, Seahawks News