Each college football season brings a load of potential NFL stars into the spotlight, but there's also those handful of guys who see their draft stock fall dramatically due to one issue or the other. Here are five prospects who found that out the hard way and should return to school for another season:
5) Mike Williams, WR, Clemson Tigers
Williams has the size (6'4", 210 lbs.) and speed that has NFL scouts drooling, thinking he can become the next Sammy Watkins, DeAndre Hopkins, or Martavis Bryant - all former Clemson receivers with similar builds. However, Williams only played in one game game this season after suffering a neck injury. He is expected to return to school next season, but he hasn't totally closed the door on the NFL. Another season of production and health could make him the one of the top wideout prospects next year.
4) Carl Lawson, DL, Auburn Tigers
Lawson had a dominant freshman season, but a torn ACL caused him to miss all of the 2014 campaign. NFL teams were expecting to see similar production from him this year, but instead, he missed six games and only recorded 14 tackles and one sack in the six games he played in. His draft stock is now the lowest it has ever been, but if he can stay healthy and produce like he did during his freshman year, Lawson would be a first-round talent.
3) Evan Engram, TE, Ole Miss Rebels
Engram was projected to be one of the top tight ends off the board in the 2016 draft, but his production on the field didn't back up his physical skills. He only had one game with five catches or more and one game with over 43 yards, along with just two touchdowns on the season in a suddenly pass-happy Ole Miss offense. More production next year would put him in the first round conversation instead of the mid-round projection he has now.
2) Demarcus Robinson, WR, Florida Gators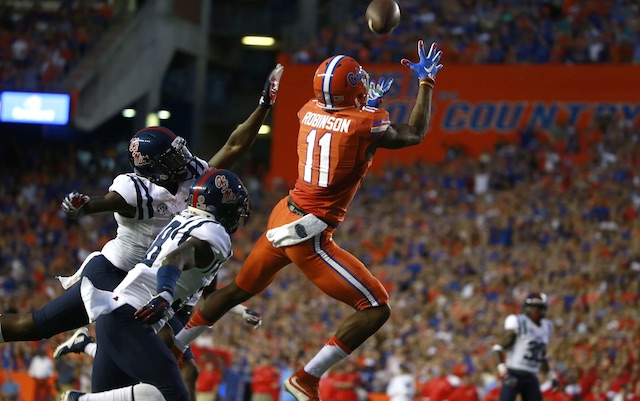 Robinson has been suspended for four games over three seasons and found himself in new head coach Jim McElwain's doghouse due to disciplinary issues (rumored to be related to drug use). It took a player vote just for him to be activated for the SEC title game against Alabama. NFL scouts see him as a borderline first-round talent, but continued off-the-field issues are hurting his value. He may fall to the second or third if teams don't like what see in NFL Combine evaluations. Another year with on-field production and no off-field issues would put him back in the first-round conversation next year.
1) Christian Hackenberg, QB, Penn State Nittany Lions
Hackenberg's accuracy and decision-making remain a question mark, and it hasn't helped that he's played behind a porous offensive line all year long. We'd like to see him run a more pro-style offense than the spread he's currently in. He appears rattled sometimes running the spread, unable to trust his progressions and rushing throws to the wrong receivers. He's been a mixed bag all season long, causing scouts to divide on whether or not he's got the talent to be a top-tier NFL quarterback. 
Hackenberg has seen his draft stock fall from potential No. 1 pick to a potential second- or third-rounder. Having another year to prove the doubters wrong could do wonders for him.
Back to the NFL Newsfeed
Related Topics: College Football, Christian Hackenberg, Penn State Nittany Lions Football, NCAA Football, Florida Gators Football, Auburn Tigers Football, Carl Lawson, NFL, Clemson Tigers Football, Demarcus Robinson, Mike Williams, Ole Miss Rebels Football, Evan Engram, NFL Draft