The new NFL season is just one week old, but several coaches already know they are coaching for their jobs this year. A big win can take one of these coaches off this list, while a terrible loss or two could add some new names to the list. But, for now, here are the five coaches with the least amount of job security and the hottest seats. 
5) John Fox, Chicago Bears
The Bears looked like they were progressing in John Fox's first season, finishing with a 6-10 mark, but they took a giant step back last year, finishing with a 3-13 record. Expectations for Chicago are certainly low in the 2017 season as they are clearly in rebuild mode, but Fox may have bought himself more time by drafting Mitchell Trubisky. If Trubisky is starting by the end of the year and shows progress, along with the rest of the this young team, Fox will be back. If not, he's out.
4) Sean Payton, New Orleans Saints
Payton is widely respected as one of the best coaches in the game, but he appears to have simply run his course in New Orleans. Three straight years of having one of the league's worst defenses and 7-9 seasons are all indications that this isn't working in the Big Easy quite like it did when they were competing for Super Bowls every year. Things don't seem to be getting much better after they were torched by Sam Bradford in the opener.
Payton nearly left after the 2015 season, and with another bad year, he and the team could "mutually agree to part ways."
3) Marvin Lewis, Cincinnati Bengals
Honestly, it's really incredible how Lewis has escaped the chopping block each of the last three years despite never winning a playoff game and finishing 6-9-1 last season. But, surely, at a certain point, the Bengals need to fire Lewis, right? Another losing season and Lewis will be gone for sure.
NFL Fans - Download Chat Sports on iPhone today for breaking NFL news, rumors, scores and more - Chat Sports iPhone App!
2) Todd Bowles, New York Jets
Bowles is really in a no-win situation in New York. The front office has completely torn down the roster around him and are in a full-fledged rebuilding mode. That doesn't bode well for Bowles' job security, especially since front offices usually don't see "lack of talent" as an excuse for losing games, no matter how valid it is.
Let's face it - the Jets aren't getting anywhere near the playoffs. Barring something truly incredible this year, the Jets are destined to fire Bowles and start over with a new rookie quarterback and coach next year. 
1) Chuck Pagano, Indianapolis Colts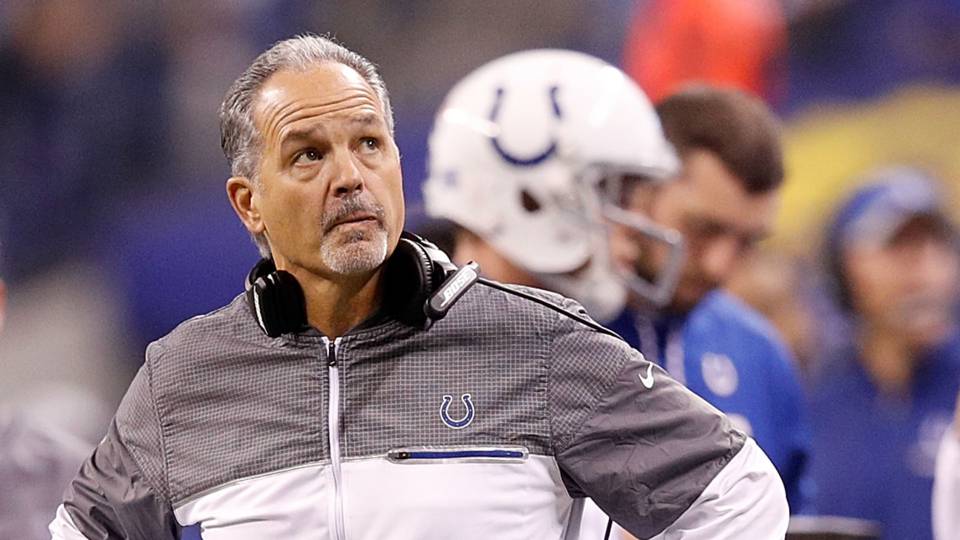 Pagano has been the head coach of the Colts since 2012, guiding Indianapolis to three straight 11-5 seasons and playoff appearances in his first three. However, Indy has gone 8-8 each of the last two seasons, missing the playoffs both times. Even though he shockingly got a four-year extension last offseason when it looked like he was going to be fired, but his job is by no means secure - especially after a 46-9 loss to the Rams in Week 1.
Owner Jim Irsay reportedly chased Jon Gruden this offseason and the Colts are already plotting to replace Pagano. Right now, it's likely that he won't even finish the season in Indy.
Check out our NFL page for more NFL rumors!
Back to the NFL Newsfeed
Related Topics: Colts News, Todd Bowles, Saints News, John Fox, Bears News, NFL News, Sean Payton, Marvin Lewis, Jets News, Bengals News, Chuck Pagano