We're all guilty of being homers for our favorite teams, but these fan bases are the cream of the proverbial crop when it comes to putting blinders on and swimming around in an ocean of delusion. Having faith is one thing, but blind faith can turn sports fandom into an unhealthy obsession of monster-sized proportions. With that in mind, here are the 5 most delusional fan bases in the NFL:
5) New York Giants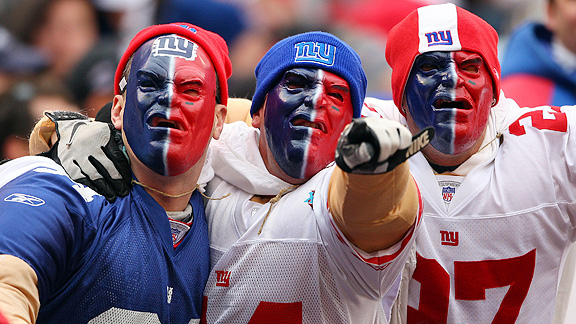 New York, the city that expects championships every year simply because they're New York. The Giants have delivered twice in the last decade, but they've never had a dominant stretch of two or three consecutive seasons since the late 1980's. Sure, they have a good quarterback and some very exciting weapons, but they always seem to be competing for a Wild Card spot instead of a division title.
4) New England Patriots
Only in Foxborough will you find fans of a four-time champion that still feel slighted and that their team doesn't get enough respect. Yes, there's the whole Deflategate debacle for the NFL, but it's the air of superiority Patriots fans carry about themselves that rub a lot of other fan bases the wrong way.
3) New York Jets
Speaking of New York, very few fan bases always expect so much only to be disappointed every single year like Jets fans. The franchise hasn't won a Super Bowl in 1968 - in fact, they haven't ben back to the big game since then - and haven't won the division since 2002. Still, fans seem to expect dominance every single year.
2) Washington Redskins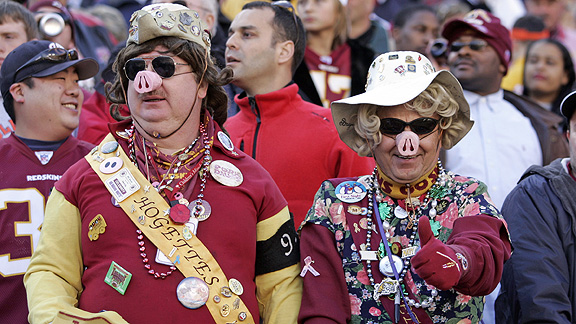 The Washington Redskins have been run like a series of drunk fraternity dares gone awry since Daniel Snyder took over the team in 1999. In that 16-year span, the Redskins have made the playoffs just four times and the NFC Divisional Round just twice. Despite all that, Redskins fans have remained fiercely loyal (emphasis on fiercely) to a stumbling franchise whose glory days dried up in the heyday of the original Nintendo Entertainment System.
There's also the whole name thing...
1) Dallas Cowboys
The Cowboys may have had a successful 2014 season, but it marked just the fifth time in the new millennium that the franchise has made it to postseason play. However, despite the fact that Dallas hasn't won a Super Bowl since the end of Bill Clinton's first term in office (1995-96), Cowboys fans shout their "America's Team" bluster from the rooftops with unabashed glee. That's an interesting tact for a fan base to take that hasn't seen an NFC Championship in two decades.
Follow our NFL page for all the latest NFL news and rumors!
Back to the NFL Newsfeed
Related Topics: NFL Fan Bases, NFL Delusional Fan Bases, NFL