Last year, NFL fans were watching Jadeveon Clowney's every move from August through December, knowing he'd be the number one overall draft pick when it rolled around in May.
This season, USC's Leonard Williams has been sitting on top of the draft board for some time now...but there hasn't been nearly as much attention paid to the Trojans DE. Here are five things to know about Williams before draft talk starts heating up:
1. He's Versatile
Williams played his freshman year as a defensive tackle, racking up 64 tackles, eight sacks and an interception in nine starts. As a sophomore, Williams moved to defensive end...and immediately picked up where he left off, earning First Team All Pac-12 honors and an All American selection. Williams' flexibility means he'll fit into virtually any defensive scheme, and teams won't have to worry about a lengthy adjustment period.
2. He's Bigger Than Jadeveon Clowney
As a senior, Clowney was measured at 6'6 and about 260 pounds. Williams is an inch shorter, but has a good 40 pounds on Clowney at the moment. He might not be able to match Clowney's 4.5 40-yard-dash, but Williams has great speed and acceleration off the block for a player his size.
3. He Has A Sense Of Humor
After USC's 49-14 win over Notre Dame earlier this year, Williams decided to try his hand at conducting: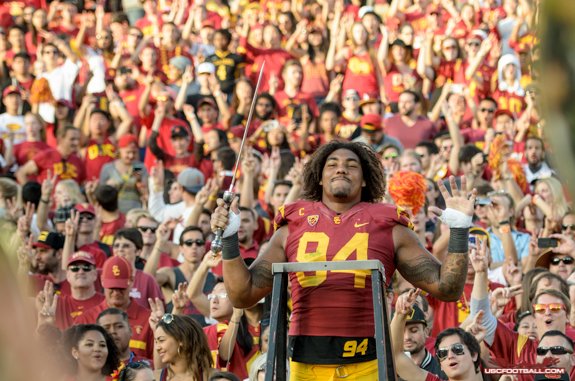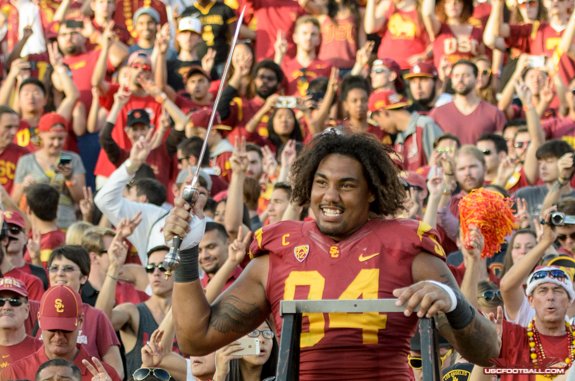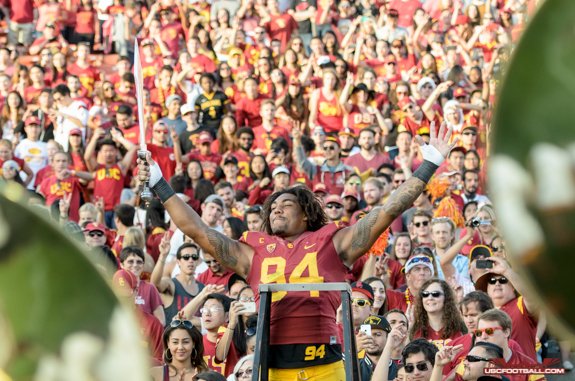 4. He Doesn't Know How To Take Plays Off
If coaches have one complaint about Williams, it's that he doesn't have an off switch...which can sometimes lead to situations like one two weeks ago, where he body-slammed a walk-on tailback during a low-key practice session. If you talk to USC or NFL coaches though, they'll agree that intensity is a good problem to have.
5. He's Drawing Comparisons To Some Of The Best
Williams has been likened to J.J. Watt and Gerald McCoy because of his motor and intensity, but the player we keep seeing him compared to is 7-time Pro Bowler Richard Seymour. If Williams can live up to that tag, whichever team lands him will be very happy with their pick.
Never miss another story on one of your favorite teams – sign up for a free Chat Sports account today!
Back to the NFL Newsfeed