The 2015 NFL Draft is less than three weeks away, and there's plenty of rumors and speculation flying around as teams jockey for position in hopes of landing the best players that college football has to offer. Who's going where? What big trades could be coming down the turnpike? Check out the latest rumblings as we take a look at the 5 Biggest NFL Draft Rumors You Need To Know About.
Manziel For Bradford?
According to a source cited by our very own Mack Ferguson, there's some major intrigue surrounding 2014 Cleveland Browns first-round pick Johnny Manziel and new Philadelphia Eagles QB Sam Bradford:
According to a source very close to an agent involved in the trade talks, the Cleveland Browns and Philadelphia Eagles have engaged in multiple discussions to send Browns QB Johnny Manziel, who is currently in rehab, and draft picks, to the Eagles in exchange for Eagles QB Sam Bradford, who was recently acquired via trade from the St. Louis Rams.
The Eagles reportedly want both Manziel and one of Cleveland's two first-rounders, and the Browns have been reluctant to part with such value to pick up the oft-injured Bradford just yet.
Be sure to check out Mack's article at this link for more on this potential blockbuster trade.
Is Tampa Bay Considering Marcus Mariota At #1?
It's been written off as a foregone conclusion by many that Florida State Seminoles quarterback and 2013 Heisman Trophy winner Jameis Winston will go #1 to the Tampa Bay Bucs.
However, concerns over the sordid details of Winston's personal life and public struggles in Tallahassee are giving pause to a few different sources around the league. Word out of Tampa is that the Bucs are still undecided on their choice between Winston and 2014 Heisman winner Marcus Mariota, with Winston's character concerns being cited as the main reason for the indecision.
Stay tuned.
Are The Browns Readying To Trade Up?
The Browns have two picks in the first round of the 2015 NFL Draft (#12, #19), and they're another team to watch very closely when it comes to Marcus Mariota -- provided they don't pull the trigger on the aforementioned Manziel/Bradford swap.
Per Mike Florio of NBC's Pro Football Talk, "after burning a first-round pick in 2012 on Brandon Weeden and a first-round pick in 2014 on Johnny Manziel, the Browns are truly interested in using their two first-round picks in 2015 to move up and get Marcus Mariota, per multiple league sources."
How high will the Browns have to climb? If the Bucs maintain their reported original course and select Winston, Cleveland may have to climb as high as #3 or #4 to guarantee themselves a shot at the Oregon signal caller. Such a move would come with a major price -- likely including a 2016 first-rounder -- so it's going to be interesting to see if Browns GM Ray Farmer is willing to roll the dice on yet another young quarterback.
The 49ers Are "In Love" With Amari Cooper...
..and that could lead to a blockbuster trade if the talented Alabama wide receiver isn't picked off the board by the Oakland Raiders at #4.
Per lead Bleacher Report draft expert Matt Miller, "high-level sources with the San Francisco 49ers have told me the team is "in love" with wide receiver Amari Cooper from Alabama and will inquire as to trading up to draft him should he slip past the Oakland Raiders at No. 4 overall."
There's plenty of reason to think that the Oakland Raiders will cut the 49ers off at the pass and take Cooper 4th, with Oakland management said to also be smitten with the dynamic former Crimson Tide wideout. But there's also the possibility that the Raiders could be a trade fit if they decide to load up on selections in a deep 2015 draft.
The Jags May Not Be As Willing Of A Trade Partner As Some Think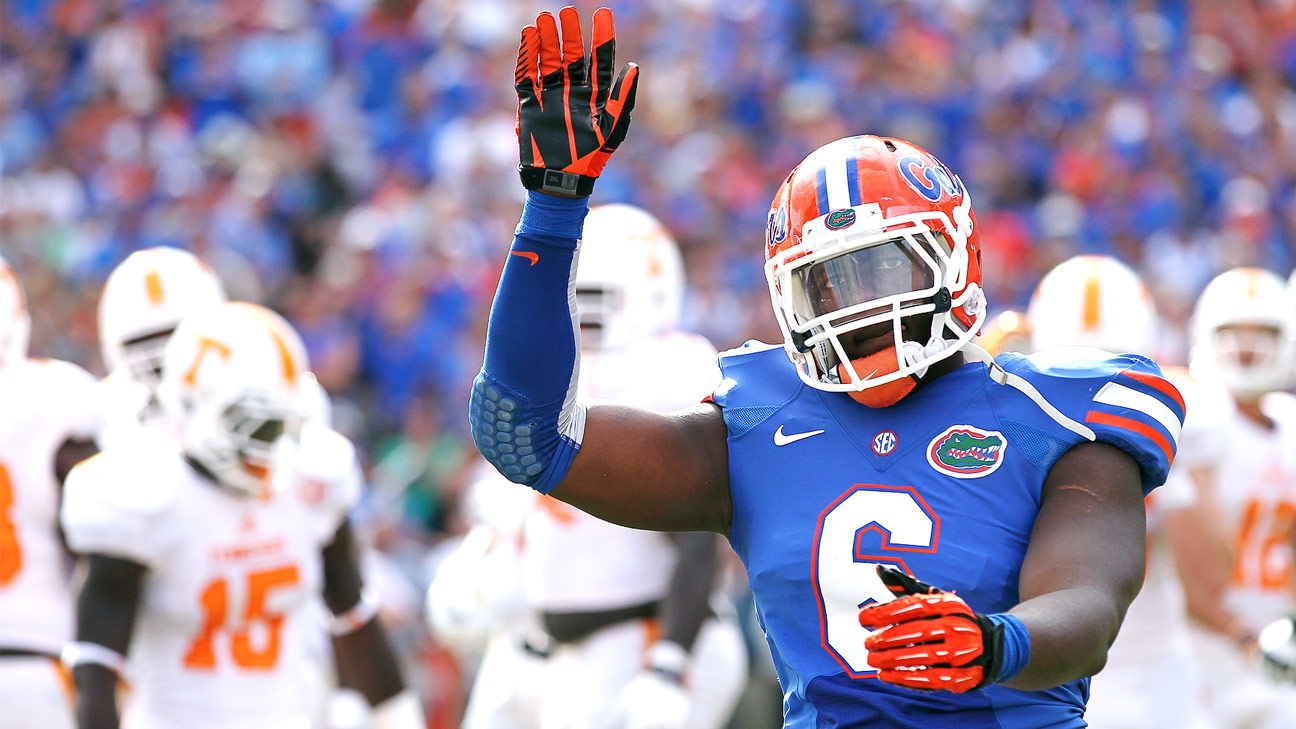 When it comes to the 2015 NFL Draft and trade rumors, many have positioned the Jacksonville Jaguars as the most likely team to trade out of the top five for a gaggle of draft picks.
However, the team's infatuation with a potential game-breaking pass rusher could put a halt to that speculation.
6-foot-3, 265-pound Florida defensive end Dante Fowler Jr. has a good feeling that he'll be a Jaguar next year. In fact, he'd be "shocked" if the Jags don't pick him at #3.
"I'd be stunned, just because of the scheme that Coach Gus (Bradley) has," Fowler said this past Tuesday, via ESPN.com. "I feel like as far as him being on the multiple side, 4-3 and the 3-4, I can set the edge and I can come off the edge standing up.
"I'll be surprised [if the Jaguars don't draft him], but that's how the draft goes. I'm just happy that I'm getting drafted and I'm getting drafted on the first day."
Follow our NFL league page for the latest rumors surrounding the 2015 NFL Draft!
Back to the NFL Newsfeed