The 2018 NFL Draft is just two weeks away and the buzz here in Dallas is starting to mount. With every draft, there comes the question, who will be the biggest draft busts? Will Josh Allen be the 2018 version of Ryan Leaf? Will the wide receivers drafted in the first round continue to be a disappointment? What player will be drafted too high by a team leaving fans scratching their heads? Here are the four players projected to be selected in the first round to likely bust:
For more NFL Draft coverage and scouting reports, check out NFL Draft by Chat Sports on YouTube or download the Chat Sports app for iPhone or Android to follow NFL news, rumors, and scores!
4.) Connor Williams, OT, Texas
Connor Williams is on this list because he missed most of his junior year with a sprained PCL and MCL, and the jury is out on how Williams will recover from those injuries. He stands 6-foot-6 and weighs 315 pounds, which is great size for a lineman but he battles in the trenches with some of the strongest players in the league and hasn't been able to stay healthy. Williams is talented, but the injury concerns and his short arms may hurt his success in the NFL.
3.) Courtland Sutton, WR, SMU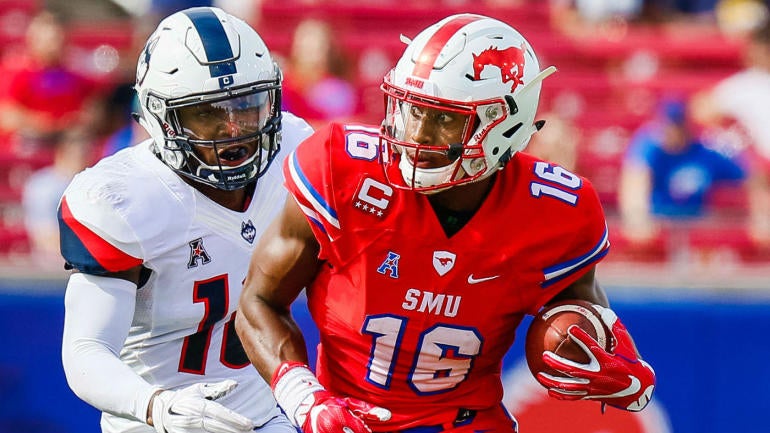 Had SMU wide receiver Courtland Sutton declared for the NFL Draft last season, he likely would have been a Day 2 pick. Instead, he came back to school and is now considered a first-round pick. Size (6-foot-4, 216 lbs.), speed, and production (68 catches, 1,085 yards, 12 touchdowns) are all there for Sutton, but the questions with him come from playing against Group of 5 competition. His ceiling is super high, but his floor is also low. Considering how the receivers drafted in round one have struggled, this make me nervous Sutton will follow suit.
2.) Marcus Davenport, DE, Texas-San Antonio
He is tall and long-limbed combined with his athletic ability is why NFL teams are falling in love with him. In his final season, he recorded 55 tackles, 17.5 TFL, 8.5 sacks, and three forced fumbles. What scares me about Davenport is his competitive edge or desire to be great. He has a laid-back personality and at the Senior Bowl didn't handle the spot light well, which may be an issue once he gets to the NFL.
1.) Josh Allen, QB, Wyoming 
Wyoming Cowboys quarterback Josh Allen is one of the most divisive prospects in this year's NFL Draft. Allen has drawn a considerable amount of hype and buzz, despite not putting strong numbers in college. Allen has all the physical tools (size, arm, athleticism), but they're very raw. He's had some consistency and decision-making issues at Wyoming, but some team will fall in love with his upside. 
Stick with us in the Chat Sports app or follow NFL by Chat Sports on Facebook to be the 1st to know every breaking story and all the rumors on the NFL!
FOLLOW: Mitchell Renz is the Senior Writer & On-Air Host at Chat Sports. Check out his article archive and live videos on Chat Sports Facebook page. Please follow him on Twitter @MitchellRenz365. 
Back to the NFL Newsfeed
Related Topics: 2018 NFL Draft, NFL New, NFL Rumors, Josh Allen Bust, 2018 NFL Draft Busts, NFL Draft Busts