Sometimes teams lose. That's okay, as going undefeated is nearly impossible in the NFL. However, sometimes teams lose games in way they shouldn't. It could be an upset or it could be a defeat that features a terrible effort. Here are four of those types of performances from Week 12 of the NFL. 
St. Louis Rams
The Rams' offense was terrible, mostly because Nick Foles didn't look like an NFL QB. He completed 30 of 46 passes for 228 yards, but failed to throw a single TD and was picked three times. The Rams had little running game, as Todd Gurley had just 19 yards on the ground. It got so bad that rookie Sean Mannion got his first playing time. 
New York Giants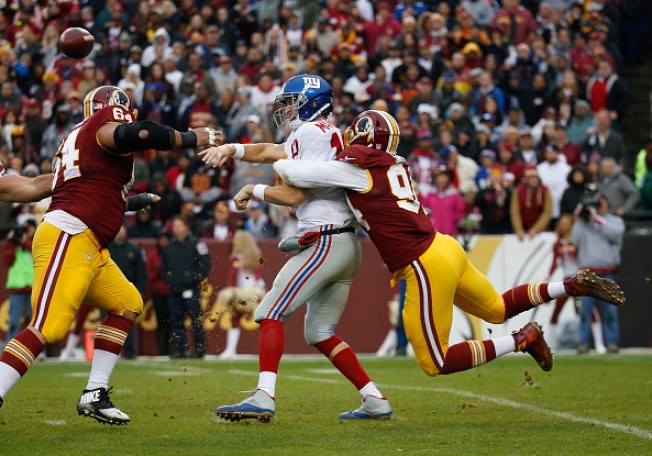 The Giants could have taken complete control in the NFC East by beating the Washington Redskins. Instead, New York laid an egg in a 20-14 loss. The Giants didn't score until the fourth quarter, when it was too late. Eli Manning threw three picks and the Giants had just 33 yards on the ground. The even let the bad Redskins running game pick up 107 yards. It was bad effort by the Giants. 
New Orleans Saints Speaking of bad efforts, the Saints had one of their worst offensive games in recent memory, failing to score a single touchdown. The team ran for just 50 yards, while Drew Brees could only throw for 228 yards. The Saints were just 3 of 12 on third downs. The Texans deserve plenty of credit, but the Saints were still a disaster. 
Miami Dolphins
Miami. Please. Just run the football. The Dolphins ran it just nine times against 58 passes, which is a sure-fire way to lose most games. It's not like the Dolphins were down big early either; it was a two-score game at the end of the third quarter. The Dolphins have their play-calling to blame for a 38-20 loss to the New York Jets. 
Back to the NFL Newsfeed
Related Topics: Rams News, New York Giants News, Saints News, NFL 2015, Dolphins News