Star players in the NFL often have sky-high expectations. If Aaron Rodgers throws for only 230 yards, it looks like a "down" game. But this list isn't for players who slightly underachieve. This is for those who been massive disappointments and completely ate the bones. Players who have missed significant time with an injury are exempt. That's why players like Dez Bryant and Ben Roethlisberger weren't considered. With that in mind, here are Four Star Players Who Have Been Complete Disappointments This Season. 
Alfred Morris, RB, Redskins 
Morris has lost a significant amount of his carries to rookie Matt Jones. Morris is averaging just 3.7 yards per carry. After three straight seasons of at least 1,000 yards, Morris is on pace to barely top 700 yards rushing. However, Morris is coming off a 92-yard effort against the Saints. He ran for more yards against New Orleans than he had in his last four games combined. If he keeps that level of play up, Morris can redeem his season. 
Eddie Lacy, RB, Packers
Lacy has battled injuries, but he's still been a complete disappointment this season. He's lost his starting job to James Starks, as Starks has outplayed Lacy. He claims the ankle injury isn't to blame and says he's not overweight. Whatever the reason, the end result is the same. Lacy has not been a productive RB this season and has just 308 yards this year. Heck, Morris is on pace to easily outgain him. Lacy needs to figure out what's wrong fast, or his season is going to be a total disaster. 
Peyton Manning, QB, Broncos Manning is a clear choice for this list. He has the worst touchdown-to-interception ratio in the NFL, with 17 picks and 9 TDs. He's on pace for his worst season since his rookie year. He simply doesn't look like the QB he once was. He's not making accurate throws and the Broncos have won in spite of Manning this season. Manning is hurt now and it's safe to say he'll never be the QB he once was. Manning is one of the greatest QBs in NFL history, but he's been a bad QB this season. 
Colin Kaepernick, QB, 49ers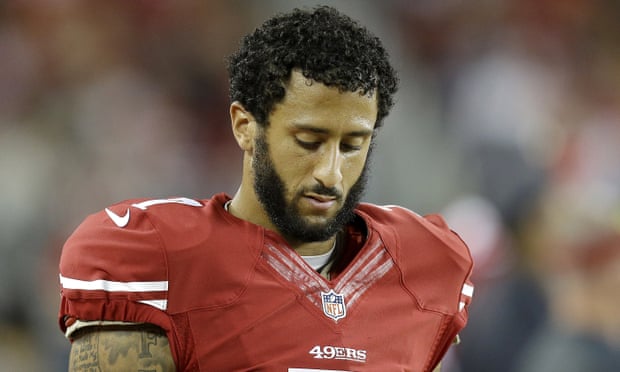 It was only a few seasons ago that Kaepernick was a pass away from being a Super Bowl-winning QB. Instead, he's now on the bench in favor of Blaine Gabbert. Ouch. That's an incredible fall from grace. Someone will likely take a chance on Kaepernick in the future, but this year has been awful for Kaepernick. 
Back to the NFL Newsfeed
Related Topics: Eddie Lacy, NFL 2015, Colin Kaepernick, Alfred Morris, Peyton Manning