The reality of today's NFL is that players no longer stay on one team. Players want to get paid, and NFL teams don't want overpay. That applies to NFL superstars, aging veterans and backups. Sometimes, those superstars get paid, like A.J. Green did. But, big-name players also leave for other teams and greener pastures. Here are four NFL stars that could be headed to new teams in 2016, and where they'll end up. 
Imagine a three wide receiver set of Mike Evans, Alshon Jeffery and Vincent Jackson. Jameis Winston would be lobbing passes to a basketball team. The temptation of adding Jeffery, who played under Lovie Smith in Chicago, is just too good to pass up for the Buccaneers.
The Bears seemed poised to go into a full-fledged rebuilding mode, so why would they pay top-dollar to a WR? And why would Jeffery stay in Chicago, sacrificing his best years on a rebuilding team? Don't be surprised if Jeffery is elsewhere come next season. 
Yes, another Bear on the list. Forte is going to find that the market for a 30-year old running back is not great. He's already not happy that the Bears haven't resigned him. The Bears spent fourth round picks in each of the last two drafts on running backs. Those two picks, Jeremy Langford and Ka'Deem Carey, could combine to replace Forte.
If Forte hits the market, he'll likely have to settle for a short-term, prove-it contract. The Cowboys love doing those (see, Rolando McClain and Greg Hardy). The chance to run behind the Cowboys' line should intrigue Forte, as will the chance to make a Super Bowl run. It's an ideal fit for both teams, especially if the combination of Darren McFadden, Joseph Randle and Christine Michael underachives this season.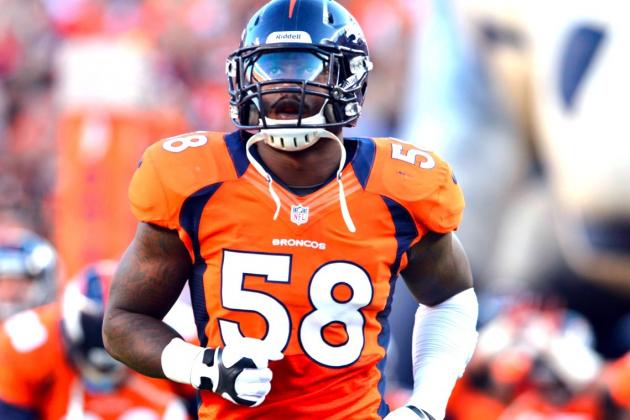 At first glance, Denver's $17 million in cap space might seem like enough for the Broncos to squeeze in a contract extension for Miller. However, the Broncos have several key players hitting free agency in 2016 and might not be able to bring them all back. Miller is due a $100 million contract, as the market is now set by Justin Houston's deal. If Denver wants to keep Miller, it will likely have to lose several starters to free agency. The other option is to release Peyton Manning or DeMarcus Ware. Someone talented is going to leave the Broncos next season. 
If Miller leaves, the 49ers are in a great position to make a move for him. With $40 million in cap space, San Francisco can spend some money next offseason. Miller would be a massive upgrade to the 49ers' pass rush. If Miller hits the open market, there will be a bidding war for his services. The 49ers have the funds to win that war. 
This is only if Derek Carr regresses as a rookie. That might happen too, since Greg Olson is now developing Blake Bortles in Jacksonville. Olson is wildly underrated, and is one of the best QB gurus in the game. With Olson gone, Carr could take a step back. With over $70 million in projected cap space, the Raiders have room to make some big upgrades.
New Orleans, however, has the opposite problem. The Saints are in cap hell and are already projected to be over the salary cap next season. They will need to re-sign players and sign draft picks next season. To do so, they'd need to cut players and hurt their already thin depth. The quickest and easiest way for the Saints to get some cap space is to cut or trade Brees. It would free up $20 million in cap space, as Brees' cap hit is a massive $27.4 million in 2016. With so little cap space, blowing up the roster and dealing Brees would give the Saints their best chance to move forward. It wouldn't be popular among Saints' fans, but it might be the wise move. Otherwise, the Saints will be stuck as a middling team like they are now. 
Follow our NFL page for all the latest NFL news and rumors!
Back to the NFL Newsfeed
Related Topics: Alshon Jeffery, Matt Forte, Drew Brees, NFL, Von Miller, NFL Trades, NFL Free Agency