There's not a lot of sure things when it comes to the NFL coaching carousel, but these four head coaches currently singeing their butt hairs on their respective hot seats appear to be the exceptions to the rule. Here's our list of the 4 NFL Head Coaches Who Will Be Fired After The 2015 NFL Season.
This is an easy one. We actually won't be surprised if Philbin is axed by midseason, considering just how lifeless his team looked (again) in its 27-14 loss to the AFC East rival New York Jets in Sunday's London Showcase. There was no "there" there with the Dolphins team that showed up for a ritual butt-kicking. The fans saw it. Experts saw it. We saw it. Philbin doesn't have the attention of this locker room right now, or at least it doesn't appear so, and it'll take some miracle work to fix that -- IF he survives the week.
Gruden's incredible mishandling of the RGIII situation in DC will seal his fate. This is especially true considering that the Redskins' current talent pool (re: Kirk Cousins) appears way too thin to make playoff headway this year, vulnerable NFC East or not. New GM Scot McCloughan could easily blow up the Gruden/Kirk Cousins wonder tandem this offseason and no one would blame him. That's the benefits of being a general manager on the bridge between years one and two.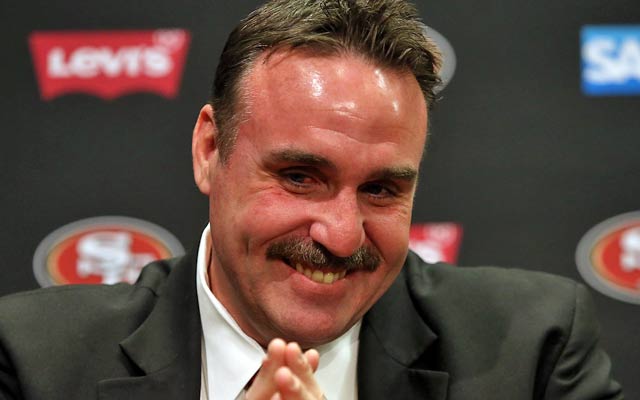 You're probably saying, "he's only 3 games in with one of those being a tender parts-punching of the Vikings in the 49ers' season opener." Our response is simple. Jim Tomsula is the most obvious placeholder head coach in the history of the NFL -- a full-year interim coach destined to be demoted for a big-name coaching free agent this winter. Just watch. A few more games like last Sunday's 47-7 debacle in Arizona and the white flag will slowly rise over the 49ers' front office.
It's the curse of the three-letter first names that start with "J" (Joe, Jay, Jim, Jim again). The Detroit Lions' 0-3 start isn't a mirage, ladies and gentleman. Detroit has been THAT bad in several areas, most notably in the running game (45 ypg, worst in the NFL). Caldwell shouldered the blame for the Indianapolis Colts' 2-14 fall from grace in 2011. It'll happen to him again here. This Lions team is way too out of sync and way too one-dimensional on offense to save his job.
Back to the NFL Newsfeed
Related Topics: Jim Tomsula, Lions Rumors, Joe Philbin, Redskins News, NFL Coaching Hot Seat, NFL Coaching Rumors, Dolphins Rumors, Jim Caldwell, 49ers Rumors, Jay Gruden