The NFL Draft is just a month away, and plenty of rumors are already flying around about who will be drafted where. Most of those rumors are centered around the quarterback position, as a few teams are looking for the future face of their franchise. Many think you have to draft a starting quarterback at the top of the draft, but we've seen several mid-round picks turn into quality players in this league as well. Here three underrated QBs in this year's draft - and who might draft them:
Christian Hackenberg - Dallas Cowboys (Round 3, Pick #67)
Many have pictured the scenario where Hackenberg woud reunite with his former coach at Penn State in Texans head man Bill O'Brien, but Houston is unlikely to take a quarterback in the first few rounds after signing Brock Osweiler in free agency. Hackenberg has received a lot of criticism for reportedly bashing the man who replaced O'Brien, James Franklin, blaming Franklin for his struggles over the pass two years.
And you know what? Hackenberg is right. He wasn't a fit for the spread system, but he is ready-made for NFL success. He has excellent size at 6'4" and 225 lbs, but more importantly, has a huge arm. Dallas will let him sit and learn behind Tony Romo for a few years before taking over.
Dak Prescott - Buffalo Bills (Round 3, Pick #80)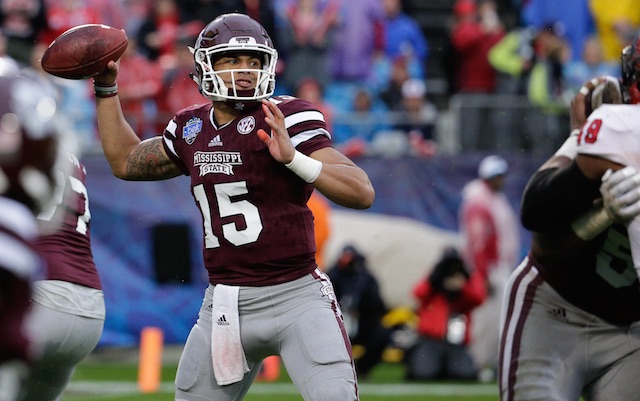 Buffalo is really high on Prescott as a mid-round pick. Prescott vastly improved his accuracy throughout his college career, completing over 66 percent of his passes last year, and head coach Rex Ryan loves Prescott's leadership skills, physicality and mobility. They'll draft him with the hope he can sit, learn and take over for Tyrod Taylor in a few years.
Cardale Jones - San Diego Chargers (Round 4, Pick #102)
San Diego is looking for a backup who could potentially take over when Philip Rivers retires, and Jones could be that guy. He has all of the physical tools in the world as a mobile 6'5", 255-pounder with a laser for an arm, but his accuracy is inconsistent and struggles with his reads. He needs the time to sit and learn, which he would get in San Diego, but his upside is tremendous.
Back to the NFL Newsfeed
Related Topics: Christian Hackenberg, Dak Prescott, Cardale Jones, Chargers News, NFL News, Cowboys News, Bills News, NFL Draft