Every year, there are "sure-thing, can't-miss" prospects that turn out to be busts, and there are several players that fly under the radar and turn out to be major steals of the draft. For one reason or another, these players have fallen through the cracks, but will be extremely productive in the NFL. Here are three players that are the biggest first-round sleepers in April's NFL Draft:
Josh Doctson, WR, TCU Horned Frogs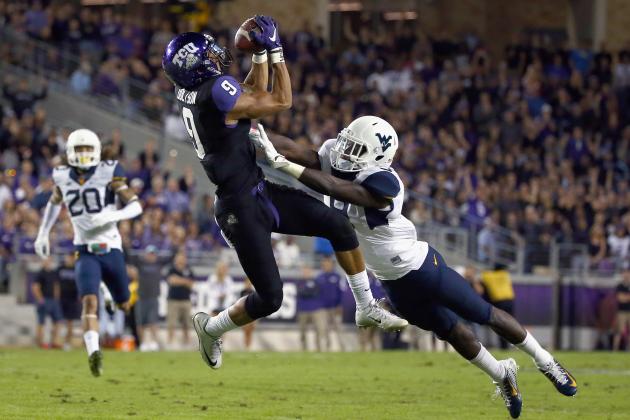 Doctson wasn't widely considered a first rounder at the start of the season, but he proved to be the best wideout in the country when he was healthy. He recorded a monster year, catching 79 passes for 1,327 yards and 14 touchdowns - in just 10 games. Doctson has good size at 6'3" and above-average speed, and though he needs to improve his strength, he's the best route-runner in this class. He has all the makings of a reliabel starting wideout in the NFL.
Ezekiel Elliott, RB, Ohio State Buckeyes Elliott was certainly the center of a lot of attention at Ohio State this year because of his lack of carries in some games, but his production was as strong as ever, rushing for 1,821 yards and 23 touchdowns on 289 carries. Him and Rams running back Todd Gurley have a lot of similarities - big running backs who possess elite power, quickness, and speed - and I think Elliott will have the same kind of impact Gurley had in his rookie year.
Elliott also has a history of playing his best games against the best competition, racking up an astonishing 1,367 yards and 19 touchdowns combined in the eight games Ohio State has played against ranked teams in the last two years. Projected to be a late first round pick instead of a top 10 or 15 selection because "running backs are expendable," Elliott will make every team pay that passes on him.
Carson Wentz, QB, North Dakota State Bison
If you don't know who Carson Wentz is, you're not alone. Not many people know a lot about the North Dakota State prospect, but they will as the draft approaches. Wentz has been the top FCS QB for the past few years and is the only prospect I see in this class that has the raw ability to develop into a franchise quarterback.
The measurables are there -  the size, arm strength, accuracy, mobility - but needs to be coached up a little bit. A true winner (he won a national championship all four years at NDSU), Wentz is projected to be a late first or early second round pick, but will likely be the best QB to come out of this class.
Back to the NFL Newsfeed
Related Topics: Ohio State Buckeyes Football, Ezekiel Elliott, Carson Wentz, NFL News, North Dakota State Bison Football, TCU Horned Frogs Football, Josh Doctson, NFL Draft