The 2016 NFL Draft is still roughly six months away, but that doesn't mean we can't take a look at the top QB prospects. Teams like the Washington Redskins, Houston Texans, New York Jets, Cleveland Browns, Dallas Cowboys, Philadelphia Eagles, San Francisco 49ers, and Chicago Bears could all look to add a QB to either groom or play right away. If you're a fan of one of those teams, or just of the NFL Draft, this list is perfect for you. While there are many QB prospects that could be drafted, we've narrowed it down. With that in mind, here are our Top 6 Quarterbacks for the 2016 NFL Draft. 
6. Cody Kessler, QB, USC
Kessler is a great college QB, but there are concerns about his size and arm strength. Kessler is very accurate, and could find success in a West Coast offense. However, his lack of arm strength will hurt him in the NFL Draft. Kessler won't be a first round pick, but he could go off the board as early as the end of Round 2. However, it's more likely he slips to either Round 3 of 4. I like Kessler and he could be serviceable as a starter in a West Coast scheme. He reminds me of former Texas QB Colt McCoy. Like McCoy, Kessler will make a solid backup in the NFL. 
5. Cardale Jones, QB, Ohio State If you're surprised that Jones is still in the Top 5 despite being benched at Ohio State, you really shouldn't be. NFL scouts LOVE players with size and arm strength and that's exactly what Jones brings. I'm not that high on him, as I have concerns about his accuracy and ability to read defenses past his first or second option. However, he has the size and the arm to be a franchise QB. He needs plenty of polishing and reminds me of a superior version of former Virginia Tech QB Logan Thomas, a fourth round pick of the Arizona Cardinals who is now on the Miami Dolphins' practice squad. It's unlikely Jones goes in the first round, but he should be a second or third rounder if he turns pro.  
4. Connor Cook, QB, Michigan State
Cook is playing in a pro-style system at Michigan State, which will help him. Cook is solid across the board, although I'm not sure he has any traits that are "elite." He strikes me as a solid game-manager at the next level, which means he can be a solid starter. He could sneak into the first round, but will more likely be a Day Two pick. He reminds me of Kirk Cousins, but with fewer turnovers.  
3. Christian Hackenberg, QB, Penn State There won't be a more polarizing QB in this year's draft. Hackenberg has every single tool teams look for in a franchise QB. However, he's struggled in his last two years at Penn State with accuracy and turnovers. He's picked up his play by not throwing a pick in his last six games. He's still battling some accuracy issues, but is hurt by playing behind a terrible offensive line that can't give him time in the pocket. Hackenberg is the perfect example of beauty being in the eye of the beholder. Some teams will love him and some teams will hate him. It only takes one team to pull the trigger, and I expect Hackenberg to be off the board by the end of the second round and could go in the first. Hackenberg is a boom-or-bust player. 
2. Paxton Lynch, QB, Memphis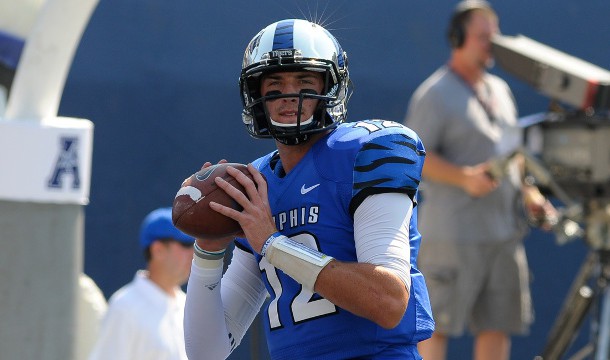 Lynch made his name known following an upset win over Ole Miss. That game forced everyone to take a closer look at Lynch, and he's a talented QB. He has incredible size and great arm strength. He can make every NFL throw and hasn't committed many turnovers. He's an underrated runner, too. He'll likely continue to rise as the Draft approaches and there is a real chance he could be the first QB off the board. At the very least, Lynch should be a first round pick if he continues to play well. There will be a bit of a learning curve for Lynch, but he could turn into a franchise QB. He reminds me of a better version of Ryan Mallett, without the attitude issues. 
1. Jared Goff, QB, Cal The No. 1 QB is still Goff. He struggled against Utah and at times against USC, but Goff has carried the Cal offense all season long. He's a bit of a gunslinger, which gets him into trouble with turnovers. However, he does make plays and has the size, arm strength and accuracy NFL teams want. He needs to add a bit more weight, although he's not as thin as Teddy Bridgewater. Goff doesn't run much, but can move in the pocket. He reminds me of Matt Ryan, and I'm far from the only one. I'm a big fan of Goff and I'd be shocked if he wasn't a first round pick. 
Back to the NFL Newsfeed
Related Topics: Paxton Lynch, Christian Hackenberg, Cardale Jones, Jared Goff, Connor Cook, Cody Kessler, 2016 NFL Draft