The 2016 NFL season is still a few months away, but training camps are nearly here. While the exact 53-man rosters are far from set, we do have an idea of which players are the 2016 MVP front-runners. It's not just stats and wins that determine the MVP, although those are incredibly important. It's also how much a player means to their team and how drastic the drop-off would be if the player in question were replaced by an average replacement player.
This list could look completely different at the end of the season, and not many expected Cam Newton to end up winning MVP this year. The difference between the players on this list, especially near the top, isn't a large one. Several talented players just missed out as well. With that in mind, here the 2016 NFL MVP Power Rankings: 
10. J.J. Watt, DE, Texans
It's borderline obligatory to put Watt on this list. He's an incredible defender, and the best at his position. Although there are other defensive players who are just as good and maybe even better (like Luke Kuechly, Von Miller, Khalil Mack, etc), Watt still gets the hype that's needed to be in the MVP discussion. While it will be incredibly difficult for Watt, or any defensive player, to win the MVP, he's worth mentioning. 
9. Andrew Luck, QB, Colts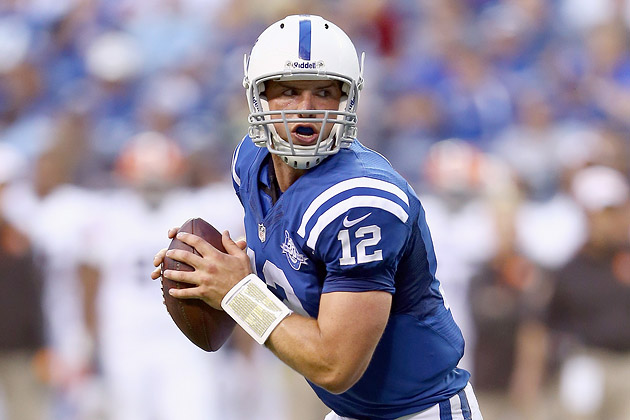 This spot came down to Luck and Drew Brees, and each have their flaws. Brees plays on a poor Saints team, while Luck struggled last year amid injuries. But Luck will be healthy this season and the Colts should be much better. If Luck plays closer to his potential and the Colts offensive line actually protects him, this might end up being too low for the now-highest paid QB in the game. Several other QBs on borderline playoff teams (like Matt Ryan, Tony Romo, Eli Manning and Joe Flacco) could get into the mix with a strong season. 
8. Antonio Brown, WR, Steelers A wide out hasn't come close to winning and NFL MVP award since Jerry Rice did it in 1987. Because the league is so dominated by QBs (as shown below), the MVP award is more likely to go to a team's QB than WR. That's just the nature of the NFL, although that doesn't take away from what Brown has done in recent seasons. He's been nothing short of spectacular, and he's one of the best WRs in the NFL. Players like DeAndre Hopkins and Julio Jones have put up great numbers, but they lack the consistency of Brown. 
7. Adrian Peterson, RB, Vikings
Peterson was the last running back to the win the NFL MVP, and that's not an easy task. Peterson put up great numbers again last year, but he'd likely need to approach 2,000 yards to be in serious contention this season. Peterson is still the league's top running back, although young players like Todd Gurley and Le'Veon Bell are pushing for that title. Of those two, Gurley might be the most likely to contend for the MVP if he can carry the Rams to the playoffs. 
6. Carson Palmer, QB, Cardinals 
The real question surrounding Palmer is how he rebounds after a disastrous end to his season. Palmer turned the ball over six times, including four picks, against the Panthers in the NFC Championship. It's the closest Palmer has ever been to a Super Bowl and a performance like that could hurt Palmer's psyche. But if Palmer keeps his regular season form, he could be back in the MVP race. 
5. Ben Roethlisberger, QB, Steelers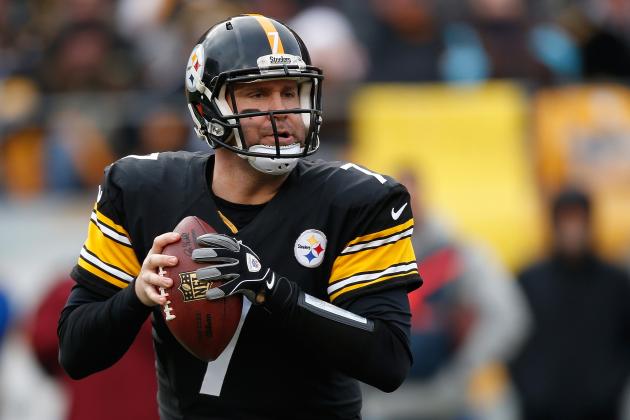 When healthy, Roethlisberger is among the best QBs in the NFL. And while Roethlisberger constantly plays through injury, he's hurt quite a bit and is injury-prone at this point. Big Ben is still putting up strong numbers, but he needs to do just a little bit more to win a MVP. Staying healthy for a season would help, although the loss of Martavis Bryant for a year will deprive Roethlisberger of one of his best weapons. 
4. Russell Wilson, QB, Seahawks
Wilson carried his offense last season, especially late. Wilson won't have Marshawn Lynch this year, but he didn't really have him last season either. Wilson has a unique ability to extend plays, and he's improved the players around him. However, his offensive line is terrible this year. Wilson could take a major beating this year and he'll have to scramble for his life, especially early in the season. 
3. Aaron Rodgers, QB, Packers
Rodgers is coming off a down year by his standards, but he is still tied for the most Associated Press MVPs among active players. Rodgers won in 2011 and 2014, and his talent level hasn't dropped. The return of Jordy Nelson, and a thinner Eddie Lacy, should be a big boost for Rodgers. 
2. Tom Brady, QB, Patriots
Brady has only two AP NFL MVPs, having won in 2007 and 2010. Brady always seems to be close to winning, but comes up just short. That might be the case this season, although it was clear last year that Brady carried his offense. The Patriots have given Brady a few more reliable weapons and have tried to upgrade the offensive line. Even with the four-game suspension, Brady will be in the mix for the MVP this season. And if the Patriots struggle for the first four games, only for Brady to dominate in his return, that will boost Brady's chances. 
1. Cam Newton, QB, Panthers
Newton might not win the MVP next season, and no one has won back-to-back AP MVPs since Peyton Manning did so in 2008 and 2009. But Newton is still the reigning MVP and that's why he deserves the top spot. He'll continue to carry the offense and could be even better with Kelvin Benjamin back for this season. 
Back to the NFL Newsfeed
Related Topics: Adrian Peterson, Carson Palmer, Russell Wilson, Aaron Rodgers, NFL MVP, Antonio Brown, Andrew Luck, J.J. Watt, Cam Newton, 2016 NFL MVP, NFL MVP Power Rankings, Tom Brady, Ben Roethlisberger