Week 11 of the NFL is upon us, and we have a strong idea of who is going to fight to be NFL Offensive Rookie of the Year. We've narrowed it down to the top five, but it's really a two-man race at this point. With that in mind, here are our 2015 NFL Offensive Rookie Of The Year Power Rankings:
Mariota has been more consistent than the rookie QB ranked just above him, but Mariota hasn't played in every game this season. In seven games (not including his most recent Thursday Night contest), Mariota has completed 65.6 percent of his passes for 1,795 yards, 13 touchdowns and six picks. Those are solid, but unspectacular stats. If Mariota can get the Titans winning more games, he might make a late run at the award.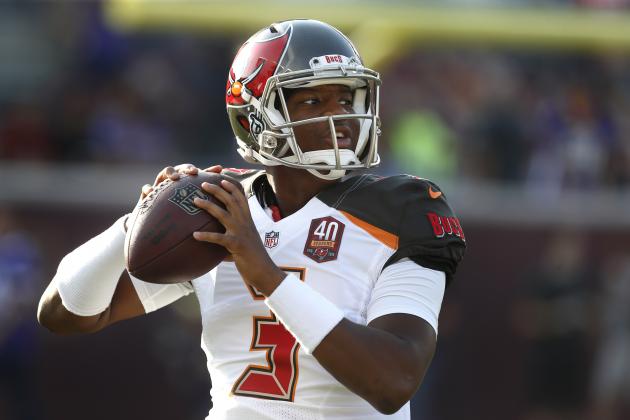 Winston has turned the ball over at a higher rate, but he's stayed healthy and has the Bucs winning more often. In nine starts, Winston has completed 57.5 percent of his passes for 2,159 yards, 10 touchdowns and nine picks. He's also been a dual-threat, racking up 118 yards and four TDs on the ground. 
Diggs was just a fifth round pick and has only played in six games, but few rookie WRs have had the impact he's had. He's already developed quite the rapport with QB Teddy Bridgewater. In those six games, Diggs has caught 30 passes for 507 yards for two scores. He likely won't be slowing down, which is why he gets the nod over the two QBs. Cooper is well on his way to being the No. 1 WR the Raiders have been searching for. He's caught 50 passes, racking up 732 yards and four TDs this year. Cooper has the potential to be one of the best WRs in the NFL, but even his strong rookie season isn't enough to merit the No. 1 spot. 
No surprise here. Gurley is the obvious, and only, player to sit atop these rankings. He's played in essentially just six games, since he only had six carries for nine yards in his first game. In those games, he's racked up 700 yards and 5 touchdowns on 124 carries. He's fourth in the NFL in rushing yards, despite missing those early season contests. As long as Gurley stays healthy, this is his award to lose. 
Back to the NFL Newsfeed
Related Topics: Todd Gurley, Stefon Diggs, Amari Cooper, NFL 2015, Jameis Winston, Marcus Mariota